The proposed high-speed railway line between Dallas Fort Worth and Houston has received federal approvals bringing it another important step closer to the start of construction.
The US Department of Transportation's (USDOT) Federal Railroad Administration (FRA) has issued the Rule of Particular Applicability (RPA) approval to Texas Central LLP. The RPA provides the safety requirements for the project's signalling and train control, the rolling stock, the operating rules and practices, system qualifications, and maintenance.
The FRA also issued the Record of Decision (RoD), which completes the environmental review process and confirms the route alignment between the two cities. The RoD completes the FRA's environmental review process that began in 2014 as required by the National Environmental Policy Act (NEPA) and culminated in theFinal Environmental Impact Statement (FEIS) that was released on 29 May 29 2020.
"This is the moment we have been working towards. The release of the final RPA and ROD by the Federal Railroad Administration represents years of work by countless individuals, affirming a very thorough and careful federal regulatory process that will make the Texas Central Railroad the first high-speed rail system to be implemented in the United States."
Construction is likely to get underway in 2021. Last year Texas Central LLC awarded the construction contract to Webuild Group and Lane Construction, who are operating in a joint venture.
"This latest achievement, with these two decisions, brings us a step closer to the start of construction on the new railway. Webuild's unique track record, especially in high-speed rail, will see us apply our expertise to this project that is important for sustainable mobility. As leaders of the design and build work, we are honoured to have been given this unique opportunity to build a high-speed railway in Texas."
As part of its contract, Webuild will design and construct the viaduct and embankment sections along the entire route, install the track system and the alignment and construct all the buildings and services that will accommodate maintenance and other rail system equipment.
The estimated cost of the project is in the region of 20 billion USD. Around 14 billion USD of which will go towards civil works. The aim is for the line to start carrying passengers in 2026.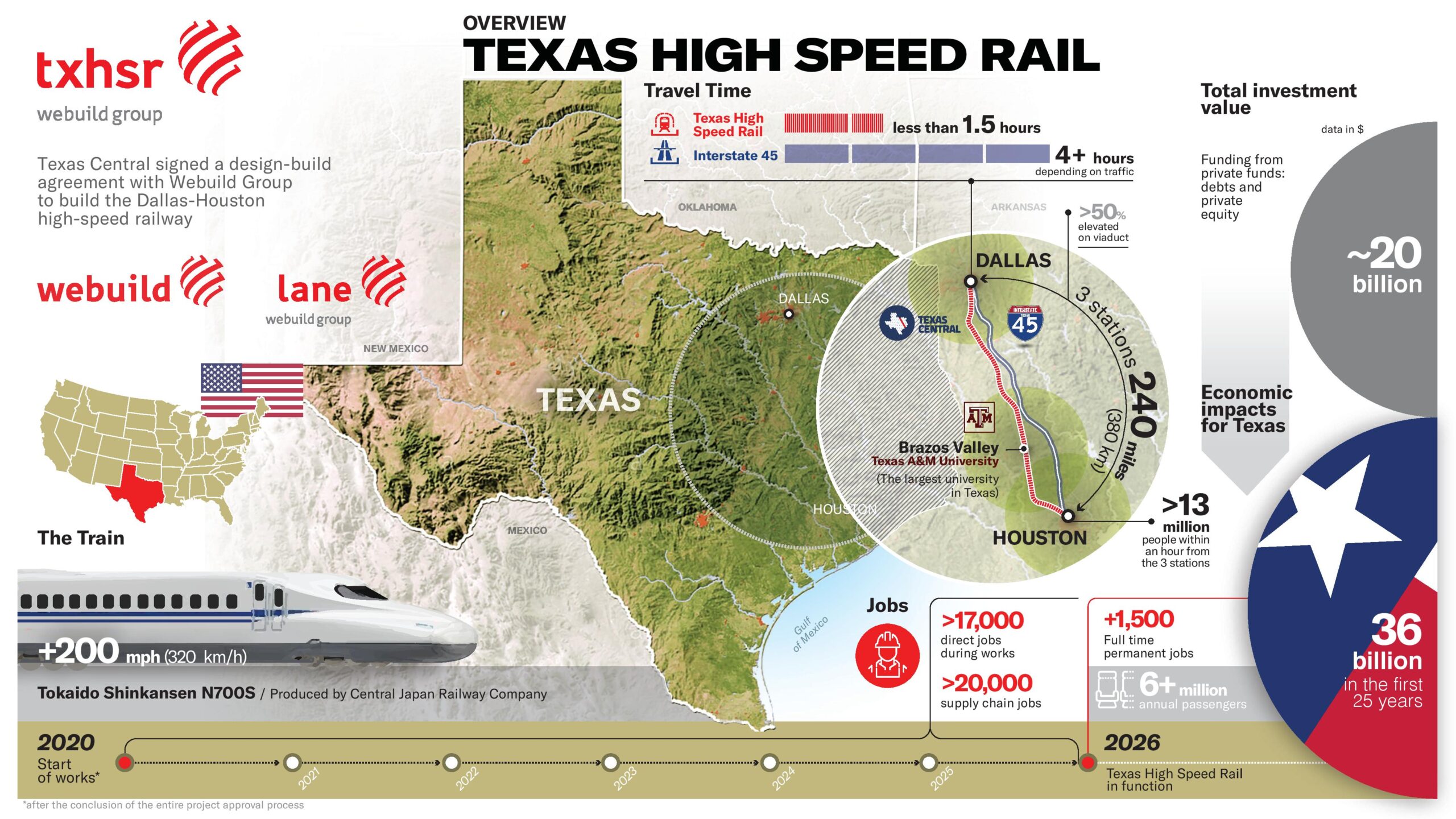 The railway line will measure 379km in length. It will be based on the Shinkansen and carry passengers between Dallas and Houston in 90 minutes with a stop at Brazos Valley. This will make it twice as fast as completing the same trip by car. Trains are set to run every half hour during peak hours and every hour during off-peak periods. The operator will be Spanish company Renfe.
Taking boarding times into account, the high-speed railway connection will also be an hour faster than performing the same trip by plane. There are more than 100,000 Texans who perform the journey between Dallas and Houston more than once a week.
Also read: