HellermannTyton Launches Update to TagPrint Pro Label Design Software
New features in the latest version 4.0 of HellermannTyton's TagPrint Pro software make label setup and design easier than ever before / Existing customers can upgrade for free
HellermannTyton announces the European release of its TagPrint Pro 4.0 label design software for thermal transfer printing. The updated version provides new benefits. These include print automation, a panel label wizard, Excel filtering and a bespoke marker cutting function.
TagPrint Pro 4.0 is an easy-to-use software for designing and printing identification labels, markers and heat-shrink tubing. It is the cornerstone in the HellermannTyton printing ecosystem. This includes high-quality thermal transfer printers and ribbons plus a comprehensive range of specialised marking materials.
"TagPrint Pro 4.0 sets a new benchmark in versatility and efficiency for the design and printing of wire and component markers, industrial asset tags and structured cable identification.
"An integrated Print Automation workflow assistant now takes the pain out of simultaneous printing on multiple materials and thermal transfer printers."
The new Print Automation workflow can increase label production speed by as much as 23 times. It significantly reduces errors and labour for high mix/low volume label batches.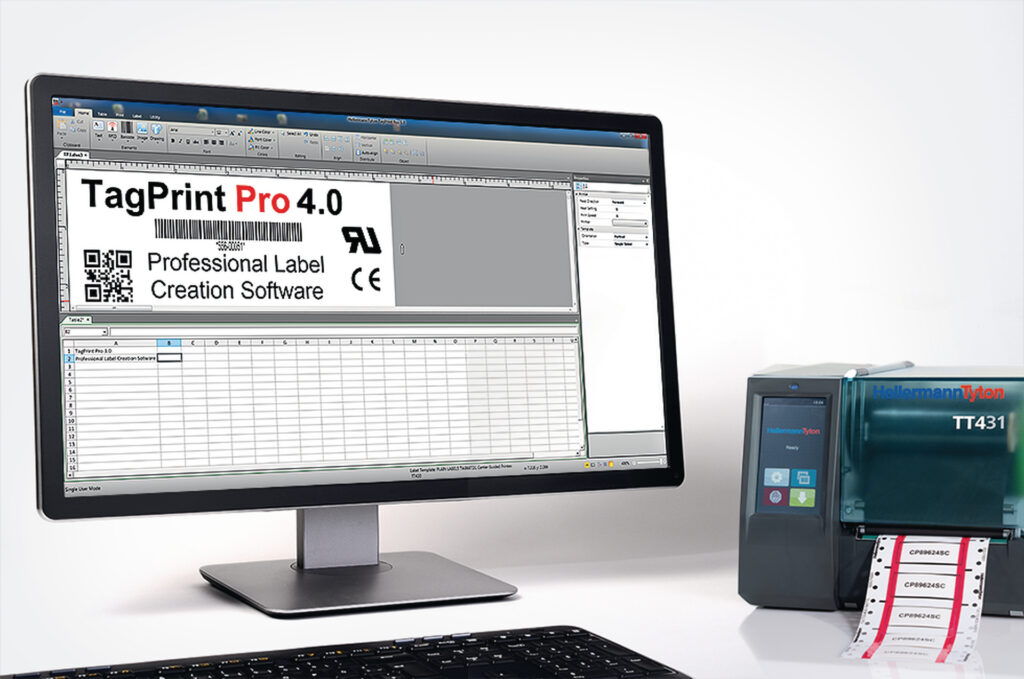 Searching for, opening and printing data is not only tedious, it is also a potential source of errors, such as selecting the wrong printer, quantity or material. With Print Automation, the user simply scans a barcode from the job order, for immediate printing – all automated.
TagPrint Pro 4.0 also includes a Panel Label wizard. This enables users to create dynamic endless strips with several text elements. The length of continuous materials can now be changed in real time.
"The Panel Label wizard is the ideal support for our panel building customers. In just a few steps, you can create complex designs and specify the section lengths according to your wishes."
Extended Excel filtering functionality makes printing from imported Excel files even easier. Cells containing 2 or more lines per table can be printed without having to restructure the data. Filters can be set, data and values easily sorted and managed. A new cutting function makes it possible to cut markers at non-fixed intervals.
As with earlier versions of the software, TagPrint Pro 4.0 is compatible with Microsoft Windows operating systems. Designing from preconfigured templates or from scratch is easy. The software includes wizards, practical pull-down menus and a wide array of options.
Structured data can easily be imported from other databases. These include Excel, Access or text files. Users can also view object properties, data and label layout at the same time.
Images and text can be flipped, rotated, inverted, mirrored or scaled vertically and horizontally. Serial numbers, date and time stamps can be added and the most popular barcode types can be generated.
This article was originally published by HellermannTyton.