HackTrain 4.0 – Hacking Existing and New Policies in Rail
HackTrain is now taking on a new challenge, one at the heart of transport, policy!
This year's HackTrain hackathon is expanding its remit, as well as tackling challenges related to: customer experience, rolling stock, infrastructure and cybersecurity… the latest event will see a new theme added to its repertoire: policy!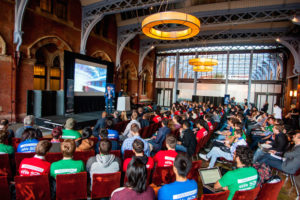 Having already shaken up the industry with its highly insightful B.A.R.R.I.E.R.S. report the HackTrain and its vast network of innovators are now going to be spending 48-hours "hacking" existing and new policies in rail.
The Department for Transport and ORR are giving policy related challenges for this years event. Trainline, Angel Trains, BAI Communications, Silverrail and SNCF will be sponsoring this year's event again along with a new addition: Network Rail, ORM, and Ricardo.
120 software/hardware developers, entrepreneurs, and policymakers will embark on a 48-hour journey travelling around the UK and Europe on three separate trains challenged with the task of creating new technologies and policies that can fundamentally improve how the railways are operated today.
HackTrain's founder, River Tamoor Baig, wants to make a statement that his team understands that bringing in new technology is only one part of the puzzle and that policy changes are just as important as technology implementations.
Baig states:
We have already shocked the industry through our initial hackathons, accelerator programme, and B.A.R.R.I.E.R.S. report. Existing policies have been tweaked and new ones have been introduced off the back of the findings from our initial report. We are adding the new Policy theme to our well-established hackathons in order to ensure we are utilising our network of innovators in every way possible.

In previous hackathons, our participants would often ask, "Why is it structured this way, why can't they change it?" [Network Rail's CP cycles/TOC franchising] and I would tell them it's because that's what the policymakers decided. Some would even be more interested in coming up with a new way to improve those!

We are not going to completely abolish franchising and control periods. They are both staying in the industry for good or worse. Instead, we are going to focus our efforts on better understanding why these policies exist in the first place and then exploring how we can tweak them or introduce new micro-policies to allow for improvements in the way customer experience is delivered and how rail is operated. One area we are almost certainly going to look at is how we can bridge the ever-widening skills gap in rail.
Having already supported the HackTrain since it's conception, the Department for Transport and now the ORR are backing HackTrain's new foray into policy by giving challenges related to the subject for their upcoming hackathon.
The 4th Hackathon

This year's event marks the 4th hackathon in the HackTrain series having organised HackTrain Hong Kong and DfT Hacks in the past year too. Last year's event saw 80 innovators travel to Paris and Lyon in partnership with Eurostar and SNCF. Baig's team are creating more places to provide for more participants the opportunity to take part in their hackathon this year by increasing the number of trains they are running. With the support of FirstGroup, SNCF and other TOCs this year, they are inviting 120 developers, designers, entrepreneurs and policymakers to embark on a 48-hour journey to #hacktherails on 3 separate routes.
Trainline, Angel Trains, and SNCF will be sponsoring this year's event, providing challenges on customer experience and rolling stock; with BAI Communications and new addition Network Rail, providing challenges related to cybersecurity and infrastructure. Network Rail, which has noticeably been absent in the past has come on board as the headline sponsor. Baig attributes this achievement to NR's new Group Technical Director, Graham Hopkins, and their Head of Innovation, Apurv Sinha, stating that both "made the impossible possible."
Associates Programme
Learning from previous years, the HackTrain have now set up an "Associates Programme" that enables their hackathon participants to work with the rail industry after the event is over. In previous years they funded the ideas via their accelerator, which, although produced great results for the industry, was unable to help some of the more earlier stage ideas get carried through. This time round Baig and his team hopes that their Associates Programme will be able to fill that gap.
Baig added:
The programme is already being used by some of our sponsors and is designed to enable our network of innovators to collaborate with TOCs, ROSCOs, and other members of the industry on a freelance basis as contractors. This is a shift from our previous model where we funded the team through a much riskier approach of equity investment. By enabling our innovators to work as contractors we are in a much better position to help the industry implement new technology moving forward.

We are still setting up our incubation fund, that's still on the cards, but it is more suitable for later stage companies.
HackTrain 4.0's launch event is being coupled with their HackTrain conference this time round on the 24th of November. Their first conference, held last June, brought together over 300 rail and tech professionals to see the latest outputs of their accelerator, results of their B.A.R.R.I.E.R.S. report, and 5 of the transport owning groups present what they learned through engaging with HackTrain. Peter Wilkinson, the MD of Passenger Services at the DfT is the opening keynote for this year's HackTrain conference.
About The HackTrain
The HackTrain is a global initiative to drive innovation in the rail industry which is supported by both the private sector and government. The HackTrain mission is to fundamentally improve customer experience and operational efficiency.
Their accelerator programme last year brought together 5 major train operating companies for the specific purpose of introducing new technology into trains, stations, websites and apps. The HackTrain is supported by the Department for Transport and industry heavyweights Network Rail, Trainline, Angel Trains, BAE Systems, FirstGroup and SNCF.
HackTrain was founded by River Tamoor Baig. In just 24 months, his team have brought together an ecosystem of software developers, designers and industry experts to help drive forward innovation in rail through the introduction of breakthrough technology. By uniting the best technical talent with key decision makers and influencers, HackTrain is striving to lead a revolution in rail that the industry has never seen before.
More information about HackTrain 4.0 can be found at: