DB's Mindbox – In-house Innovation
Wanting to stay at the forefront of innovation, Deutsche Bahn have opened their own innovation lab, the DB mindbox, in Berlin. I spoke with Onno Szillis to find out more.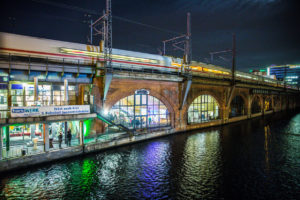 Can you tell me a little bit about what you do at mindbox and why it was set up?
"The digital shift is in the process transforming mobility, all public transport but also the working environment quite fundamentally. Deutsche Bahn has launched a company-wide push towards digitalization to provide a lasting improvement to its processes and services with regard to its customers. DB is working on more than 260 projects, from passenger and freight rail traffic, logistics and infrastructure to production, IT and the working environment. Opening up to innovation from the outside, such as by collaborating with start-ups, is central to this.

"The way of working is also changing: DB's innovation labs have a start-up atmosphere. DB mindbox, located in the Jannowitzbrücke Station in the heart of Berlin, near to the hotspots of the start-up scene, houses Deutsche Bahn's Accelerator.

"As part of the DB Accelerator programme focusing on infrastructure, start-ups collaborate closely with DB's infrastructure bodies to develop technical prototypes and business ideas over the course of three months that, if successful, are implemented into operations. In addition to 25,000 euros, the start-ups are given office space in the mindbox for three months. In addition DB makes its know-how, its network and mentors available to the start-ups. The Accelerator programme is to run at least three times per year."
What is the relationship between mindbox and Deutsche Bahn?
"DB mindbox is part of Deutsche Bahn and is run as part of the remit Chairman of the Board Dr Rüdiger Grube."
Do you think Deutsche Bahn overall is quite innovative in its approach?
"Many companies now run their own accelerators or they co-operate with them. DB considers it an innovative approach to work with start-ups as equals, allowing them to test their products at DB with the help of a DB mentor: be that on tracks, at a station or any other location. It is also of central importance that the innovations have a customer benefit at their heart, i.e. new services and / or higher quality."
Can you give me some examples of ideas that have been developed at mindbox and that have now been implemented in the real world? How long does implementation take?
"DB mindbox was formed in November 2015. As a result, examples of implementation in the railway sector are not yet very plentiful – and it is well known that in this area it takes quite a while for anything to be implemented. But such examples exist!

"eMio is an electric scooter in the 'shared economy' that will soon be made available to customers as part of Flinkster. Flinkster is DB's car-sharing service. This will give our customers even more options to complete their door-to-door journey.

"Start-ups that have innovative ideas for services at stations can test them in a pop-up store at Berlin Central Station. Last year this was TeaTales. This year, HaferKater will offer travellers speciality porridges in the station.

"The sensors made by KONUX are about to see their first use on the Deutsche Bahn network; an initial series is currently in production. These new sensors allow turnout sleepers to be indonitored in real time."
How international is mindbox?
"Up until now mindbox has seen applications from start-ups from 15 countries. Two weeks ago we had a road show in Israel. However, a majority of the teams were from Germany. That can and should change. Innovations don't stop at national borders."
What has been the biggest success of mindbox so far?
"We were pleased that we were able to open DB mindbox on schedule last November after a short construction period. Since then DB mindbox has been open to external innovators and railway employees. The last hackathon alone had 190 participants.

"From an outcome perspective we are particularly proud of the success of KONUX. The points sensor is a major step forward and will – presuming successful testing – improve quality and the associated punctuality."
What do you see as the most urgent problems rail has to address to remain relevant?
"It is one of Deutsche Bahn's goals to increase the desire to innovate within DB. This is a challenge for the rail sector in general. Then there is the speed of implementation. Many innovations take too long to reach the market. Using an agile approach, small steps and a willingness to turn around, the start-ups at DB mindbox are demonstrating how it can be done."
What lies in store for mindbox over the coming months and into the next couple of years?
"The next pitch day is on 13 September. It is also the demo day for our current batch. We would like to become more international, work even more intensively for the whole of DB and, first and foremost, we want to work on an attractive railway system together with the start-ups we're already co-operating with and with the many more we'll be involved with in the future."