Railway-News Attends HackTrain Conference
The HackTrain Conference – an Ambassador for Innovation
Coming from a railway publication that prides itself on having a young, curious editorial team, passionate about trains and their opportunity to shape future travel as a green, efficient, convenient choice, the HackTrain initiative has always been right up my street. I covered them last year when they hacked the rails to get more innovation into the rail industry. So it seems like a natural progression for them, in their quest to bring innovation into the rail industry, to ask what the barriers to this are. As such, I got a phone call from the HackTrain team a few months ago, telling me they were conducting a study on the barriers to innovation in the rail industry, which would be unveiled at the first-ever HackTrain Conference on 1 June. I obviously wanted to attend the conference anyway, but I also decided to interview the HackTrain founders and Amber Westerholm-Smyth, the Project Lead on the B.A.R.R.I.E.R.S. report, for an article in our upcoming digital magazine.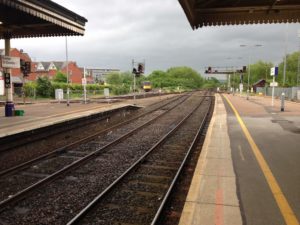 Customer Experience? Notes on My Journey
I booked my train tickets with GWR, who run the route from Exeter to Paddington, via ticketing retailer Trainline, whose website I like. Now, being a millennial, intuitive technologies have become so much part of life that I get exasperated with things such as parking machines where oftentimes you have to pay with cash, but not with notes, and they don't give change but state that "overpayment is accepted". And much in the rail industry is just like this. I picked up my paper tickets the day before, because last time I went, I almost missed my train because there was a problem with the printing machine. In any case, the train arrived perfectly on time, I found my seat, at a table with a plug socket, as I'd requested, and off we went. GWR is one of the franchise operators that offers free wifi on its trains. However, the plug socket was so close to the table, my laptop plug wouldn't fit in it and the wifi wasn't reliable enough for me to use Facebook messenger on my laptop. I read my book instead.
In London Paddington, still on time, I very much liked the very effective and simple solution of having coloured markings on the floor to direct passengers to the different Underground lines. Though I did have to spend some time finding a tube map to tell me which line I wanted in the first place. After that it was all plain sailing, I got to Euston Square, used my maps app on my phone to find the right building and arrived just in time for lunch.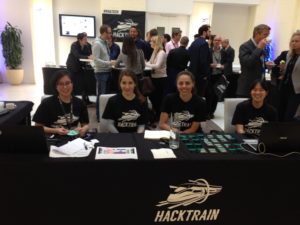 The HackTrain Spirit
After saying hello to River Tamoor Baig, one of the HackTrain founders, and receiving a goody bag that included a HackTrain lego figure that confirmed my belief that HackTrain does things differently in a good way, I struck up a conversation with someone I had never met before but who previously worked for Google but now worked for a company called Cubic. They deal with the ticket barriers at stations, he told me. He went on to explain all the opportunities and innovations the company was working on to make this a more efficient service that is better for customers and operators alike. He had some really exciting things to say so I got his business card and asked him if he would be interested in an interview.
Then I and others had a great time testing out a virtual reality game, in this case shooting zombies. I asked HackTrain what this had to do with trains. They said that it was to show the rail industry what great technologies were already out there and get them excited about them and their potential applications in rail, such as staff training in virtual reality. This whole ethos was also highlighted by Gavin James from the Department for Transport, who commented that he had been talking to a guy who prints skin. To paraphrase him: "I asked, what is someone who prints skin doing here? These guys from HackTrain just wanted him to come along because he's got a whizzy mind. I mean, one of their first team members has gone off to work for NASA. NASA!"
So what happened at the conference?
All this before I even get to the substance of the conference. So let's do that now! The morning featured video of the HackTrain Accelerator trials, highlighting all the innovation young, talented entrepreneurs are trying to bring to the rail industry and the rail industry's increasingly positive response, thanks in big part to innovation ambassadors like HackTrain.
Train Operating Companies gave talks on station enhancement to solve problems such as congestion and navigation by providing real time positioning of passengers for example. Another innovative solution was presented with regard to preventing uneven passenger distribution on trains, allowing as many passengers as possible to find a seat. Increasing measures have to be taken to get more people to use rail over other forms of transport by making the customer experience more positive. All these are just individual examples of the holistic approach the HackTrain initiative is taking to get innovators and the rail industry together.
The post-lunch workshops on topics such as cybersecurity, enhancement and culture focused on some specific areas where innovation is vital. The general consensus at the conference was that "rail is rife for disruption" and that at the moment the industry is "male, pale and stale". Another thing I heard expressed many times that day was that so many people from different players in the industry had come on board inspired by the energy and passion and motivating power exhibited by HackTrain's Alejandro Saucedo and River Tamoor Baig. I think that's an important lesson to bear in mind. It's not companies that make decisions. Companies are just made up of people and it just takes the people in those companies to be inspired and have the tools to bring about the change this industry so desperately needs. When Gavin James (DfT) was speaking he expressed this sentiment exactly, saying that he had been so inspired by the two that he promised he'd have a minister at their upcoming HackTrain event, which he achieved.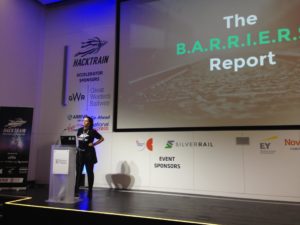 The HackTrain Conference Highlight: the B.A.R.R.I.E.R.S. Report
The highlight of the conference came at the end of the day with the unveiling of the B.A.R.R.I.E.R.S. report, which presents both the barriers to innovation as well as tangible recommendations to the rail industry. Even the accessible manner in which it is written is a breath of fresh air. You can read the report here. Do it!
But this article isn't meant to be about the details of the conference. It's about featuring the HackTrain initiative as a whole because by featuring it, hopefully we, the media, can contribute to a shift in culture to change the rail industry to become the way we want it to be.
As such, it's also very exciting to note that HackTrain 3.0 will run 4–6 November, their RailTech Accelerator will run next February and they're launching an Infrastructure Accelerator in the next few months.