The biggest infrastructure project in Greater Anglia's history, the Norwich Victoria sidings, are now fully operational.
Greater Anglia has opened new sidings outside of Norwich to help store its new trains when they are not running. They are located adjacent to the mainline and feature four new tracks. There is sufficient space to store up to four 12-car trains.
Greater Anglia parked its first train in the sidings on 3 March. It is in the process of replacing all of its old trains with 169 new trains. The new trains have additional carriages and therefore the new sidings are needed for the additional space. In total 1.4 billion GBP (1.6 billion euros | 1.8 billion USD) has gone into the new trains investment programme.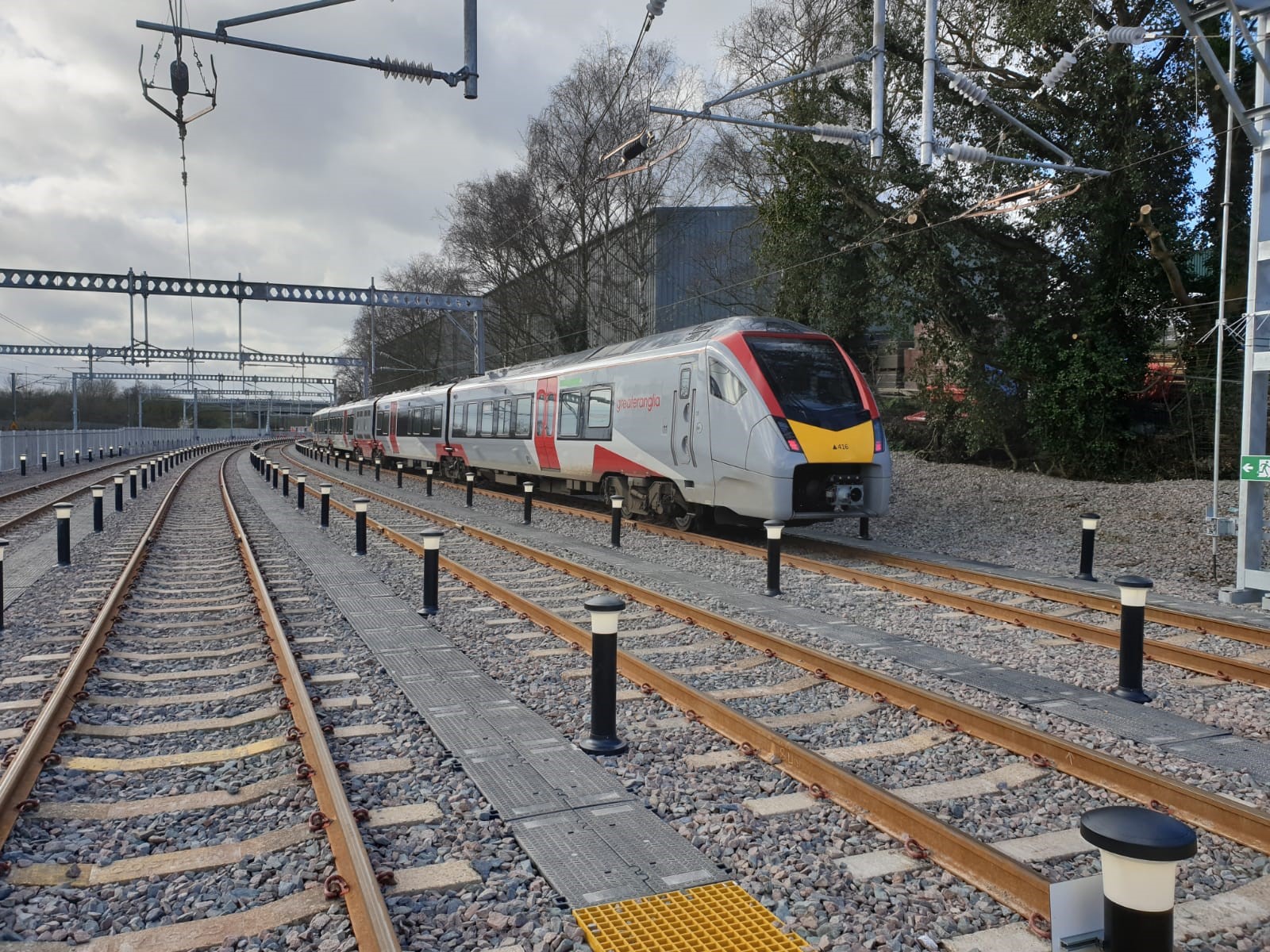 Greater Anglia directly managed the project. Its project management, engineering and commercial teams delivered on the works together with the principal contractor Keltbray. Network Rail's Asset Protection team was closely involved as well.
"It was great to see the first train enter Norwich Village sidings. These sidings will help us to improve the reliability of our service and make maintenance and cleaning of our trains much easier."
It took just over nine months to complete the design and build. The project runtime was May 2019 to the weekend of 29 February / 1 March. The project involved the removal of old sidings. The site was then re-levelled, after which four new tracks were installed. Furthermore, three new sets of points were installed, while an existing set of points at the entrance to the siding underwent heavy maintenance so that it could be put into use again for the first time in 15 years.
In December and January new overhead line structures and wires were installed. The sidings project required some signalling work to be performed. For example, the exit signal had to be moved, while an adjacent mainline signal had to be upgraded.
The Norwich Village sidings features a new shunter's cabin and drivers' walkways with bollard lighting and CCTV. Next to the sidings there is now a new compound area with parking spaces and an accommodation building with an office for security and welfare facilities for drivers and shunters.
In preparation for the new trains, Greater Anglia is redeveloping its Crown Point train maintenance depot. It has also recommissioned the Wensum sidings next to the depot.
Also read: