To the PaintExpo 2022: Cost-Efficient and Sustainable Solutions
To ensure components coated with various coating technologies would ultimately present a flawless finish, a number of years ago FreiLacke developed its system coating concept. Factors such as sustainability, energy efficiency and climate protection also played an increasingly important role in the development. Within this context, the system coating manufacturer also pressed ahead with powder, liquid and electrodeposition coating and composite solution developments, while simultaneously unveiling wind energy and rail vehicle sector solutions.

Components and parts are increasingly manufactured globally before ultimately being locally assembled and coated entirely or in part with various different coating systems. As a result, individual workpieces not only need to be perfectly compatible, they must also present a homogeneous and coherent overall appearance as regards colour, gloss and surface structure.
Meeting these demands while maintaining or improving quality standards despite increasingly stricter VOC regulations and faster cycle times requires application solutions.
Coordinated Coating Technologies
This is where FreiLacke system coatings come into their own: with its system coating concept of powder and liquid coatings, EC and composite solutions, the coating specialist from the Black Forest is focussing firmly on uniform surfaces irrespective of the diverse systems, application processes and facilities involved. Customers with various production sites, sometimes even located on different continents, are already using the system coatings with great success.
"As a system coating manufacturer we have the means to perfectly coordinate the coatings in the course of product development and production.
"Consequently, not only can we offer our customers all the principal coating technologies, we are also able to harmonise these to optimum effect in terms of coating structure and finish to provide a suitable solution, comply with stipulated framework conditions and ensure cost-effectiveness and sustainability."
Against this backdrop, FreiLacke is unveiling a variety of further system concept developments in all four product areas at this year's PaintExpo.
EC without Labelling Requirements for Greater Sustainability
Aspects such as sustainability and VOC reduction have long been priorities for the coating manufacturer and are a prime reason for the continuous range expansion and development of new solutions at the Döggingen/Black Forest site. One example is the electrodeposition coating 'EcoOne', a two-component (2K) system free of any solvents and neutralising agents that require labelling. The system is environmentally friendly and has no implications for the health of employees. What is also exceptional about FreiLacke EC systems is the fact that they are energy efficient. The required baking temperature of the coating is around 30° C lower, which equates to a considerable conservation of energy during the combustion process. An outstanding uniform coating film that reliably protects the metallic component is nonetheless achieved. The coating layers are mechanically resilient and visually flawless.
Powder Coatings: Cost-Effective, Durable and Eco-Efficient
The established Black Forest company's environmentally-friendly powder coating range has also been consistently developed. The product portfolio encompasses a broadly diversified selection for application areas including steel and alloy wheel production, the automotive industry, mechanical and apparatus engineering as well as the wind power industry and rail vehicle sector. Particularly the solutions for large and bulky components that forego the baking process accentuate the cost-efficiency and sustainability approach.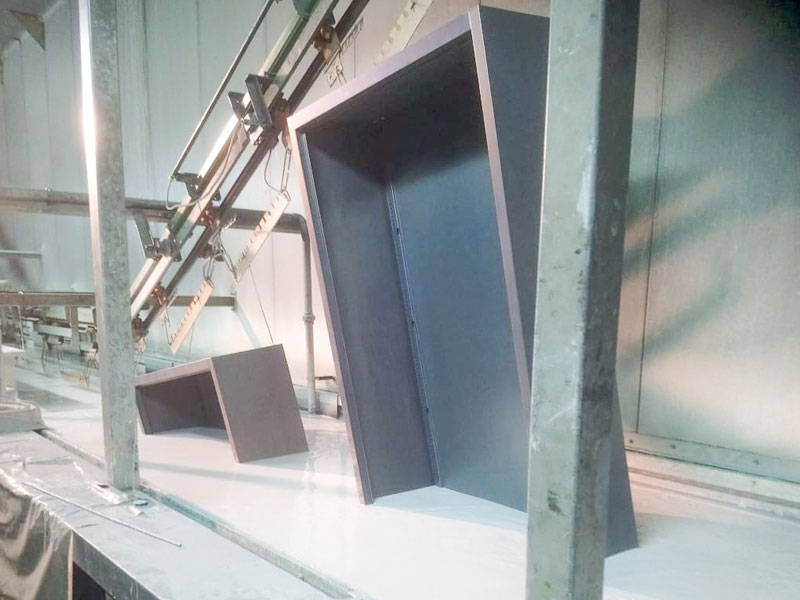 © FreiLacke
Solutions have also been developed to meet the challenge of seamlessly distributing the powder coating layer thickness on sophisticated geometric workpieces, which is often possible only to a limited degree In order to adequately cover undercuts or cavities, other areas of the component frequently feature denser layer thicknesses.
"In the case of conventional, fine-textured powder coating systems, this means that the denser layer thickness will exert an optical influence on the structure or even cause the powder coating layer to foam. In the end, this leads to defective goods or costly extra work."
However, with the new PP5011A product range, FreiLacke has been able to successfully counter this issue: Even with layer thicknesses that are far greater than those specified in the technical data sheet, the surface will remain uniformly flat; that means the surface structure in the range between 80 and 160 μm is very homogeneous. This has allowed FreiLacke's coating specialists to successfully provide automated coating system processors and manual coaters with significantly greater flexibility and scope when it comes to coating their components with fine-textured powder coatings.
In the case of low temperature powder coating (NT), the baking temperature can be significantly lowered and heating energy consumption appreciably reduced. NT coatings also help to considerably shorten the oven throughput time and consequently increase the conveyor speed. FreiLacke has also successfully pressed ahead with further development in this key area.
Powder coatings are similarly a suitable option for coating materials such as SMC/BMC in that they are simply sprayed into the mould. The highly reactive coating hardens within a few seconds allowing the SMC/BMC to be immediately placed and pressed. After pressing, the finished coated component can be demoulded as usual. The surfaces generated in the PIMC process feature excellent chemical and mechanical resistance and are well-suited for continuous use outdoors. The material is free of solvents, hazardous substances and carcinogenic raw materials. PIMC is fire-retardant in accordance with EN45545, HL3, R1 and, thanks to its good properties, it can be used for many applications – for example kitchen sinks, shower trays, facades, lights, athletic equipment or in vehicle construction.
A major benefit of this process: By combining pressing and coating into a single work step, the laborious subsequent coating (including the associated parts handling) can be eliminated, as well as the extensive logistics required when transporting the components to the internal coating plant or for external coating. When using the PIMC process, the components stay in-house until they are completed and can then be shipped to the customer right away. Another advantage: Added value for the operators and lower costs and higher quality for customers.
Liquid Coatings: From Filler to Top Coat
FreiLacke liquid coatings provide highly efficient solutions for surfaces in industrial applications. Whether subject to corrosion, chemicals or weather, FreiLacke delivers the optimum protective coating for substrates such as steel, stainless steel, galvanised substrates, aluminium and plastic. The liquid coatings are used at every level of the coating structure: as a primer or filler, basecoat or top coat as well as in single coat systems. Industry coatings are available in a variety of finishes and gloss grades for interiors and exteriors.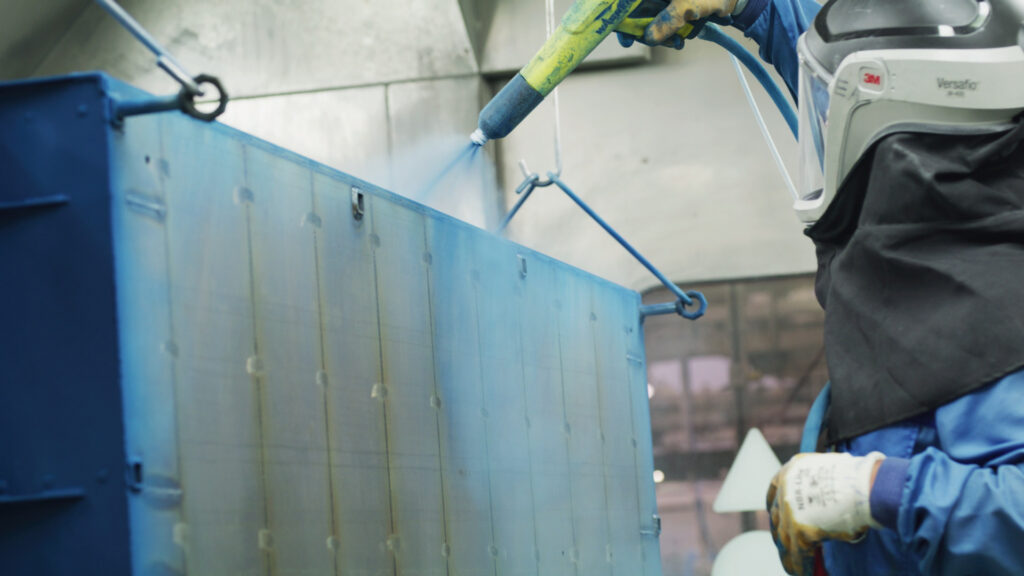 © FreiLacke
Increasingly stricter requirements placed on surface coatings and the continuous reduction of the VOC content in paints and coatings led FreiLacke to develop ultra-high solid systems (UHS). For conventional coatings, completely new coating systems with a solids content of up to 80 percent by weight and a VOC value of less than 350 grams per litre have been developed and brought to series maturity. They facilitate rapid drying and accelerated production processes. FreiLacke consequently has various single- and double-coat solutions on hand that offer high resistance for this purpose. Coatings are available in all RAL colours as well as special colours. Easy application – whether pneumatic, Airmix, Airless or ESTA – and excellent resistance levels distinguish this system.
PaintExpo will also see FreiLacke unveil its extremely quick hardening liquid coating system FreoCure to industry visitors for the first time.
Cleverly Manufactured Composites
The advantages of glass and carbon fibre reinforced composites (GRP/CRP) are apparent: they are light, extremely durable and can be moulded into almost any shape. In addition to a diverse range of surface coating materials, FreiLacke now also supplies components for manufacturing parts. One example is the new CM powder technology. Due to a special two-stage principle, this innovative composite powder stands out against conventional composite material resin systems in that it can be melted on without starting the hardening process.
FreiLacke offers numerous coating solutions for composite materials, ranging from colour pastes and fillers to gel coats. These constitute durable coloured coatings that are applied directly into the mould and provide moulded parts with long-term protection against moisture, UV radiation and impact damage.
The system coating specialists have also succeeded in significantly reducing the percentage of styrene in the gel coats as the substance is deemed hazardous to health and problematic to the environment.
"Using an alternative monomer, we have manufactured a reduced styrene gel coat that delivers even better results than conventional systems in terms of weather resistance and shelf life."
For components susceptible to increased erosion, such as wind turbine rotor blades, the coating professionals provide the high-performance edge protection coating Leading Edge Protection (LEP). New to the range is a modular production technology that no longer disperses, but only homogenises. Modular coating recipes comprise liquid components that can be metered fully automatically and are produced more quickly in order to respond promptly to customer requests.
This article was originally published by FreiLacke.