FreiLacke is the only company to supply both powder coatings and wet coatings in a combined system to the advanced TrainLab.
Dr. Astrid Günther
The final section of the advanced TrainLab – a middle carriage – has been given a new decorative look and corrosion protection. This carriage is particularly special because one company, namely FreiLacke, supplied both powder coatings and wet coatings from a single source.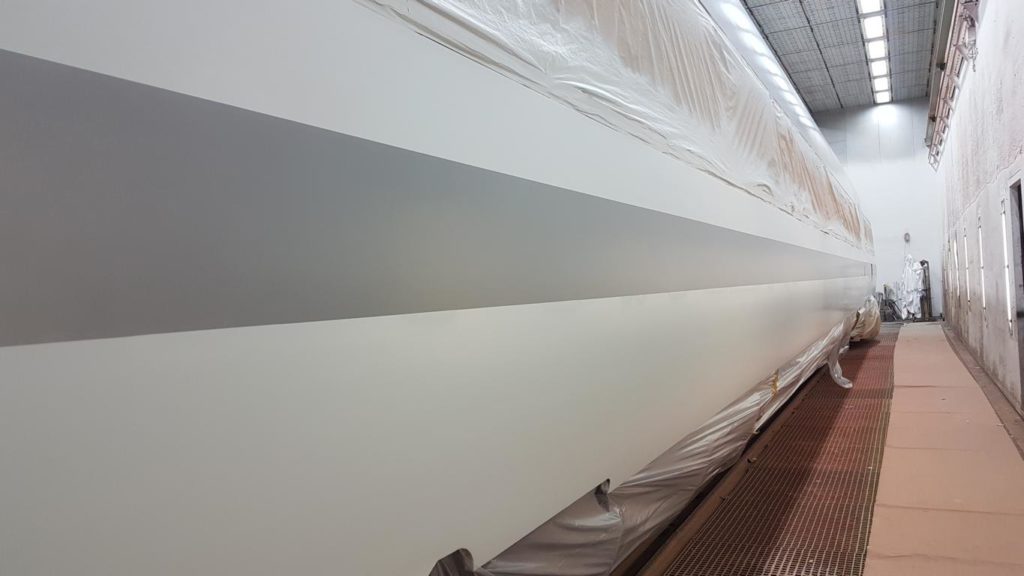 In the case of the powder coating primer 'Freopox PB6904' and the PU powder coating top coat 'PU6' used in the current project, the respective authorisations were only recently granted by Deutsche Bahn AG. Job coater Wobek Oberflächenschutz GmbH from Stollberg, in the Ore Mountains, applied the coatings to the side flaps of the advanced TrainLab, which had been dismantled from the vehicle body for that purpose. Firstly, the flaps were chemically stripped and then prepared for coating using a laser process.
"This is our unique selling proposition within the project. As a coating systems manufacturer we were able to carefully coordinate both coatings during product development and production."
However, for FreiLacke, the primary objective is to use the practical tests to become a full-service provider to the rail transport industry.
"One of the aspects for which our products are noted is their exceptional chemical resistance. The high gloss requirements imposed by DB are also ideally met by the powder and wet coatings. Moreover, the innovative powder coating process is perfectly coordinated with the associated wet coating, virtually eliminating any visible differences"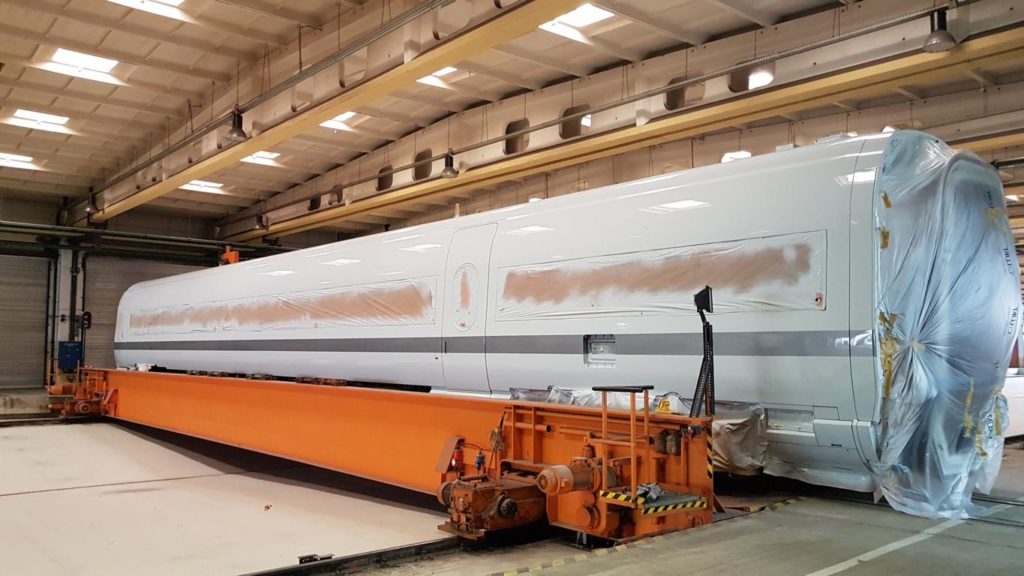 © FreiLacke
The new product combination practically tested on the advanced TrainLab uses the 'DW11' wet coating system and the 'PU6' powder coating. Essentially, the system encompasses a water-based 2C polyurethane coating and a polyurethane powder coating, which are highly resistant to graffiti removal agents and other acids and alkaline cleaners. The water-based coating offers another clear advantage: In the colouring layer, the filler and base coat are combined in a single coating as base fillers. Using this base-filler coating dispenses with one of the coating stages, resulting in shorter turnaround times. In addition, after a short airing period of around an hour at room temperature, each coating layer of the combi-system is ready for wet-on-wet coating. As a result, the three-coat coating system can be cross-linked over night at room temperature. However, should even quicker completion be required, the coating can also be force-dried.
"During product development we constantly kept the coating process in mind. Not only with regard to original coatings, but also in relation to repairs. Consequently, grinding our base-filler coating will not alter the colour. The coating system can also be quickly cross-linked without long waiting periods or the need for forced drying. Particularly where remedial work is required, this saves both time and energy."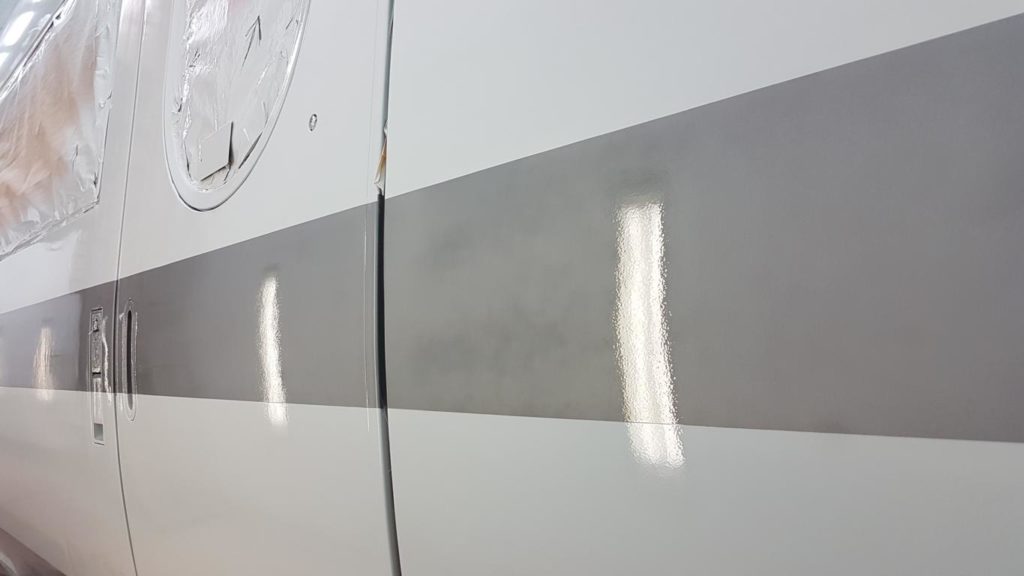 © FreiLacke
Properties of the Coating System (Powder + Liquid Coating):
FreiLacke EFDEDUR-Hydro DW11 and FREIOTHERM powder coating PU6
Powder and wet coating are matched as a system
High colour stability and gloss retention
High level of protection against graffiti
High resistance to cleaning agents and other chemicals
Very short processing times
Very low VOC load
Very good repair capability (spot repair) of the coating systems
Get in Touch
Emil Frei GmbH & Co. KG, Bräunlingen, Dr. Hilmar Weisse Tel. +49 172 19 21 741, [email protected], www.freilacke.de
Deutsche Bahn AG, Munich, dept. FS.EF33, Dieter Greitzke, Tel. +49 89 1308-2608, [email protected], www.deutschebahn.com/advancedtrainlab