Rail transport is one of the most eco-friendly means of travelling and commuting. As an enabler of this low-carbon mode of transportation, Frauscher fully stands behind the idea of working towards a greener future – but not just regarding sustainable, "green" transportation.
The company is consistently focusing its efforts on implementing measures that contribute to a healthier planet. On a large and small scale, both globally and locally: Frauscher is taking a stand for the environment and is ready to embrace a greener future!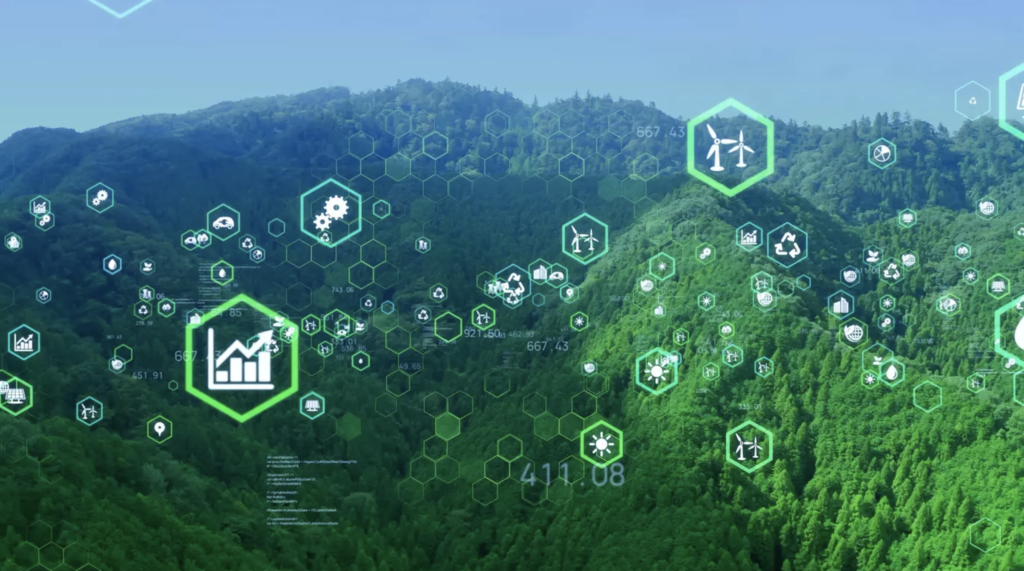 Tested, Assessed, and Certified
Actions speak louder than words. That's why Frauscher has undergone several tests and certification processes to ensure that the company is on the right track.
Corporate Social Responsibility Report
As a member of the DELACHAUX Group, Frauscher contributes to greater sustainability. Its 2020 CSR Report highlights measures regarding safety, ethics, the environment, management practices and community. The remarkable and very encouraging outcome of this report? CO2 emissions across the entire DELACHAUX Group were reduced by 40 per cent between 2018 and 2020.
Carbon Footprint Calculation – GHG protocol
Determining Frauscher's carbon footprint in collaboration with the DELACHAUX Group was yet another milestone achieved in 2020. The Greenhouse Gas Protocol lists the world's most widely used greenhouse gas accounting standards regarding the measurement and management of climate-warming emissions. In 2020, an external partner has calculated Frauscher's carbon footprint according to the GHG Protocol.
The results have shown that Frauscher is performing well, but that's no reason to sit back and rest on our laurels. We consider these findings our benchmark to take further action towards reducing the carbon footprint to an even greater extent.
15 Years of ISO 14001
Another achievement that Frauscher can be proud of is the company's 15th anniversary of having received the ISO 14001 certification at its site in Austria. ISO 14001 is the international environmental management system standard. By maintaining an environmental management system in accordance with the requirements of this standard, organisations demonstrate their commitment to reducing their long-term environmental impact through best practices.
What does this mean for Frauscher? Among other things, we've achieved a milestone by setting up all of our processes in an environmentally friendly way. We are happy to say that we did not have a single incident or emergency with an environmental impact in the last 15 years.
Frauscher's Journey to a Greener Future
From working with local suppliers to a new carpooling app: Frauscher has implemented a series of changes at its Austrian site that make a significant contribution to the health of the environment.
Green Energy
Frauscher is committed to using green energy only. More than two per cent of the company's annual energy demand is covered by its own photovoltaic systems – with the aim of increasing this percentage in the future. The other 98 per cent of energy comes from hydropower.
Local Suppliers
Frauscher also places a strong focus on sustainability throughout the entire supply chain. Our regional supplier policy ensures that all main suppliers are based in Austria or Germany and as close to the St. Marienkirchen headquarters as possible. This keeps transport distances short and the carbon footprint low. In addition, suppliers rely on reusable packaging for their products.
Remote or Local Customer Training & New Ways of Working
By training our customers remotely, at their own premises or at the Frauscher location that is nearest to them, we are able to reduce the need for travel. This not only increases convenience for our customers but also benefits the environment. In addition, we have taken a similar approach with regard to our employees. New ways of working such as digital meetings, working from home or remote work all reduce the need to commute or travel for work. This includes air travel which on a global scale accounts for about five per cent of global warming.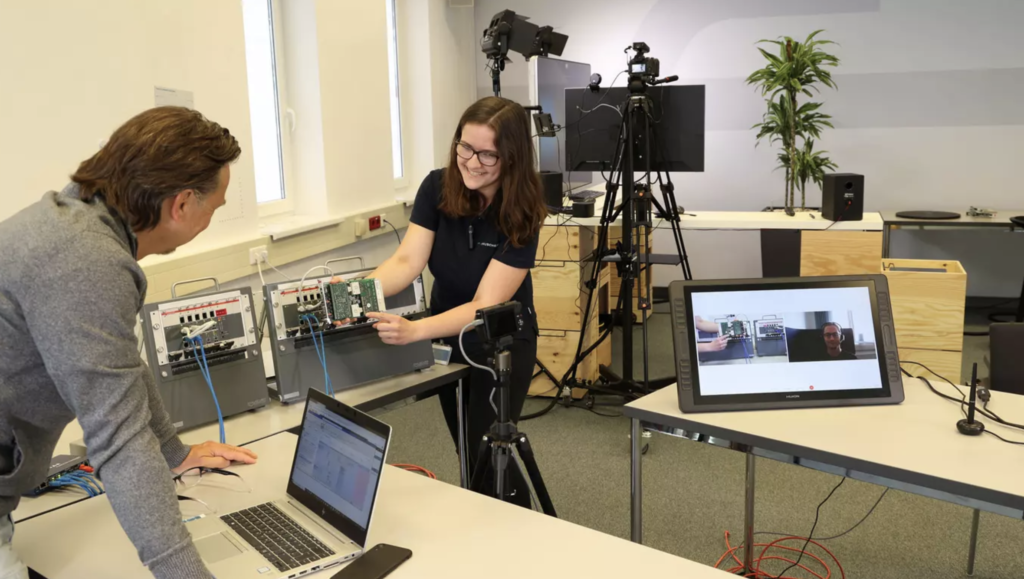 © Frauscher
Car Policy & Carpooling
Frauscher will replace all company vehicles with hybrid or electric vehicles in the near future. For this purpose, twelve charging stations were installed and are actively supplied with green energy obtained from renewable resources.
In addition, the carployee app was introduced. The app allows employees to coordinate their carpools, which is not only more environmentally friendly but also promotes communication among colleagues. Recent data from the app shows it's been a great success so far. After the first two months of the app being in use, there were 404 carpools recorded which saved 8905 km in road travel and a total of 1 158 kg in CO2 emissions.
Reduction in the Use of Hazardous Substances
The use of hazardous substances is necessary to ensure the 30-year life cycle of our products. However, in the past 15 years, Frauscher has increased investments in machinery to process these substances. We only use the minimum required amount of chemicals and ensure that hazardous waste is reduced to the lowest possible quantity.
Small Measures That Make a Big Difference
Members of the Frauscher environmental team – a group of passionate employees, have devoted themselves to the topics of sustainability and eco-friendliness and made it their mission to raise awareness among their colleagues and peers, which has led to a flood of innovative ideas on how to make the world of Frauscher a little bit greener.
One of the measures implemented long ago was the switch to digital communication. However, there is some paperwork that still requires printing. For these instances, we rely on recycled paper supplied by a local manufacturer of office supplies, which allowed us to achieve the reductions in our annual paper consumption that can be seen in the infographic.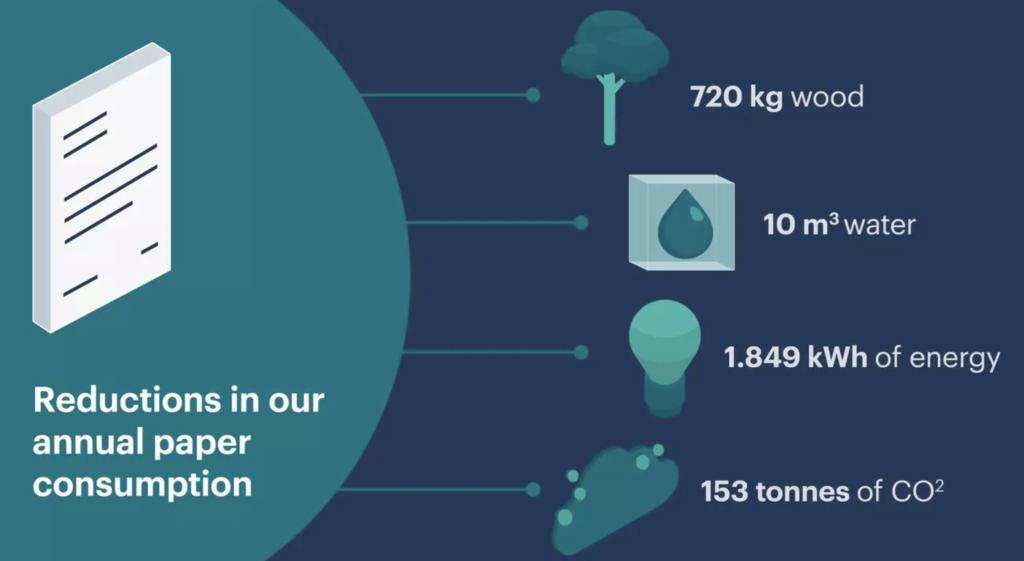 © Frauscher
Together, We're on Track!
At Frauscher, we have made it a declared goal to continuously improve our sustainability approach through the promotion of environmental awareness and responsibility. By implementing sustainable practices and initiatives throughout all areas of our business, we can lower CO2 emissions, reduce waste, and limit pollution.
This requires a concerted effort and commitment, which can only be achieved if all employees work hand in hand and towards this shared goal. Going by what we have achieved so far, we are well on track. No doubt: The future of Frauscher is bright – and green!
This article was originally published by Frauscher.