Wheel Sensor Solutions at Their Best: Challenging Conditions of the Spanish Market
The European Union has declared 2021 the European Year of Rail to promote rail transport as a sustainable, safe, and comfortable mode of transportation. Gain insights into how Frauscher successfully contributes to reliable railways operations in Spain based on a long-standing partnership alongside solutions that meet the specific requirements of the market.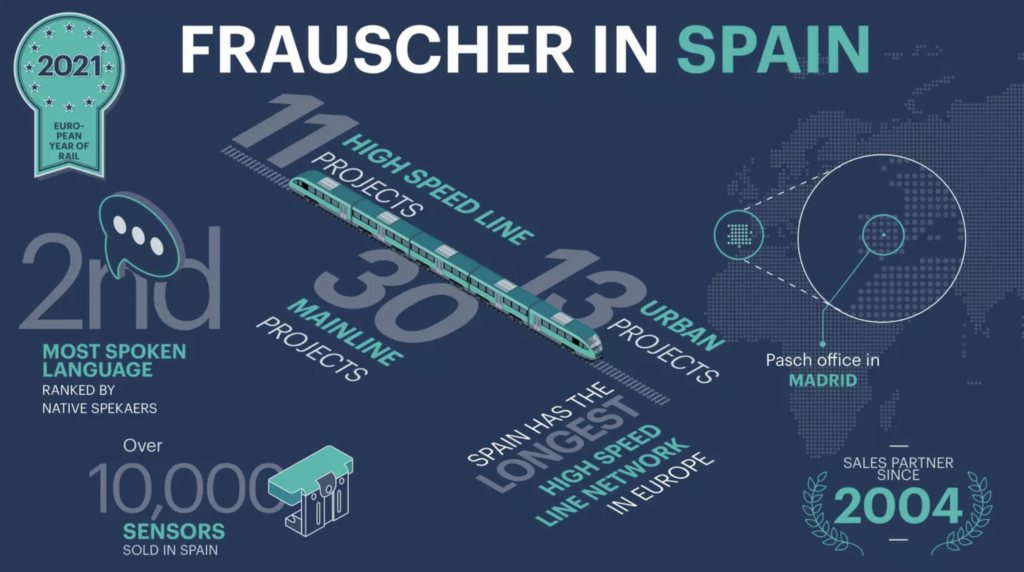 Mass Transit and Industrial
The Railway Segments in Spain
Mobility relies for its future strongly on the rail sector, both for passenger and freight services. With the European Union's ambitious goals for emission savings, the challenge is to ensure that the higher demand for capacity and train density can be met with the existing infrastructure.
Ranging from high-speed lines with a maximum speed of 300 km/h, urban transit like the tram in Barcelona, three-rail projects "Castellbisbal – Tarragona" on the Mediterranean Corridor to hot box detection systems in various projects with the Frauscher Wheel Sensor RSR123 – the market in Spain showcases Frauscher's strengths and flexibility of its solutions in all market segments to meet the aforementioned challenges.
Frauscher enables railway operators to have one common axle counting solution that can communicate with various interlocking systems and complies with both customer-specific communication protocols and standard protocols like EULYNX. In addition, the Frauscher Safe Ethernet FSE has repeatedly shown its value to integrators for the integration into systems without their own software protocol. These benefits have led to many projects together with Spanish enterprises not just in Spain but also across the globe.
Reliable Partner in Spain
Successful Co-operation with Pasch
One of the most important pillars of the Frauscher philosophy is to be close to all our customers worldwide – to understand the customer's culture and to speak the customer's language. In Spain we are particularly proud to have established a very successful partnership with Pasch y Cia., S.A.U., a trusted partner on site who understands the specifics of the market like no other. The co-operation enables Frauscher to offer customers and operators the best support for the implementation and maintenance of their customised solutions.