Wheel Sensor Solutions at Their Best: Challenging Conditions of the Spanish Market
The European Union has declared 2021 the European Year of Rail to promote rail transport as a sustainable, safe, and comfortable mode of transportation. Gain insights into how Frauscher successfully contributes to reliable railways operations in Spain based on a long-standing partnership alongside solutions that meet the specific requirements of the market.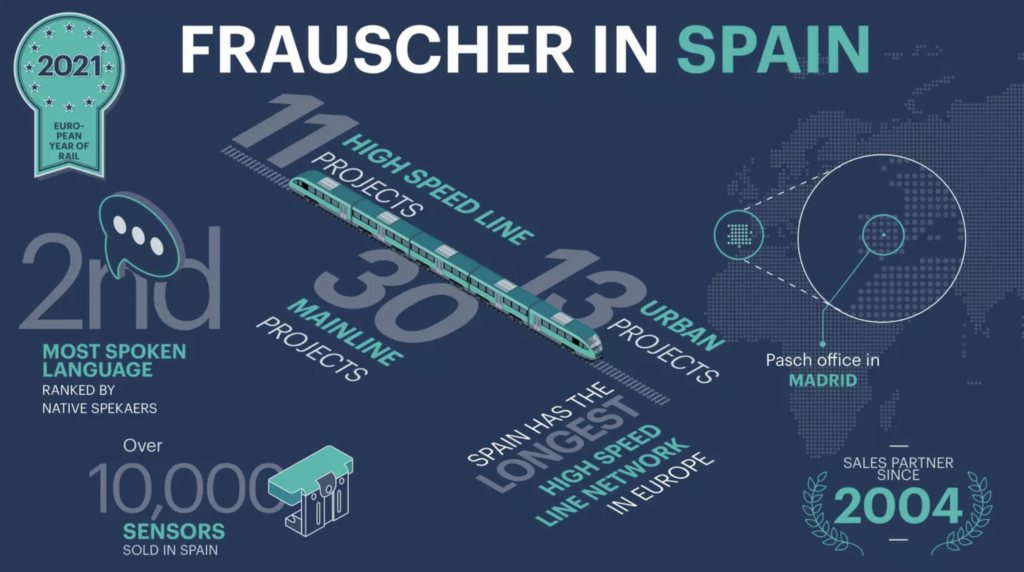 Mass Transit and Industrial
The Railway Segments in Spain
Mobility relies for its future strongly on the rail sector, both for passenger and freight services. With the European Union's ambitious goals for emission savings, the challenge is to ensure that the higher demand for capacity and train density can be met with the existing infrastructure.
Ranging from high-speed lines with a maximum speed of 300 km/h, urban transit like the tram in Barcelona, three-rail projects "Castellbisbal – Tarragona" on the Mediterranean Corridor to hot box detection systems in various projects with the Frauscher Wheel Sensor RSR123 – the market in Spain showcases Frauscher's strengths and flexibility of its solutions in all market segments to meet the aforementioned challenges.
Frauscher enables railway operators to have one common axle counting solution that can communicate with various interlocking systems and complies with both customer-specific communication protocols and standard protocols like EULYNX. In addition, the Frauscher Safe Ethernet FSE has repeatedly shown its value to integrators for the integration into systems without their own software protocol. These benefits have led to many projects together with Spanish enterprises not just in Spain but also across the globe.
Reliable Partner in Spain
Successful Co-operation with Pasch
One of the most important pillars of the Frauscher philosophy is to be close to all our customers worldwide – to understand the customer's culture and to speak the customer's language. In Spain we are particularly proud to have established a very successful partnership with Pasch y Cia., S.A.U., a trusted partner on site who understands the specifics of the market like no other. The co-operation enables Frauscher to offer customers and operators the best support for the implementation and maintenance of their customised solutions.
"Pasch is proud to offer great stability in its business relationship with Frauscher since 2004 as a sign of its management efficiency and the fruit of a policy of long term objectives. Thanks to the combined strengths of both companies and absolute mutual trust we are proud to say that we successfully increase the overall benefit to our customers. Our activities are not limited to mere commercial representation, but include support for project management, warranty service and after-sales service. In the case of the co-operation with Frauscher we are also carrying out trainings to Spanish and Spanish-speaking end customers."
Challenging Environmental Conditions
High Demands on Trackside Equipment
Guaranteeing the safety of passengers on trains, trams, and metro systems, as well as the infrastructure itself, is an integral part of Frauscher's work. System integrators and rail operators worldwide value how easy Frauscher makes it to obtain all information they need to maintain and increase their network's efficiency and safety. And thereby contributing to millions of people commuting daily.
Frauscher trackside equipment is developed to withstand harsh environments according to EN50125-3, operate without trackside electronics, and withstand electromagnetic interferences according to EN50121-4. With an IP68 rating, the fully sealed wheel sensors are 100% waterproof and protected against dust, mud, snow, water, and road salt.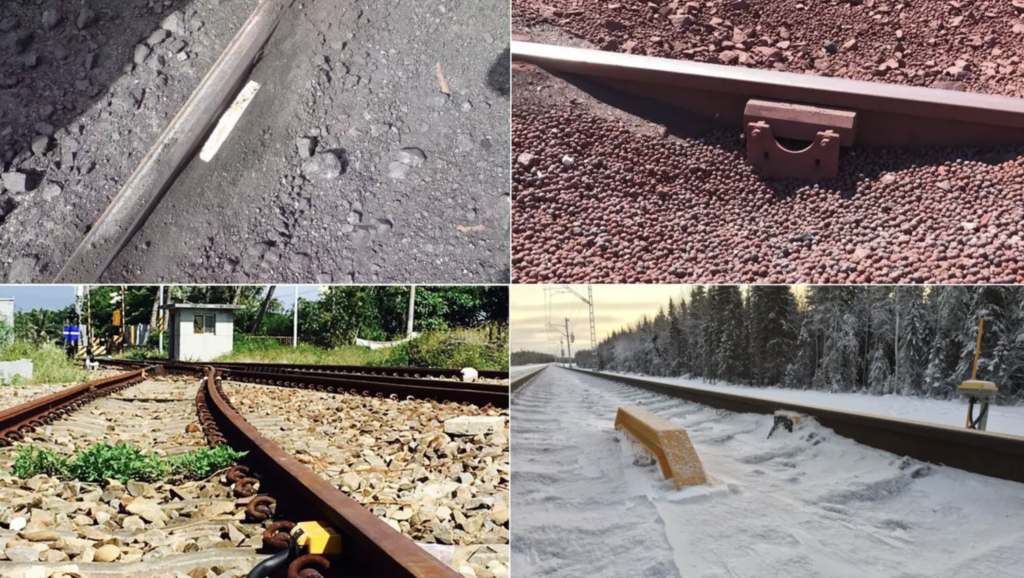 © Frauscher
Wheel detection and axle counting solutions provided by Frauscher are highly available – under all conditions. This is especially important in Spain as the weather is far more diverse and broader as one would imagine in the first place, ranging from the colder and snowy regions in the Pyrenees to the hotter south in Malaga or Seville. The floods in Murcia or the vast snowfall in Madrid at the beginning of 2021 only point towards increasing extreme weather conditions and higher demands on trackside equipment in the future.
Proven Solutions with Flexible Architecture
The advancing digitalisation and the use of data-driven technologies can help operators solve many challenges, with modern axle counting platforms and inductive wheel sensors having the potential to play a key role here: they deliver not only clear/occupied information but also a wide range of additional data to reduce down-times due to predictive maintenance and diagnostics. Due to the modular design and variable interfaces, Frauscher systems fulfil highly individualised customer requirements across all market segments in Spain.
Case Study Castellbisbal – Tarragona
Three-Rail Solution for Track Vacancy Detection
The Spanish railway network is characterised by traditional Iberian and standard UIC gauges. Frauscher developed a three-rail solution for track vacancy detection that fulfils all requirements of ADIF (Administrador de Infraestructuras Ferroviarias), the Spanish railway infrastructure manager.
Get an in-depth look on the project that comprises 920 detection points in 19 stations and learn how Frauscher enabled the seamless integration of different interlocking technologies along the line.
Click here to read the full case study.
This article was originally published by Frauscher.