On 12 December passengers travelled on the Franco-Swiss CEVA line for the first time. CEVA is part of the Léman Express project, Europe's largest cross-border regional express network. Full services then began on 15 December in line with the new timetable. Authorities from both countries attended the official opening event.
The CEVA rail infrastructure project took eight years to complete for a sum of 1.8 billion euros. This funding came from France and Switzerland as well as regional transport offices and local companies, with additional monies from the European Union.
CEVA will see a daily traffic volume of 240 trains, connecting 45 stations over 230km of track on both sides of the border. There will be up to six trains per hour between Geneva and Annemasse in each direction, running seven days a week. Services will run from 5:30am to 12:30am on weekdays and around the clock on weekends. In total there are 40 trains operating under the Léman Express brand.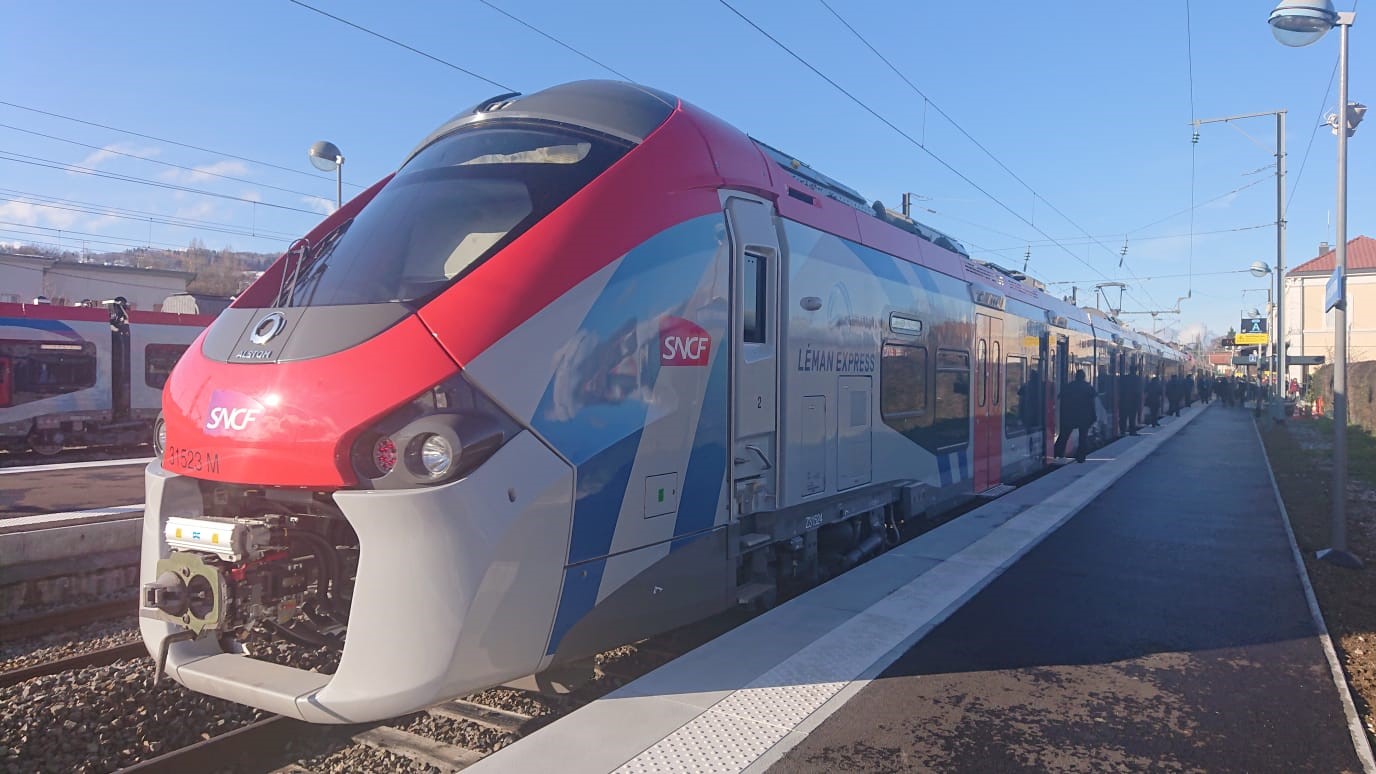 Alstom Coradia Polyvalent Léman Express
Alstom have delivered a total of 17 Coradia Polyvalent trains, complete with on-board digital solutions.
"We are proud to be travelling for the first time on board the Léman Express version of our regional train, Coradia Polyvalent. This event marks the operational launch of our Baseline 3 digital solution ensuring the increase of traffic capacity between the Auvergne-Rhône-Alpes French Region and the Geneva Canton in Switzerland. I am sure that this day is one of many for the future of Europe and a necessary increase of rail connections between countries."
Alstom's Coradia Polyvalent EMUs will serve four of the six Léman Express lines. To accommodate the order, Alstom has made some adaptations to meet the specific requirements of the cross-border line. For example, the Coradia Polyvalent Léman Express is compatible with three types of network voltages.
From a passenger comfort perspective, the trains feature individual reading lights and power sockets. There are dedicated spaces for bicycles and luggage. The large windows and lower noise levels also increase comfort. There are seven low-floor doors on each side. This aids both the speed at which passengers can board and alight the trains and also makes them more comfortable and accessible overall.
Léman Express Signalling
In addition to rolling stock Alstom has also supplied its Atlas ETCS Baseline 3 signalling technology. It meets all the latest EU standards for rail interoperability. Alstom first commissioned this solution last summer, for the cross-border line between France and Luxembourg. This was the first time Baseline 3 technology was commissioned for cross-border operations.
Léman Express Operator
In 2017 CFF and SNCF established Lémanis. This new company is responsible for co-ordinating the organisations who are part of providing the Léman Express service.
Also read: