Alstom Coradia Polyvalent for Léman Express Unveiled
Alstom and representatives of the Auvergne-Rhône-Alpes region unveiled the first finished Léman Express commuter train for the cross-border CEVA rail link. Alstom presented the train at its site in Reichshoffen.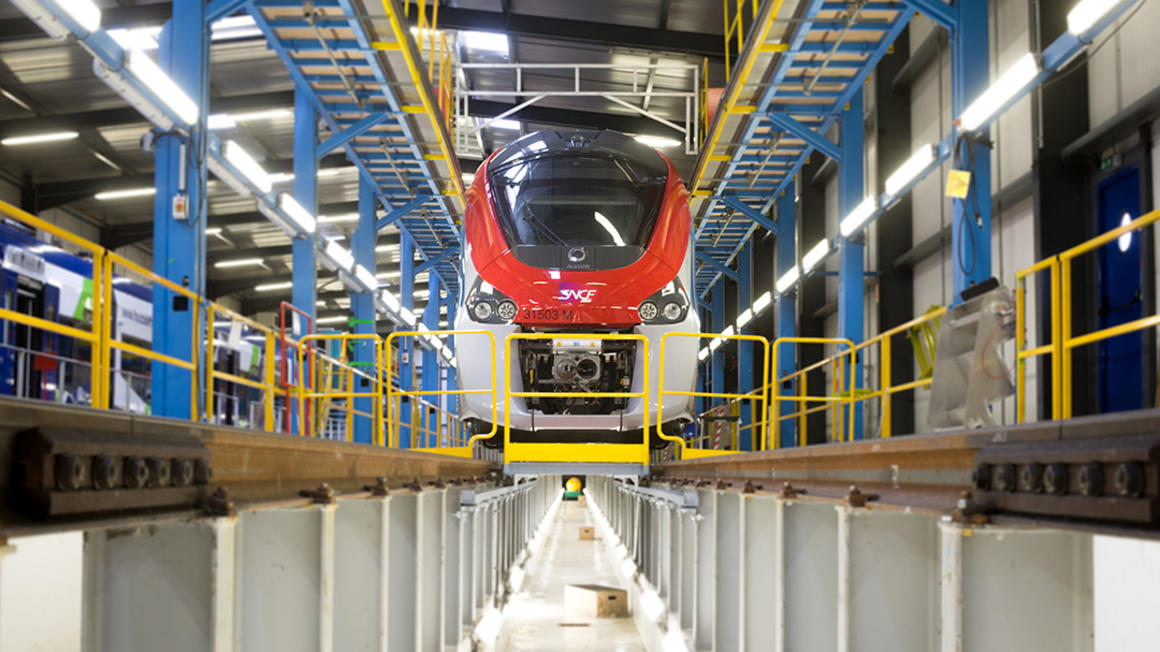 SNCF has ordered a total of 17 Régiolis trains – part of Alstom's Coradia Polyvalent family – from the French manufacturer. The Auvergne-Rhône-Alpes region will fully fund the order. Following almost two years of testing in the Czech Republic, France and Switzerland, Alstom will start delivering the Léman Express trains this summer. They will then enter commercial service in mid-December 2019.
The CEVA Rail Link
The CEVA rail link (Cornavin‒Eaux-Vives‒Annemasse) will connect the main station in Geneva, Switzerland, with Annemasse station in France. Once it opens on 15 December 2019 it will become known as the Léman Express. This rail link will benefit the thousands of daily cross-border commuters and connect SBB and SNCF services.
Alstom has adapted its Coradia Polyvalent trains to the specific conditions of the cross-border CEVA rail link. For example, its their suburban configuration the 72m trains have a seated capacity of 204 and can run at speeds of up to 140km/h. This is in compliance with Swiss certification. Alstom has also designed the trains with ERTMS technology so they can run cross-border services. This means these Léman Express trains can also run on various different network voltages.
Léman Express Trains
Alstom has designed its Coradia Polyvalent trains with low floors throughout. This reduces stopping times at stations, it says, by optimising passenger flows. Each train will have seven doors on each side. The Léman Express trains are also making strides in accessibility. They are the first to comply with PRM-TSI – the technical specifications for interoperability for persons with reduced mobility.
Each seat features its own reading light and power socket. Furthermore, the trains have dedicated bicycle and luggage areas. Lastly, passengers will enjoy the large windows and reduced noise levels.
Jean-Baptiste Eyméoud, Senior Vice President, Alstom France, said:
"Alstom is particularly proud to present this Coradia Polyvalent train, the first trans-border train from its range. It has mobilised six of Alstom's 13 sites in France, including the site of Reichshoffen for the design and assembly, as well as Alstom's experts based in Auvergne-Rhône-Alpes at our Villeurbanne site, for all on-board intelligence as well as the signalling products."
Martine Guibert, Vice-President of the Auvergne-Rhône-Alpes region and delegate for transport, and Jean-Charles Ogé, Strategy and Finance Director of SNCF TER Auvergne-Rhône-Alpes and Chairman of the Board of Directors of Lémanis SA also attended the unveiling event.
Read more about Alstom's involvement in the Léman Express project:
Construction of the CEVA rail link