Forbo's Commitment to Sustainable Development
At the UN Summit on 25th September 2015, the Heads of State & Government adopted 17 global goals and the 2030 Agenda for Sustainable Development. The world's countries have undertaken to lead the world from 1st January 2016 to the year 2030 towards a sustainable and fair future. We at Forbo Flooring Systems want to lead sustainable development and constantly work to help our customers with flooring choices that reduce climate impact. Our sustainability work is based on the UN's sustainability principles focusing on people, planet, profit.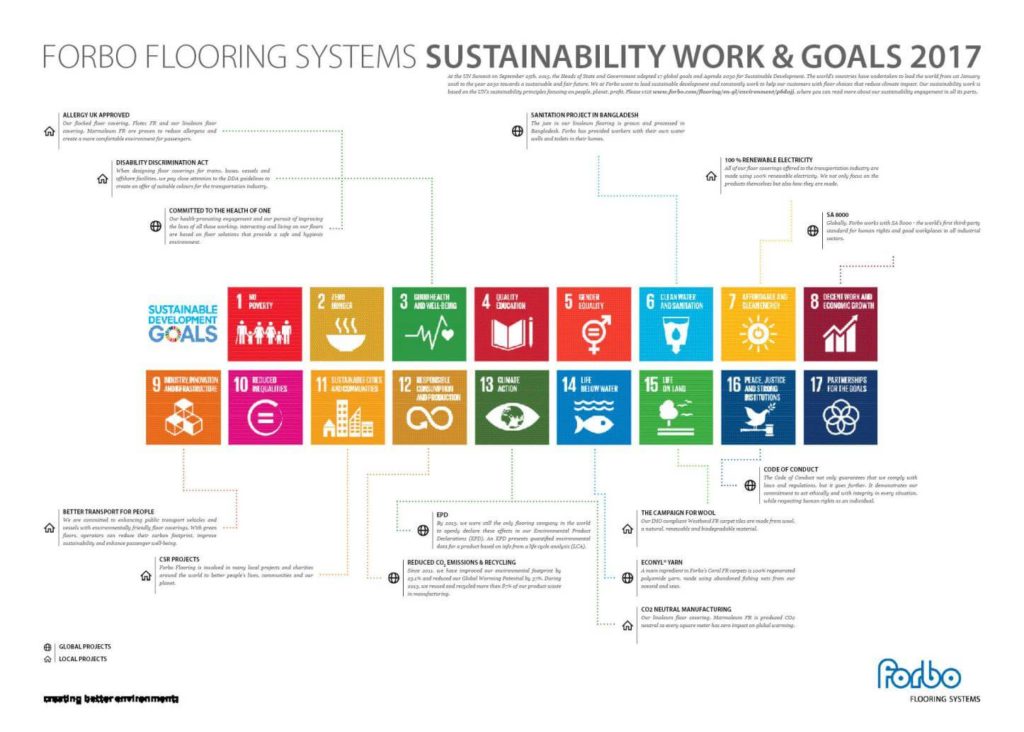 Good Health & Well-Being
Allergy UK Approved
Our flocked floor covering, Flotex FR and our linoleum floor covering, Marmoleum FR are proven to trap allergens and create a more comfortable environment for passengers.

Disability Discrimination Act
When designing floor coverings for trains, buses, vessels and offshore facilities, we pay close attention to the DDA guidelines to create an offer of suitable colours for the transportation industry.
Committed to the health of one
Our health-promoting engagement and our pursuit of improving the lives of all those working, interacting and living on our floors are based on floor solutions that provide a safe and hygienic environment.

Clean Water & Sanitation
Sanitation Project in Bangladesh
The jute in our linoleum flooring is grown and processed in Bangladesh. Forbo has provided workers with their own water wells and toilets in their homes.
Affordable & Clean Energy
100 % renewable electricity
All of our floor coverings offered to the transportation industry are made using 100% renewable electricity. We not only focus on the products themselves but also how they are made.
Decent Work & Economic Growth
SA 8000
Globally, Forbo works with SA 8000 – the world's first third-party standard for human rights and good workplaces in all industrial sectors.
Industry, Innovation & Infrastructure
Better transport for people
We are committed to enhancing public transport vehicles and vessels with environmentally friendly floor coverings. With green floors, operators can reduce their carbon footprint, improve sustainability and enhance passenger well-being.
Sustainable Cities & Communities
CSR Projects
Forbo Flooring is involved in many local projects and charities around the world to better people's lives, communities and our planet.
Responsible Consumption & Production
Reduced CO2 emissions & recycling
Since 2011, we have improved our environmental footprint by 23.1% and reduced our Global Warming Potential by 37%. During 2013, we reused and recycled more than 87% of our product waste in manufacturing.
Climate Action
EPD
By 2013, we were still the only flooring company in the world to openly declare these effects in our Environmental Product Declarations (EPD). An EPD presents quantified environmental data for a product based on info from a life cycle analysis (LCA).
CO2 neutral manufacturing
Our linoleum floor covering, Marmoleum FR, is produced CO2 neutral to reduce environmental impact.
Life Below Water
Econyl® Yarn
A main ingredient in Forbo's Coral FR carpets is 100% regenerated polyamide yarn, made using abandoned fishing nets from our oceans and seas.
Life on Land
The Campaign for Wool
Our IMO compliant Westbond FR carpet tiles are made from wool, a natural, renewable and biodegradable material.
Peace, Justice & Strong Institutions
Code of Conduct
The Code of Conduct not only guarantees that we comply with laws and regulations, but it goes further. It demonstrates our commitment to act ethically and with integrity in every situation, while respecting human rights as an individual.
As a global manufacturing business, Forbo Flooring will continue to strive and support the achievement of the UN's sustainable development goals by 2030.
Original article © Forbo.
FOR ALL THE LATEST TRANSPORT NEWS FROM FORBO, PLEASE CLICK HERE.