Fatalities in Puglia Train Crash
At least twelve people have been killed and dozens more injured in a train crash near Bari in Puglia, Southern Italy. A head-on collision between two passenger trains, both with four carriages, resulted in the front two carriages of each train being crumpled and partially derailed.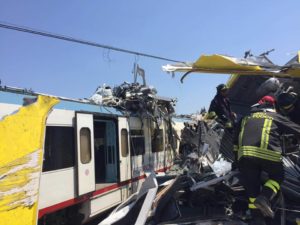 Emergency workers on the scene have pulled survivors from the wreckage, including a small child who was airlifted to hospital. Although several rescue crews are at the scene, efforts are hampered by the location of the crash, which is in an olive grove. Local authorities have called on blood donors in the area to give blood.
Regional prosecuter Francesco Giannella has opened an investigation. He, along with Michele Emiliano, the Governor of Puglia, are on their way to the crash site. Italy's transport minister is also travlling to the site. Prime Minister Matteo Renzi returned from Milan to Rome in the immediate aftermath of the crash. In Milan, he said that this "is a moment for tears," and promised not to stop until the cause of the crash is determined.
Initial reports suggest that the crash was caused by human error. Investigators told AFP that one of the trains should have waited at the station for the green signal, but failed to do so.
Massimo Mazzilli, Mayor of Corato, wrote on Facebook:
"It's a disaster, as if he fell on a plane! Rescue and civil protection is all over the place, unfortunately, there are victims!"
The line is managed by Ferrotramviaria. Works are currently underway to make the line double-track. Around 200 trains per day use the line.
Ferrotramviaria released a statement onto their Facebook page saying:
"Movement of trains has stopped suddenly between Corato – Andria. A replacement bus service has been established."
The statement has drawn criticism, with one commenter saying:
"You have posted the news as if it were the theft of cables last night!!! Dozens of families torn apart by an apocalyptic tragedy."