We want to share our news and welcome our newest Director, Matt D'Arcy, who joins the Board as Technical Director with effect from 1st July 2020.
Matt has been with Attwater for over 12 years and in this period, he has worked within the different business departments and teams to get to where he is now. Matt started with us in the early days as a Sales Order Processor, progressed quickly through Pre-Sales, to Technical Development Engineer then onto Maintenance and Technical Manager through to today, with his current role as Technical Director.
The invitation to join the board is one that Attwater sees as recognition for all of Matt's hard work and dedication to the business. We know that the appointment of Matt brings a youthful addition to the board. This will drive much more focus on innovation, making the future of Attwater & Sons a bright one, with the needs of our stakeholders' forefront of everything we do.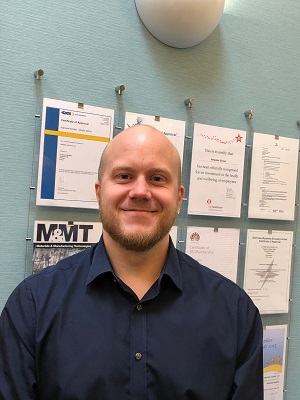 Matt is a specialist in his field and has always had a keen interest in all things technical. With his years of knowledge this appointment will enable him to influence the wider strategy of the business as material technology and industry requirements progress, whilst also keeping in touch with the hands-on side of our products. His dedication to customer's projects, however weird and wonderful, keeps our customers supported, informed and confident that Attwater is the partner for them.
He has developed strong relationships with many of his industry peers through his work within industry associations, such as the Electrical Insulation Association (EIA) and the European Electrical Insulation Manufacturers association (EEIM), where he works closely with members on technical support and new projects. He is also involved with various standards bodies such as the British Standards Institute (BSI) and the International Electrotechnical Commission (IEC), where he helps develop and maintain national and international standards. This involvement only strengthens Matt's ability and knowledge that he brings to the Attwater team.
"Now the work starts, Matt will be a refreshing addition to the board. His enthusiasm and knowledge will be a driving force for the future innovation for the next 150 years of Attwater & Sons Ltd."
Congratulations to Matt again on a well deserved new appointment.