DB Cargo UK to Launch Future Business Model
DB Cargo UK has reached successful agreements with the four trade unions representing a majority of its workforce, meaning it will launch its future business model on 02 July, as planned.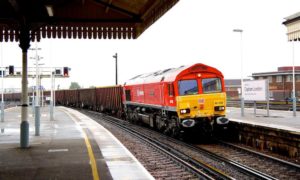 ASLEF, RMT, TSSA and Unite have been in discussions since October 2016 with the country's largest rail freight operator, when the company announced proposals to cut 893 jobs (almost a third of its workforce) in a restructure triggered by the rapid decline in the core market of coal. The working arrangements of employees will also be updated and modernised.
Hans-Georg Werner, CEO of DB Cargo UK, said:
"I would like to thank ASLEF, RMT, TSSA and Unite for their continued dialogue with us. Under the pressures of the market we were able to find agreements acceptable to all parties and avoid industrial action. We regret that some colleagues will be leaving us but treating our people fairly to secure a business that will be successful in the future has been at the heart of our discussions.

"We will now move forward with our plans to lead the next generation of rail freight which includes key investments such as new wagons, terminal enhancements and combining our core function of delivering goods by rail with bespoke in-house IT solutions, to give our customers the best service and make it easy for them to do business with us."
As the coal sector for rail freight reduces, other markets including aggregates and steel remain buoyant.
Hans-Georg Werner added:
"There is a strong future for rail freight in the UK because it offers benefits that its competitors – mainly road – cannot. It's efficient, it's quick and it removes congestion from our roads because a train can carry much more volume than a truck. We are making sure rail freight provides solutions for customers now and in the future."
Original article © DB Cargo UK.
FOR ALL THE LATEST INFORMATION, NEWS, IMAGES, VIDEOS AND ARTICLES ON ALL ASPECTS OF ROLLING STOCK, PLEASE CLICK HERE.