User-friendly and modern – the new EAO website.
Easy to navigate, tailored to the target audience and in a modern design: the EAO website (www.eao.com) has got a new shine. The online entity for the world's leading HMI developer now showcases user-friendly information architecture, a smart product configurator and striking imagery. With eight languages available, the website is able to address individual national and regional dialogue groups as well as to present country-specific content.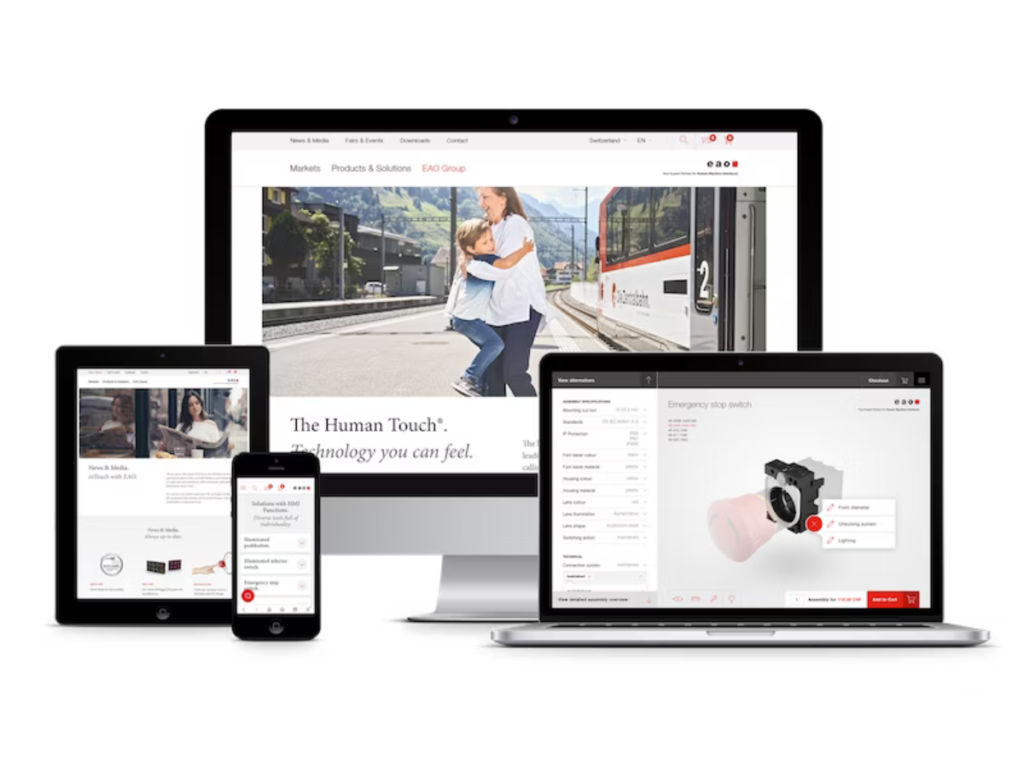 The requirements for the new EAO website were set at a high level. Users had to be able to quickly and easily access any information they need – from individual products or data sheets to appropriate contact persons.
"Our intention with the new website was to incorporate the needs of engineers, purchasers and executives in particular. We want to be presenting them with specific arguments in favour of EAO solutions and then quickly guiding them to the appropriate product or relevant content."
The new website succeeds in doing exactly that, thanks in particular to its intuitive navigation and search function.
Product Experience: Target-Group-Specific Access and Integrated Configurator
The Human Machine Interfaces that EAO offers are incredibly diverse in terms of application areas and functions. To ensure users can find their way to what they need, the website has been designed with an emphasis on navigation and to include a range of search options. Users can search for specific content and products by product function, market or series. The full-text search feature also ensures a high hit rate and can be used to search by keyword or article number. This is where the seamless connection between the corporate website and the configurator becomes especially significant: as well as returning content pages containing text, photos and videos, search results also include actual products that can be directly configured online. Up to 1,000,000 product variants are available for all key HMI functions.
Buying Experience: Inform, Configure, Purchase
Throughout the user's journey in the EAO online world, the shopping basket and comparison list are always just a click away. This makes it simple for visitors to switch between configuring a product and gathering information as they browse. Any configurations can be saved and additional variants created. The product comparison list continuously displays the differences between designs in an intuitive, comprehensive manner. In addition, users can download the CAD data for their configurations in all formats, for immediate use. Brochures, data sheets, certificates and more can be quickly located in the download centre by using appropriate filters, meaning that users can access all the marketing and product information they need in a single place. Once you have successfully configured your product, EAO ensures a consistent buying experience right up to checkout by integrating its global distributors into the process.
Brand Experience: Unmistakable Design and Storytelling
Web experience with storytelling: text, photos and video stories on the website offer users a holistic experience that will leave them wanting more. EAO has given a lot of attention to consistent storytelling here, deliberately embedding video and campaign communications into the website so that different content and formats can be displayed on a variable basis. This approach ensures the website is not just a source of information or a product configurator, but also a place were customers remain engaged by punchy graphics, videos and text elements – all presented in line with the EAO corporate design. The discreet colour scheme and clear, legible serif font contribute to the high-quality appearance of the website, and a responsive design means it performs as intended on all end devices, from PCs and smartphones to tablets and laptops.
EAO is a global company so its website offers eight different languages, including Chinese and Japanese. This brings EAO's global sales companies even closer together under a single, strong umbrella brand, and makes it possible to appeal – directly and on a country-specific basis – to various target and dialogue groups in their individual markets.
"The new website exemplifies our efforts to always make things as easy as possible for our customers. At the same time, the website makes our brand values and brand promise wonderfully tangible."
The new website impressively underlines EAO's reputation as a reliable global partner for Human Machine Interfaces (HMI).
This article was originally published by EAO.