Telegärtner UK
Ruggedized Protection for Any Situation
In rough conditions, occurring in industrial or outdoor areas, high quality fiber optical connections are needed despite the mechanical and climatic stress.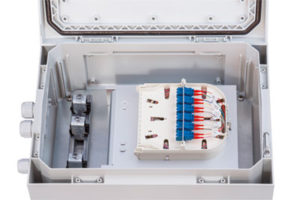 For this purpose, Telegärtner has developed the rail distribution box, called RDB. Because of its tested reliability against vibrations and shocks and also heat, coldness and humidity, the RDB is perfectly suited for use in harsh environments.
Besides its robust housing including the IP66 protection and UV resistance according to UL 508, a hinged splice cassette is mounted onto the rail distribution box, which enables easy assembly and maintenance. Different front plates are available to meet your demands – being able to store pigtails with all common connectors and fibers. Moreover, the splice cassette enables up to 24 splices. Via the three cable glands, cables of different outer diameters can be fed in or out.
If the box needs to be fixed to a signal mast, an additional adapter plate is available which can be mounted onto the distribution box.