Deutsche Bahn Assists Reformation Celebrations
Germany Celebrates the Reformation
© Deutsche Bahn AG / Kai Michael Neuhold
Germany is the home of the Reformation, a movement started by Martin Luther in 1517 when he published his Ninety-five Theses against the selling of indulgences by nailing them to the wall of All Saints' Church in Wittenberg. This led to a schism in the Catholic Church and marked the beginning of Protestantism.
Today, in 2017, Germany is celebrating the 500th anniversary of the Reformation with a number of high-profile events. 24–28 May 2017 saw the celebration of the Kirchentag ('church day') with events taking place in Berlin and Wittenberg. President Obama visited Berlin for the launch of the Reformation Summer. Thabo Makgoba, archbishop of Cape Town and successor of Desmond Tutu, held the major outdoor service outside of Wittenberg.
Deutsche Bahn Puts on Special Reformation Schedule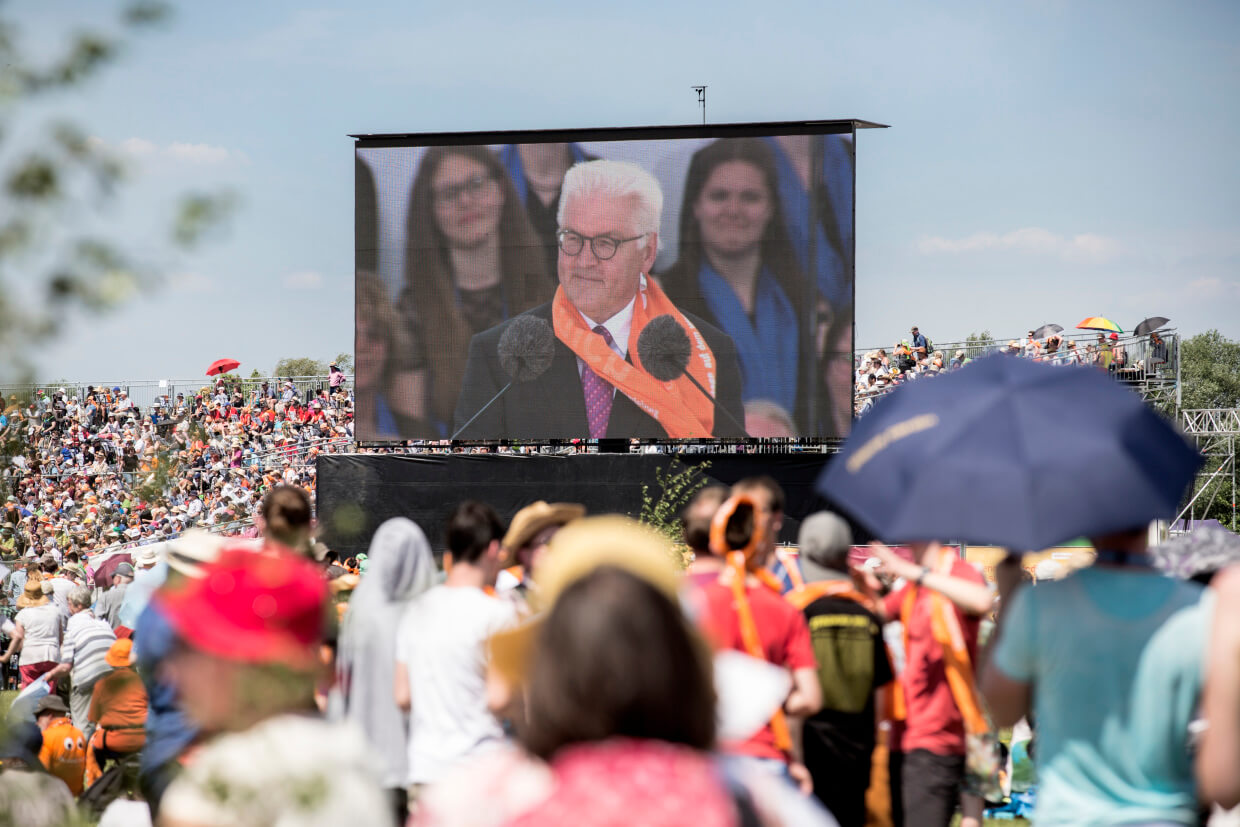 Between 100,000 and 200,000 visitors were expected for the celebrations. With Wittenberg roughly 110km from Berlin, many more people than usual would want to use the transport network on 28 May when the Wittenberg events were taking place. Deutsche Bahn planned ahead and for one day only put on a special schedule with more than 100 shuttle trains for visitors. Deutsche Bahn said that of the 120,000 people who attended the service in Wittenberg, roughly half used trains to get to and from the venue. 500 extra members of staff worked that day.
Deutsche Bahn's statement says:
"The shuttle trains started operating at 4am on Sunday morning from Berlin, Leipzig, Halle, Magdeburg and Dresden to Wittenberg, at times every 10 minutes. In addition vehicles from ten federal states were brought to the region that had to be back in their home region for commuter traffic by Monday morning.

"To deal with potential problems at points and signals quickly, DB pre-emptively had many technicians on call along the routes, but they weren't needed."
It was an impressive logistical feat and very successful too: there were no overcrowded trains and no backlogs at stations.
German newspaper Der Tagesspiegel reports some problems with the online booking system, which some users found too complicated, however, on a positive note the tickets for the journey cost just €9.50 instead of the regular €15. In addition the stations in Berlin were fitted with additional baggage storage as luggage wasn't allowed on the festival meadow where the Wittenberg service was held.
Deutsche Bahn is the official mobility and logistics partner of the 2017 Reformation Anniversary. As such it wanted to provide a green way for visitors to travel to and from the celebratory events. Since 2016 the station in Wittenberg has been climate-neutral. It features solar panels as well as rain water processing.
Watch how the Deutsche Bahn Reformation Anniversary train is given its celebratory decal: