Global Cyber Attack Hits Deutsche Bahn
The global cyber attack that started in the UK by targeting the country's National Health Service (NHS) has hit computers in 99 different countries, specifically computers using Windows as their operating system. The German Federal Ministry of the Interior confirmed to news broadcaster ZDF that Germany was among the countries targeted. The ZDF went on to report that Deutsche Bahn's computers were affected.
Cyber Attack Hits Deutsche Bahn
According to Deutsche Bahn, the global Trojan attack began affecting the company Friday night and into Saturday. It has hit digital passenger information displays in stations but has not affected local or long-distance services or other Deutsche Bahn operations. Extra staff are deployed at stations with high passenger volumes. Deutsche Bahn is working as fast as it can to remove the technical difficulties, the statement reads. DB believes, however, the disruption will last into the afternoon. German newspaper WELT reports that DB Netz, Deutsche Bahn's infrastructure subsidiary, stated on its website that all the systems at the Hanover operating centre had failed due to a hacker attack.
Twitter users have posted photos of the hacked passenger displays, featuring the ransom demands.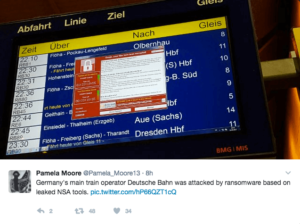 The message visible on the passenger display panels stated that "many of your documents, photos, videos, databanks and other files are no longer accessible because they have been encrypted". The message goes on to demand $300 worth of bitcoin. "You only have 3 days to pay. After that the price will be doubled."
'WannaCry' Ransomware
The attack using WannaCry ransomware has hit computers all around the world, including Teléfonica in Spain and FedEx in the United States. According to experts, the hackers used a security gap that had been identified by the National Security Agency (NSA) in the US and that was then publicised by hackers. Although Microsoft had dealt with the weakness in question by releasing a security update on 14 March, only those computers that had had installed the update were protected. It is not believed that this global attack is politically motivated.
Read our in-depth cyber security interview with Lead Systems Engineer at Thales, Alzbeta Helienek, here.