Czech Republic: Leo Express Orders 15 LINT DMUs from Alstom
Private train operator Leo Express has ordered 15 LINT DMUs from Alstom Transport and is currently seeking approval for them from the Czech authorities.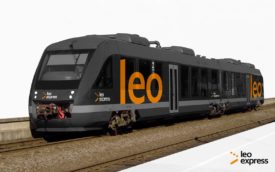 All units in the fleet have low floors and are air-conditioned. They will be equipped with Wi-Fi, and sockets for 230 V plugs and USB devices. 11 of the vehicles will provide 120 seats for passengers, whilst 70 seats will be available on the other 4 units. Ticket vending and snack machines will be fitted in the vehicles.
The DMUs will be delivered to Leo Express in December 2018. Before entering service they will receive both external and internal modifications in the Czech Republic, where they will be fitted with the Mirel automatic train protection system. The units will be homologated to run at 120 km/h. Leo Express intends to start services on selected Public Service Obligation (PSO) routes in the country during 2019.
Peter Köhler, CEO of Leo Express, said:
"We are pleased to have retained this highly modern portfolio of DMUs, which is unparalleled in the Czech market and includes amenities such as low entry access for mothers with prams or wheelchair users, Wi-Fi, air-conditioning, bicycle stands or vending machines with snacks. And this all with very low noise and emission levels."