Preserving the natural environment is a responsibility railroads are taking seriously. Although all rail industries are pushing for this, freight has less pressure to push for cleaner, which is why it is extremely noteworthy that Cummins Rail and R.J. Corman Railpower partnered in creating a eco-friendly locomotive that meets Tier 4 Final emission standards.
Cummins Rail Segment stands on the company's promise that everything they do will lead to a cleaner, healthier, safer environment. Together, R. J. Corman Railpower Locomotives and Cummins built a freight locomotive that was dependable and met stringent Tier 4 emissions levels.
In 2016, the R.J. Corman Railpower Locomotive group met with Cummins' account team to discuss their vision of an eco-friendly locomotive. After much discussion, it was determined that the Cummins QSK60 EPA Certified Tier 4 engine would power their locomotive. The Cummins Application Engineering Rail Team partnered with Railpower to create Road Number 2017, an innovative and dependable freight locomotive. Working together Railpower & Cummins delivered to the market a Single Engine 2310 Horsepower Tier 4 Locomotive engine system that delivers decreased fuel consumption, increased reliability, and the reduction of harmful emissions.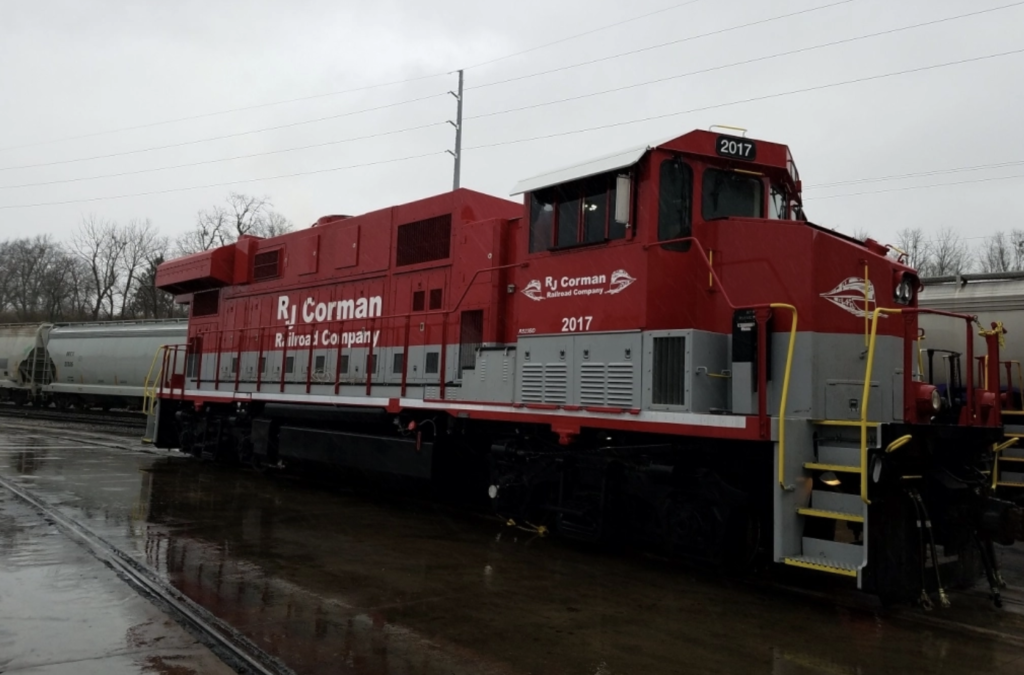 The R. J. Corman Railroad Group, LLC serves all seven North American major railroads, many regional and short line railroads and dozens of industries. Their business unit, R. J. Corman Railpower Locomotives, offers eco-friendly products that provide flexibility, performance, and reduced fuel usage.
Railpower designed this locomotive to be a revenue generating locomotive for the R.J. Corman Railroad fleet as well as a proof of concept demonstrator. Railpower has the resources to manufacture and sell this locomotive to other railroads. The Cummins QSK60 Tier 4 powered locomotive has proven itself as a major player in the market for Tier 4 locomotive high horsepower engines. Road Number 2017 has been generating revenues since February of 2019 and has exceeded expectations. Railpower has been extremely happy with the performance of the engine in the locomotive and have not had any warranty issues.
"Cummins is very happy to partner with RailPower for this new locomotive. Railpower has been a partner of Cummins for many years. Cummins/Railpower has completed numerous locomotive projects including delivering a fleet of 14 multiple Cummins QSX15 powered CoGen Locomotives to Union Pacific. Cummins Sales & Service locations throughout North America provide support for these fleets and we look forward to a bright future for Railpower's new single engine locomotive. This locomotive design will be a major player in the new locomotive and repower marketplace. The QSK60 Tier 4 locomotive offers lower emissions, exceptional dependability, and more tractive effort."
The Evolution of the Tier 4 QSK60 Engine
The QSK60 is built at one of Cummins' engine plants located in Daventry, United Kingdom. In addition to the rail market, the QSK60 is operating in the marine and power generation markets and is available for other industrial applications.
The QSK60 locomotive engine with Modular Common Rail Fuel System (MCRS) is one of the Quantum Series from Cummins with innovative technology that delivers more for less. It gives outstanding reliability and durability, excellent fuel economy, lower running costs, longer engine life to overhaul, and has Tier 3/Stage IIIA in an engine-only configuration and Tier 4 Final/Stage IIIB/Stage V with aftertreatment emissions capability.
Life cycle costs are significantly reduced, and with a highly advanced Quantum electronic management system, the engine sets unbeatable standards in productivity for diesel locomotives. The QSK60 with MCRS is designed to provide the operator superior value and reliability, while meeting stringent worldwide emissions standards.
A major factor in Railpower choosing Cummins' QSK60 engine for their locomotive was that it met the Environmental Protection Agency's Tier 4 emission standards in North America. Improved combustion technology controls Particulate Matter and Selective Catalytic Reduction (SCR) reduces NOx emissions, allowing Cummins engines to meet Tier 4 emissions while reducing fuel consumption and maintaining or exceeding Tier 2 levels of performance and durability.  With global off-road experience, Cummins has clear emissions technology leadership. Our in-house experts evaluated all viable technology paths before identifying the best solution. Building on the well-known reliability of Cummins industrial engines, Cummins QSK60 Tier 4 engine and aftertreatment components for a fully integrated engine system from intake to exhaust.
Providing the Best Sales, Service and Support Available
"We are thrilled to be powering Railpower's new freight locomotive, Road Number 2017. Cummins is excited to continue providing sales, service and support to Railpower. Cummins has the technical expertise and experience to deliver fast, high-quality repairs, planned maintenance and upgrade solutions. Our local distributor locations offer a complete range of Cummins products and Cummins genuine parts – supporting parts availability and the custom engineering requirements necessary to keep Railpower operating 24/7."
Cummins is dedicated to powering a world that is Always On with reliable and sustainable diesel engines. If you would like to learn more about our team of experts, our dependable engines, or our innovative products please use the contact form below.