Low-Emission Locomotives Enter Service on California Northern Railroad
Genesee & Wyoming Inc. (G&W) have announced that two new US EPA Tier 4 compliant low-emission locomotives are now in service with subsidiary company California Northern Railroad Company (CFNR), after successfully completing trials.
Built by Knoxville Locomotive Works in Tennessee, the 2,400-horsepower diesel locomotives use selective catalytic reduction technology to meet the emissions standards set by the EPA. Their 12-cylinder MTU engines are expected to provide fuel savings of 25 percent and reduce diesel emissions. They will also reduce carbon dioxide and oxides of nitrogen by 80 percent compared with the two 1976 locomotives they are replacing.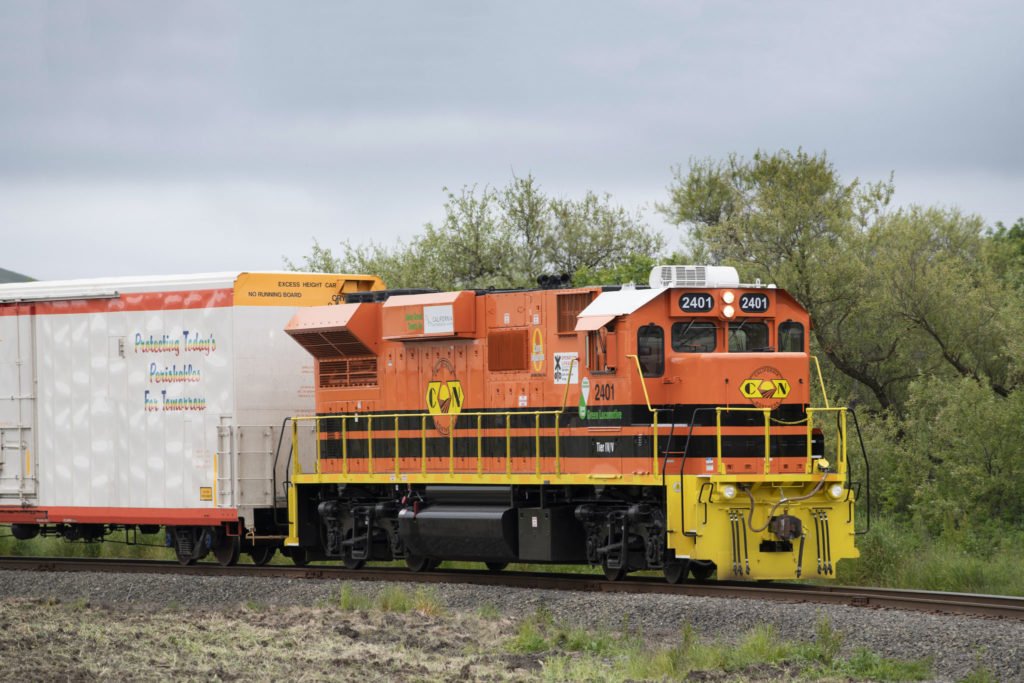 Public-Private Partnership
The locomotives were purchased with the aid of a $3.7 million grant from the California's Bay Area Air Quality Management District (Air District), from the states programme (Proposition 1B Goods Movement Emission Reduction Program), aimed at incentivising owners of equipment used in freight to upgrade to cleaner technology.
CFNR President, Brad Ovitt said:
We're grateful to the Air District for making the purchase of these two low-emission, state-of-the-art locomotives feasible, as they provide benefits to the communities served by the railroad that would not be possible for us to do on a stand-alone basis. It's a true win-win, public-private partnership.
Diesel-Free by 2033
The Air District is on track to be diesel-free by 2033 within the Bay Area, and while these new locomotives run on diesel, they will provide cleaner transport while new technology is being developed.
Jack Broadbent, executive officer of the Air District said:
Reducing diesel emissions is an essential element of the Air District's continuing efforts to protect public health in communities that are highly impacted by the Bay Area's freight movement infrastructure.
CFNR serves businesses between Los Banos and Tehama, California and transports approximately 25,000 carloads of freight annually including products such as animal feed, beer, wind, chemicals, cheese, construction products and agricultural products.
Read also: