CRRC Overseas Orders up 126% in H1 2016
In the first half (H1) of 2016, CRRC overseas orders more than doubled, despite the lackluster world economy, latest company data showed. Newly signed overseas orders amounted to 14.88 billion Yuan ($2.24 billion) in H1, an increase of 126 percent year on year, according to a CRRC filing with the Shanghai Stock Exchange in August.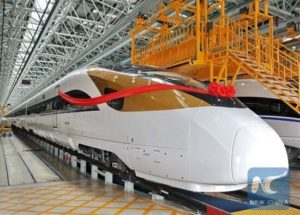 CRRC Corporation 
In the first half of the year, CRRC won the bid from Chicago to produce 846 metro cars, a record among the developed markets.
In H1, the company also accepted an order for 56 diesel locomotives from Kenya, another order for 96 metro vehicles from Thailand and 76 metro cars for Delhi, India. The overseas market expansion contributed to a 2.04 percent year-on-year increase in the CRRC's net profits, which reached 4.8 billion Yuan in the period. The company's revenue rose 1.04 percent from a year earlier to 94.21 billion Yuan in H1.
CRRC said its operation faced "unprecedented challenges" in H1, as demand was affected by a slow recovery in the world economy and downward pressure in China.
Despite short-term fluctuations, the company foresees a positive trend for rail transportation equipment. It vowed to explore more markets, reduce costs, improve efficiency and support innovation in the second half.
Please see CRRC for original article.