Croatian Railways (HŽ) and Koncar KEV signed a delivery contract for the supply of 12 electric multiple units.
The two parties agree that train production must continue in order to improve service quality on the rail network. The first of the 12 new trains will be delivered in 14 months' time. A further train will then follow every month, meaning that the whole batch will be delivered in 2021 and 2022.
Six of the electric trains will run regional transport services, while the remaining six will operate urban-suburban services.
Each of the new EMUs will be four-car low-floor units with a top speed of 160km/h. They will come with ramps to make them accessible to passengers in wheelchairs. The trains will also have space for bicycles. The trains will further feature an HVAC system as well as video surveillance. Passengers will have access to free wifi. Displays and loudspeakers will announce stops.
This new order will increase the reliability and availability of Croatian Railways' fleet. The trains' operating costs will be much lower and they will also be more environmentally friendly. Services can be run more frequently and each train has a greater capacity than the trains currently operating on the network.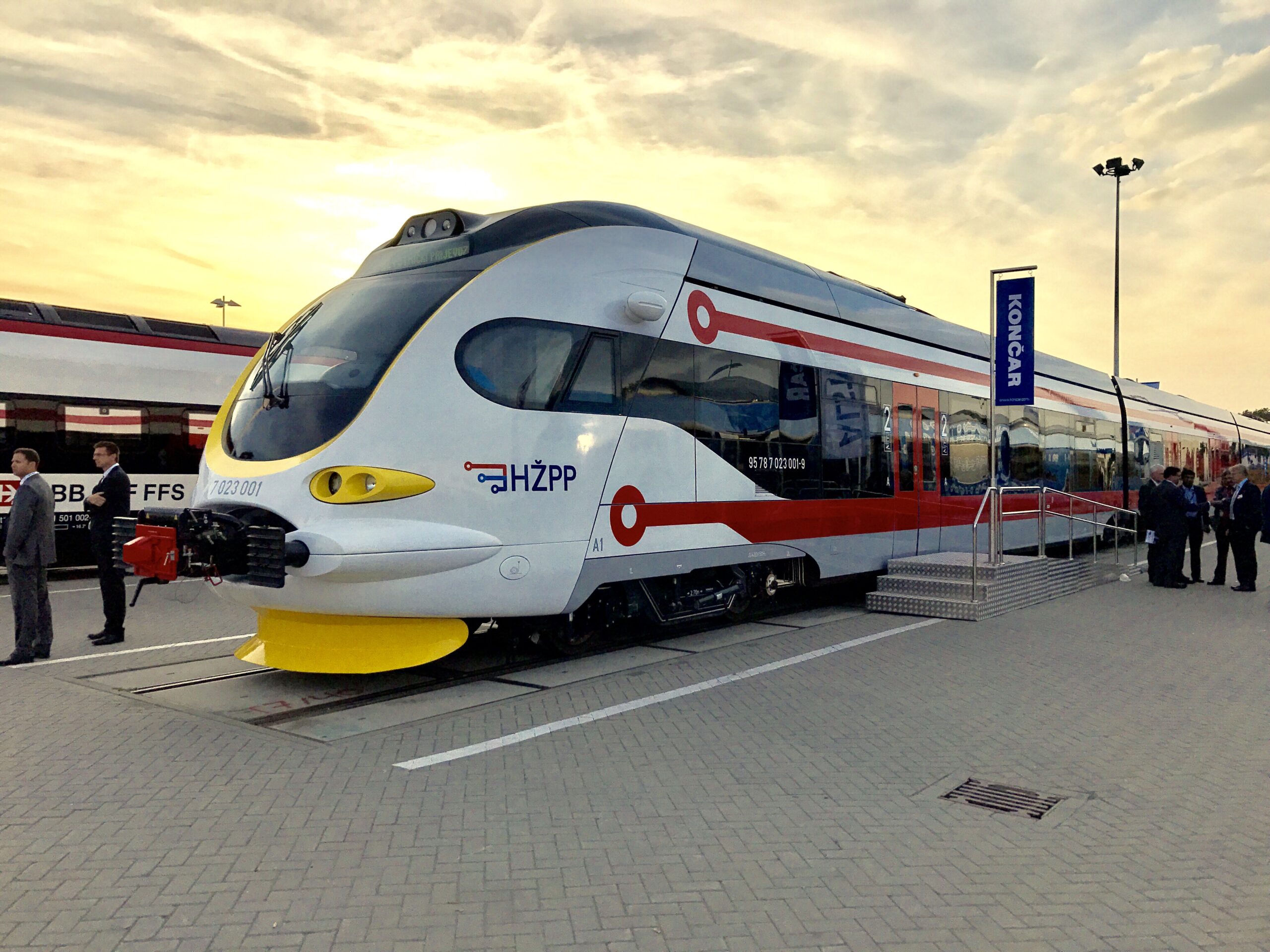 11 of the new electric multiple units will be financed with a 57.2m euro loan from EUROFIMA, the European Company for the Financing of Railroad Rolling Stock. The remaining one EMU will be financed with a 5.2m euro loan from the International Bank for Reconstruction and Development (IBRD). EUROFIMA says it will disburse 30 percent of the concluded financing on 15 May. It will be used to pay for the 11 HZ 6112 EMUs for regional passenger transportation in the Zagreb region.
"I would like to thank the track ministry and the government of the Republic of Croatia for their support, without which this project would not have been possible. The trains will be produced by industry domestically, i.e. Končar Electric Vehicles. The total value of the project is 62.4 million euros, which is a significant investment, especially in this situation. In co-operation with the relevant ministry, Croatian Railways announced a tender for the procurement of 21 trains to be financed from EU funds. We still have to provide funds for 7 diesel-electric trains, which we believe we will provide by the end of the year. We are happy that the new trains will really improve our service."
Končar has eleven years of experience in manufacturing new trains.
"We will now have the opportunity to fully deliver all 32 electric trains, which are the backbone of passenger transport today, based on the 2014 contract. These trains are fully developed in Croatia, and most of these high-tech products are produced by domestic industry."
The Transport Development Strategy aims to implement measures to improve the entire transport system by 2030. One of the most important measures it identifies is the modernisation of rolling stock.
Croatian Railways signed a contract with Končar in 2014 for 44 new trains. In 2015 and 2016 Končar delivered 20 electric trains and 1 diesel-electric train. Between November 2019 and March 2020 Končar delivered 4 further diesel-electric trains. This current addendum covers 12 further units, while the remaining 7 diesel-electric trains are expected to be commissioned between 2021 and 2024.
A procurement procedure for 21 electric trains, using EU funds, is also currently ongoing.
Also read: