COMLAB Equips Tunnels Between Nuremberg and Erfurt With the BOS Digital Radio System for Public Authorities
The German Unity Transport Project 8 (VDE 8) will close the gaps in the European railway network. From 2017onwards, passengers will be able to travel in high-speed trains at up to 300 km/h from Munich to Berlin in just 4 hours.
As part of the VDE 8.1 sub-project, COMLAB, the Swiss company which also has a subsidiary in Berlin, was awarded the contract to equip the 22 tunnels along the 106-km section of track between Nuremberg and Erfurt with the BOS digital radio system for public authorities (TETRA standard).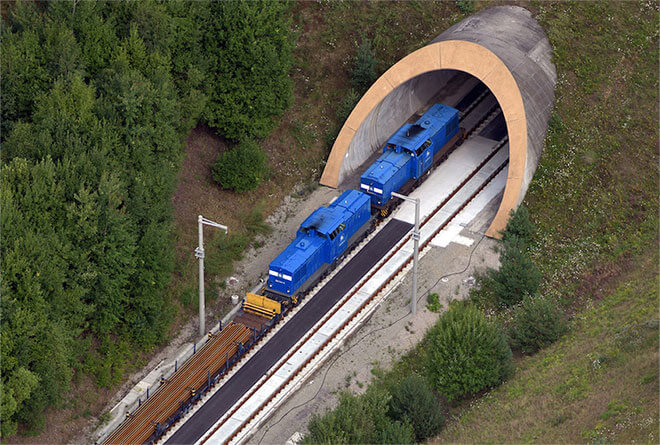 As a result of the thick layers of rock, external radio signals cannot be received inside a tunnel. Despite this, emergency services, the fire brigade, the police and railway staff are reliant on being able to communicate fully with each other in the tunnel in the event of an emergency. With its redundant concept, the COMLAB system guarantees safe and interference-free radio operations for emergency services and fulfils the high standards of railway services and public authorities as well as the standards of the German Federal Railway Authority. Among others, this includes the provision of full coverage against possible interference caused by the parallel digital radio system for railway communications (GSM-R) as well as the public mobile telephone systems (GSM, UMTS and LTE). The system also guarantees the highest levels of security due to its multiple redundant configuration, in the context of which the functioning is automatically taken over by other system components in the event of a partial failure. This enables communications to be ensured in the event of a fire in the tunnel.
COMLAB has already used the same systems, on which several successful tests have been completed, in the VDE 8.2 route and the Schlüchterner tunnel. During standard day-to-day operations, the systems have proven to be both high-quality and exceptionally reliable.
To date, the Swiss company has supplied system components and complete systems to over 6500 km of railway tunnels all over the world. Tunnel radio systems projects such as the VDE 8.1, which encompass the provision of security-relevant radio systems for the fire brigade, police and emergency services and in which several authorities participate due to the geographical extent of the tunnels, amount to a considerable technical and organisational challenge. The long standing, international experience of COMLAB proves to be of particular value with projects of this kind.
For more information, please visit COMLAB.