Offering Unique Solutions to the Rail Industry
With the ever changing evolution of transportation especially in rail, engage with a company that addresses your current and future needs.
INPS Group is a global supplier to the industry. With operations in Canada, USA and Mexico, we serve both the domestic and international markets. Through our in-house capabilities and numerous group companies under the INPS Group, we provide complete program management.

INPS Group Offers Unique Solutions to the Rail Industry
Air Conditioners for Locomotives
Auxiliary Power Units for Locomotives
Sound Damping
HPPL – High Performance Photoluminescent Egress Decals
LLEPM – Low-Location Exit Path Markings
3M™ Scotchgard™ Multi-layer Protective Film 1004
Interior Components – thermoforming, fiberglass and HPL Panels
Signal Cabinets
Strategic Sourcing & Engineering Solutions for Freight Locomotives

© INPS Group
The Following Are Some of Our Global Product Offerings:
Air Conditioners (A/C) for Locomotives
Each component offers a modular design for ease of installation. The locomotive Orange (A/C) unit has 72VDC power and no inverter.
Auxiliary Power Units for Locomotives (APU)
The proprietary Banana APU is designed to reduce excess idling, save fuel, reduce locomotive engine wear and keep your crew comfortable.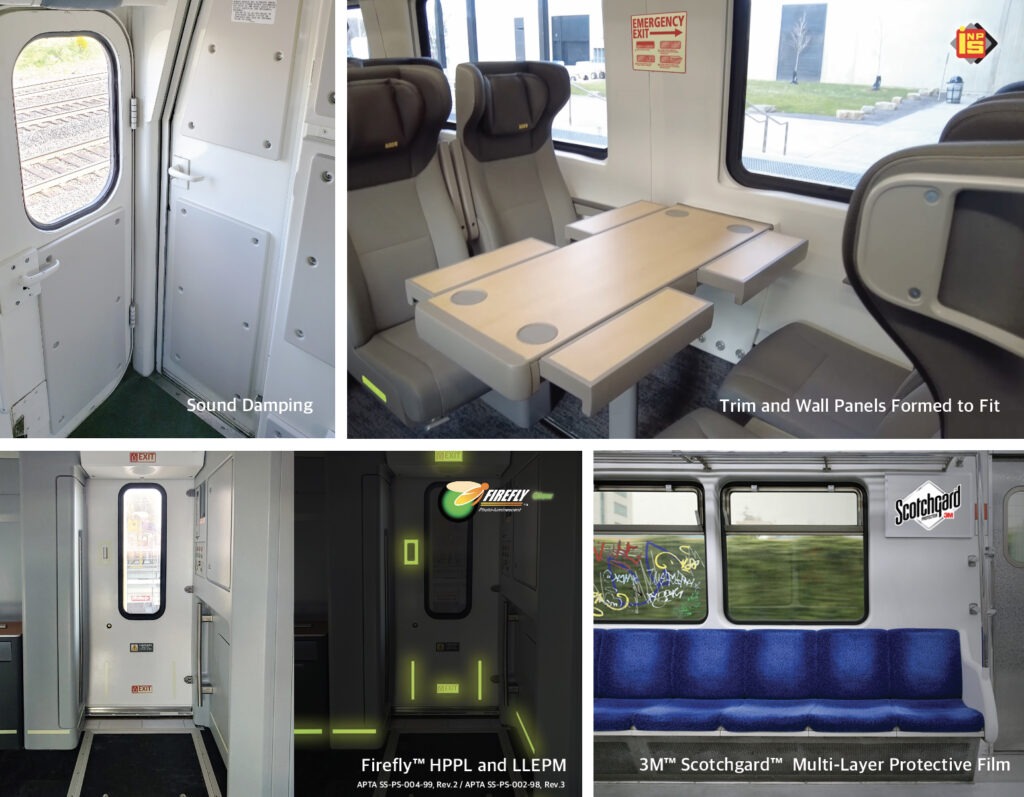 © INPS Group
Sound Damping
The INPS Sound Damping System reduces noise and vibration inside the cabin environment. This multi-layered panel system is a staff installed product. It cleans up the look of the cabin interior and is custom-made to fit all locomotive models. It is compliant with all current industry standards. It is fire retardant, as well as scratch and dent resistant.
High Performance Photoluminescent (HPPL)
INPS has developed turnkey solutions that include Emergency Signage for Egress/ Access of Passenger Rail Equipment. HPPL Decals exceeds the latest industry standards. Firefly™ addresses the needs of safe evacuation from rail cars, buildings or transportation corridors.
Low-Location Exit Path Marking (LLEPM)
INPS works closely with mass transit car builders and authorities to design, engineer and manufacture luminous egress systems. Firefly™ LLEPM products are manufactured using the highest quality glow in the dark materials. They are suitable for new or existing rubber, carpet floor coverings and walls. LED- charged Emergency Exit path markings are also available.
3M™ Scotchgard™ Multi-Layer Protective Film 1004
Four separate layers of optically transparent, pressure-sensitive polyester film tape designed to protect surfaces from damage caused by scratching, etching, abrasion and graffiti. Passenger Car window/Anti-Graffiti Film allows a damaged film layer to be quickly and easily removed, exposing a fresh protective sheet.
Thermoformed/Vacuum Formed High Pressure Laminate (HPL) Panels
INPS thermoforms/vacuum forms wall panels, window panels and stairwell panels for bi-level train interiors. INPS also manufactures high pressure laminates (HPL) for transit car ceilings and walls. We offers a full catalogue of existing transit components, custom component design, engineering and manufacturing services, sample engineering and component retrofits, as well as Installation services.
Fiberglass Reinforced Plastic (FRP) Solutions
We are continuously developing innovative and maintenance friendly solutions for mass transit vehicles including: Interior fiberglass panels, fiberglass window freezes, masks arc shields and toilet seats. With onsite engineering, INPS can build from concept to finish product.
Signal Cabinets
Our patented Signal Case Replacement System for Railway infrastructures permits replacement of a deteriorated signal case in as little as four hours without the need to disconnect electrical relays or circuits. By using this process, trains travel freely on the affected tracks while the work is underway and the elements of risk and expensive track slowdowns are completely eliminated.
"INPS Group is excited to showcase our unique rail solutions at the InnoTrans 2022 International Trade Fair for Transport Technology. We hope to see you in Berlin September 20-23rd!"
Strategic Sourcing & Engineering Solutions for Freight Locomotives
INPS provides a one-stop shop for product development, manufacturing, and supply chain management for our clients. Employing our long-standing relationships with a portfolio of manufacturers in the North American, South American, and European markets we protect our client's intellectual property and improve reliability of their fleet.