Changing the Fabric of the Rail Industry
As train companies strive to improve the overall passenger journey, they are increasingly recognising that a single carriage design simply cannot meet the needs of every traveller.
To improve customer experiences, they must address a broad range of needs. It's inevitable that the needs of a business traveller, for example, will be very different to those of a young family.
Having identified the different types of travellers, and their respective needs, rail companies have started looking at new ways to enhance customers' travel experiences.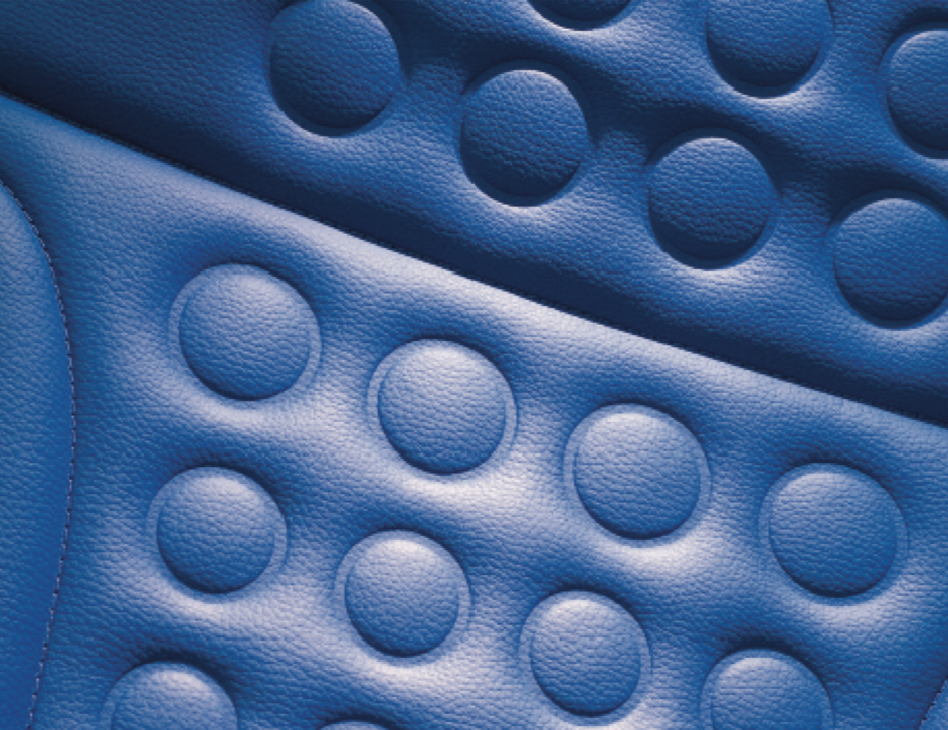 A Glimpse of the Future
Concept trains are not a new phenomenon for the rail industry. While some ideas may be viewed as outlandish PR stunts, others offer a real glimpse of what the future may hold.
When Deutsche Bahn's Ideenzug ('Ideas Train') was first unveiled in November 2017 and displayed at InnoTrans 2018, it included carriages with privacy pods, noise- cancelling chairs, children's play areas and even a fitness studio.
British organisation ELeather was one of a number of partners involved in implementing the ideas. A selection of the concepts developed as part of the Ideenzug project have since been confirmed to be added to commercial services in Germany by 2020.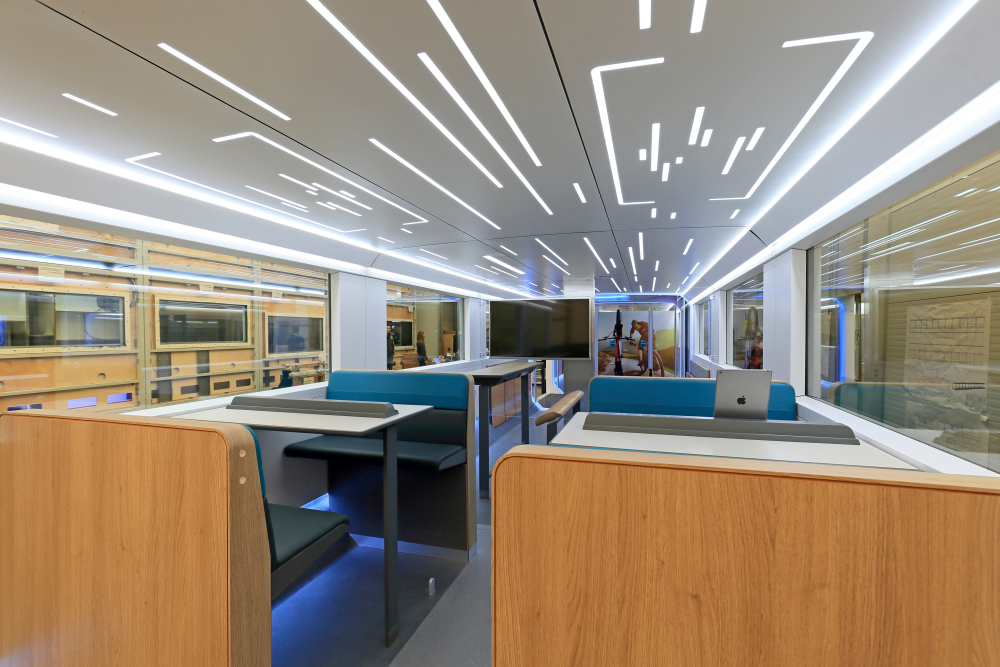 Smart Design
In recent years we have seen a rise in modular carriage design. Having recognised that not all passengers want to travel in the same way, the industry has started creating designated spaces for work, relaxation and children's play. Comfort and practically are key.
New technology innovations and installations often steal the headlines when the industry looks at changing carriage layouts. However, this misses some of the fundamental points around comfort and practicality that must always be considered. When designing new cabin areas, it's important not to underestimate the importance of selecting the right materials and fabrics that are used to create them. A children's play area for example, requires resilient, easy-to-clean, non-porous surfaces. From seats to surrounds, if the right materials aren't used, the carriage will quickly show signs of wear and tear. For business travellers there are different needs to consider. Passengers expect a more luxurious experience to justify a higher fare. The fabrics used for the seats and surrounding cladding must reflect this.
Anyone who's travelled on suburban commuter trains or on underground rail services will have, at some point, experienced the impact of a bad material decision. Dirt. Dust. Damage. The list goes on. Many traditional fabrics and materials simply don't stand up to the level of use that they will inevitably endure.
Organisations such as ELeather, the pioneer in engineered leather, are changing the way that the industry addresses these challenges by creating materials that increase performance while enabling brands to create extraordinary customer experiences.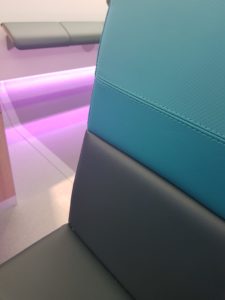 Changing Customer Demands
Like all sectors, the rail industry is experiencing evolving customer needs and rising expectations. A survey from the consulting firm Walker found that by 2020 customer experience will overtake price and product as the key brand differentiator. Through social media, these experiences are being shared faster and wider than ever before. It has never been more important to deliver consistently high standards.
It is also important to consider the impact that other industries can have on rail customers. In the aviation industry for example, budget airlines are increasing the number of seats on their flights as part of the ongoing battle to keep fares low while maintaining profits. The impact of this is of course less cabin space for passengers. The quality of the cabin space becomes more important than ever. This has led providers to reconsider the materials that they use and the experiences they deliver.
Eco-conscious Travellers
Rail transport is widely recognised as the most environment-friendly way to travel. The greenhouse effect of gas emissions per kilometer on railway transport is 80% less than cars. It's worth considering, however, that customers opting to travel via rail in an effort to help protect the environment will not welcome carriages fitted with unsustainable materials. In a recent survey, when Deloitte questioned young luxury shoppers it found that nearly a third considered a brand's ethical credentials before making a purchase.
Global government targets are also forcing the rail industry to take a closer look at their environmental footprint. 'Green' targets cannot be ignored.
A Bright Future
ELeather has changed the way the rail industry thinks about fabrics and materials. Its revolutionary production process transforms unused leather into advanced materials while achieving a significantly lower environmental footprint. ELeather reduces waste, increases performance, and enables brands to create extraordinary products and memorable customer experiences, while improving sustainability.
Used in over 12,000 rail vehicles and compliant with industry standards EN45545-2 and BS6853, ELeather is highly experienced in the nuances of the rail industry – and continues to develop solutions that solve the challenges of today and the future. With customisable grains, textures and colourways, ELeather can help rail providers deliver multi-purpose carriages, differentiating areas by class or usage and delivering an optimised travel environment – providing flawless functionality. The durability of engineered leather helps maintain quality for longer, enables easier maintenance, and reduces the lifetime cost of ownership. And its sustainable nature means operators can be safe in the knowledge they are doing their bit for the environment.
The needs and demands of rail passengers will continue to evolve and change over time. To keep thriving, it's important that the rail industry moves with them. Engineered leather is set to play an important role in this exciting future.