Challenges and Opportunities in High-Speed Rail and Rail Construction
4th International Summit
Challenges and opportunities in high-speed rail and rail construction – developing and expanding rail markets in Asia Pacific
Connect at HSR Asia 2017!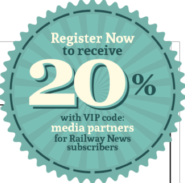 Expect to meet and network with your peers and to listen to benchmarking case studies presented by an unparalleled panel of government and industry specialists on high speed rail.
Kuala Lumpur-Singapore High Speed Rail key facts:
Expected completion – 2026
Travel time between Kuala Lumpur to Singapore – 90 mins
Length of track line – 350km double track line, a bridge between the 2 countries across Johore Strait with 15km of total line length built in Singapore, while remaining 225km will be built in Malaysia
Number of stations – 8 railway stations connecting 7 cities built and designed to integrate all local public transport systems to provide seamless services
Estimated cost – US$16 billion
The High Speed Rail project is strategically important for the future and the economic development of the Kuala Lumpur – Singapore line. The supplementation of this High Speed Rail Project will create jobs in the Kuala Lumpur – Singapore region. The rail link will provide safe, efficient and optional transportation and will be a solution for heavy congestion in this area. The economic and social benefits derived from this important link between 2 international cities is unsurpassed offering opportunity for property and retail development along the route.

Here's who you can expect to meet and network with:

En. Mohd Azharuddin Bin Mat Sah, CEO, Land Public Transport Commission (SPAD)

Dato' Mohd Nur Ismal Mohamed Kamal, CEO, MyHSR Corporation, Malaysia

Mark Loader, Project Director, KL-Singapore High Speed Rail Project, CH2M, United Kingdom

Andrew Sharp, Policy Adviser, International Air Rail Organisation, United Kingdom

Bassam Mansour, International Rail Industry Advisor, HSS Engineering, Malaysia

Noormah Mohd Noor, CEO, Express Rail Link Sdn Bhd, Malaysia

Michael Baxter, Managing Director, Track International Consulting

Jayantha Gunathilake, Addl Secetary (Engrg). Ministry of Higher Education & HighwaysConsultant Engineer, Sri Lanka Railway, Sri Lanka

T C Chew, President, Global Business & Operations, Samsung C & T Corporation, Singapore

Stefan Lammert, Technical Manager, Asia, Halfen International, Germany

Dr Andrea Giuricin, CEO, TRA Consulting/Strategic Consultant for President & Managing Director, NTV/ MTR Express Strategic Consultant, Korail/Vis Prof, China Academy Railway Sciences, Italy

Gopal R, Global Vice President, Transportation & Logistics Practice, Frost & Sullivan, Malaysia

Kelvin Ko Hing Ka, Vice President, Major Project Delivery, Asia, AECOM Asia Co Ltd, Malaysia

Seik Son, Director, Future Strategy Office, Supreme Railways Co, South Korea

Clive Tucker, Head, O&M, CH2M, Malaysia

Jon Clyne, Global Practice Lead, Transport Economics, CH2M

Julian Smith, Adviser, PT PricewaterhouseCoopers Indonesia Advisory, Indonesia

Bhupinder Bedi, Consultant, Asian Development Bank, India

Richard Brown, Managing Director, Northstar Consultancy, United Kingdom

Manprit Baweja, Regional Manager, Rail Systems, FOGTEC Fire Protection

Dr Sukhy Barhey, Director, BMT Group

Ir Dr Wesley Wong, Country Manager, Jacobs Malaysia

Ian Hardcastle, Technical Director – Digital Engineering, Jacobs


High speed rail systems have a fundamental role in integrating the extended urban environments and economies. Their wider economic benefits are difficult to measure, but are very important. Often such systems will cross borders which comes with extra complexities.
Join us in Kuala Lumpur this September to hear the latest on projects, benchmarking cases studies, policies and financing models impacting high speed rail development and investment in Asia Pacific.
Register Now at: http://www.stratcoms.com/HSRAsia2017/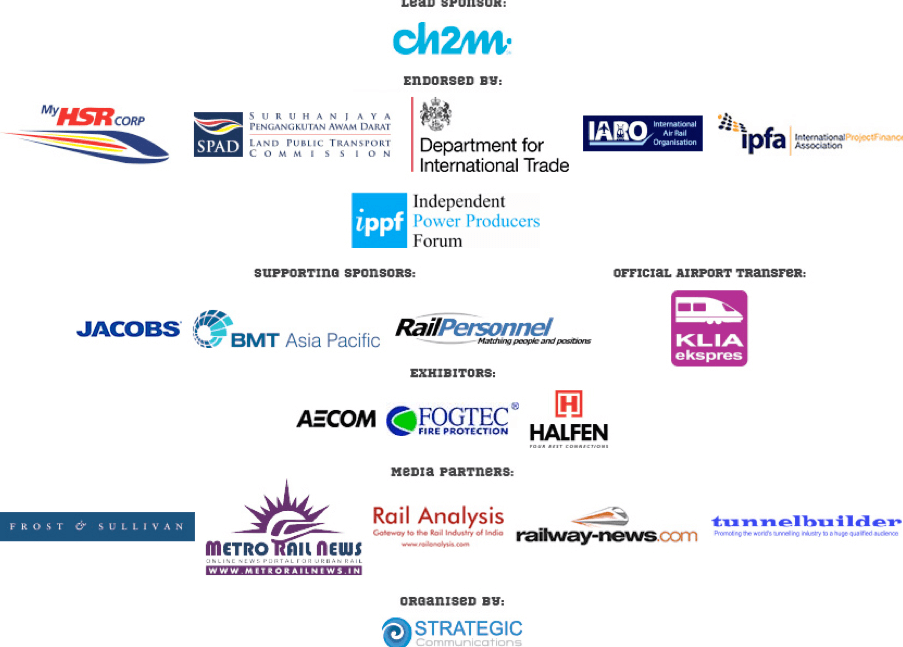 Contact Information:
For enquiries: [email protected]