African Forum to Address Rail Maintenance and Rehabilitation
A delegation of international rail maintenance and rehabilitation professionals, together with an unbeatable line-up of thought-leaders in Africa's transport sector will be in Durban, South Africa in October, to address challenges faced by the rail fraternity in Africa and to look at ways to overcome an aged and under maintained rail eco-system.
Rail Maintenance and Rehabilitation
The poor or even non-existence of rail maintenance and rehabilitation in Africa is often a result of a lack of revenue that is supposed to be derived from current rail infrastructure, but the high cost and difficulty to transport goods and commodities from point A to point B, is a result of an under-investment in rail infrastructure, making it a vicious circle to be broken.
Despite these challenges, maintenance and rehabilitation remains a core focus in the on-going industrialisation of Africa and there is a clear indication of the tangible commitment to this lucrative sector. Since 2015, 60% of all investment in African Rail has being directed at maintenance and rehabilitation projects and these projects will form the basis of an "inter regional" drive towards development and collaboration between the public and private sectors.
Programme Director, Nico Loretz explains:
"It is against this background that Transport Week presents the African Rail Evolution Forum, co-located with the 6th Annual African Ports Evolution Forum and KZN Export Week. The forum celebrates Transport Month and unites the largest network of African port and rail authorities, port and rail operators, developers and EPCs, financiers & consultants, government & regulators, and representatives from the private sector."
African Rail Evolution Forum
The forum's joint keynote plenary session, chaired by author and African business specialist, Mr Victor Kgomoeswana, will look at ways to enhance regional connectivity and inter modal value chain opportunities to drive social and economic development in Africa. South African Minister of Transport, Honorable Joseph Maswanganyi will deliver the Ministerial address in this session.
In an African rail operator's focus session, three leading rail operators including ZRL, TAZARA and TFR, will present their views on maintenance and rehabilitation from conception to grave. Maintenance and rehabilitation in the global market will also be on the agenda with global best practice case examples on maintaining, upgrading and future-proofing ageing rolling stock / track / signalling networks / cabling / equipment / infrastructure.
In an exclusive African rail operators' executive panel discussion, heads of rail operators, including those of TAZARA, NRZ and RVR, will debate and discuss how best to manage maintenance and rehabilitation to preserve rail infrastructure and Rolling Stock in the future. Short to medium term plans; rehabilitate versus new; upgrading systems versus entire units; job creation and localisation; and identifying and partnering with the right suppliers are just some of the issues to be discussed.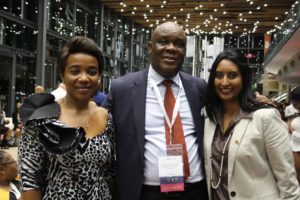 Future Rail Systems
Another panel discussion will look at future rail systems, big data and railway safety. The panel will assess where Africa is in the Production 4.0 initiative in terms of predictive- and condition-based maintenance; the impact of digitalisation on maintenance; risks and opportunities of long-term maintenance procurement plans; implications of the Luxembourg Protocol on railway safety; and the relevance of future technologies for condition-based monitoring and preventative maintenance.
The event will conclude on a high note with a joint closing panel session where the respective chairmen of both forums will give their feedback, action points and highlights with progress to be assessed at the 2018 event.
To register for the forum or for more information contact Ibtishaam at Email: ibtishaam.solomons@rail-evolution or phone: +27 21 700 4305.
Event Dates and Location
Date: 17 – 18 October 2017
Location: Durban International Convention Centre, Durban, South Africa
Event website: www.rail-evolution.com
Issued by: Hypenica (Pty) Ltd
Contact: Thando Manona, [email protected]
Phone: +27 21 700 5504
About Hypenica
Hypenica enables markets to share knowledge, connect people and identify opportunities. We do this by means of smart media and smart events – offering a variety of synergistic innovative database, research, exhibition, conference, publishing and online media products.
Our media products are important next-generation marketing platforms for any company wanting to build its profile and reach its target markets – whether nationally, regionally or globally. These opportunities range from traditional banner advertising; event sponsorships and exhibition participation; to innovative video product placement, sponsored training, corporate video, mobile advertising and much more. Our product specialists can work with you to configure an optimal marketing solution based on your marketing objectives, time, frame and budget please visit www.hypenica.com