China to Raise Maximum Speed for High-Speed Bullet Trains
On 27 July 2017, China Railway (CR) started tests to restore the maximum speed of the Beijing-Shanghai high-speed bullet trains to 350 km/h, six years after it was reduced to 300.
Departing Beijing South Railway Station at 8:38 a.m., a Fuxing bullet train completed the round-trip from Beijing to Xuzhou in east China's Jiangsu Province, about 700 kilometres away, in about four hours.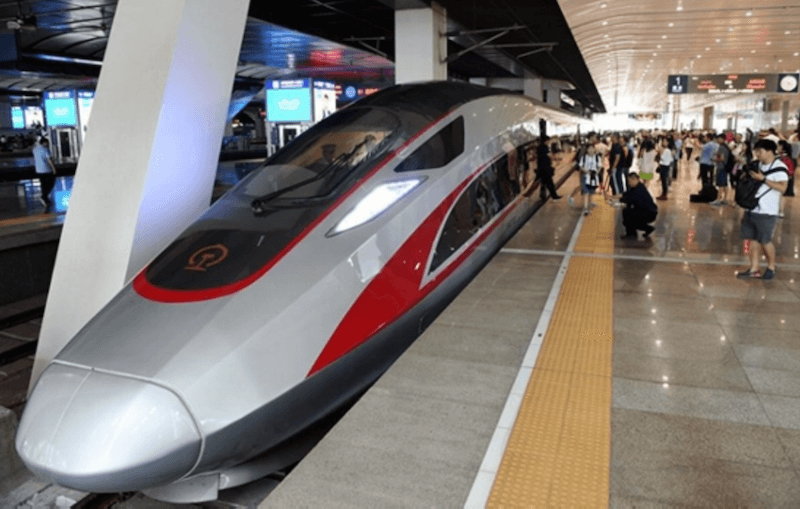 The speed hike will cut the Beijing-Shanghai journey to about 4.5 hours, about half an hour faster than the current minimum.
The test will pave way for a new schedule on the Beijing-Shanghai railway starting mid-September.
Beijing-Shanghai High-Speed Railway
Connecting the Chinese capital with its major financial and trade hub, the Beijing-Shanghai high-speed railway is one of the busiest in the country, carrying over 100 million passengers a year.
The test on Thursday showed that energy consumption on the Fuxing decreased to 10% less than on the Hexie train (CRH380) when running at a speed of 350 km/h. Both "Fuxing" and "Hexie" are made by CRRC Corporation Limited.
Lu Dongfu, general manager of China Railway Corporation, said:
"The Beijing-Shanghai high speed railway is built to the highest standard in the world, while the Fuxing is designed and manufactured with an operating speed of 350 kilometres per hour. It is out of question for Fuxing to run on the Beijing-Shanghai line at such a speed from the point of view of technical safety, reliability and comfort"
China started to run its first 350 km/h high-speed train between Beijing and Tianjin in August 2008 and opened at least three more such high speed lines nationwide in the following years, until the authorities ordered speeds to be cut to between 250-300km/h in 2011.
High-Speed Bullet Trains
China's Fuxing bullet trains were unveiled on 25 June and are capable of top speeds of 400 kmh.
The new high-speed trains have completed 600,000 kilometres of running assessment and increased the design life to 30 years from 20, according to He.
The Fuxing has a monitoring system that slows the train in case of emergency or abnormal conditions. Telemetry allows a control centre to monitor the train in real time.
The Fuxing, meaning rejuvenation, is a substantial upgrade on the Hexie, which means harmony. The Fuxing is more spacious and energy-efficient, with a longer life expectancy and better reliability
He Huawu of the China Academy of Engineering, said:
"The Fuxing was designed and manufactured in China, led by the China Railway Corporation. We hold the complete intellectual property rights of the new bullet trains — electric multiple units (EMU) — which have reached the world's advanced level"
Original article © CRRC.
FOR ALL THE LATEST INFORMATION, NEWS, IMAGES, VIDEOS AND ARTICLES ON ALL ASPECTS OF ROLLING STOCK, PLEASE CLICK HERE.