Canadian National to Invest $340 Million in its Operations Across British Columbia in 2018
Canadian National (CN) announced plans to invest approximately $340 million in its infrastructure across British Columbia during 2018. The 2815-mile network in the province covers the west coast gateways of Vancouver and Prince Rupert, and major inland terminals in Surrey, Prince George, Kamloops and Fort Nelson.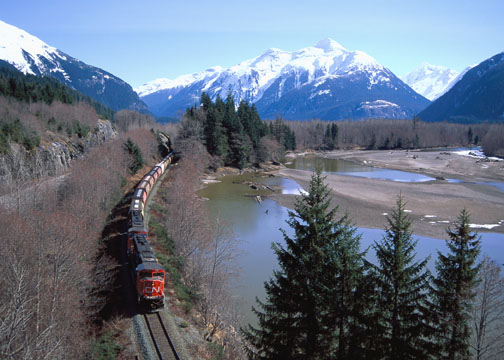 Doug Ryhorchuk, Vice-President of CN's Western Region, said:
"We are investing for the long haul with these projects to boost capacity and network resiliency to meet growing traffic on our corridors to and from the West Coast and across B.C. Our investments in infrastructure, equipment and people will help us deliver superior service to our customers across the province and North America. Additionally, our substantial investments to renew our existing railway infrastructure underscore our commitment to operating safely."
The expansion and maintenance projects in British Columbia include
Construction of four new train passing sidings between Prince Rupert and Jasper, Alberta
Extension of three existing passing sidings between Prince Rupert and Jasper
A siding extension north of Kamloops on CN's Vancouver to Edmonton corridor
Replacement of approximately 115 miles of rail
Installation of more than 335,000 new railroad ties
Rebuilds of approximately 50 road crossing surfaces
Maintenance work on bridges, including continuation of the multi-year maintenance project on the Fraser River Bridge
Other maintenance work on culverts, signal systems and additional track infrastructure
Carla Qualtrough, Member of Parliament for Delta, B.C., said:
"These major capital investments are a sign of CN's commitment to its operations in B.C., which continues to lead Canada in economic growth. CN's infrastructure investments this year throughout B.C. will help strengthen local economies, support good middle class jobs and further solidify B.C.'s economic advantage as Canada's Pacific Gateway."
Val Litwin, President and Chief Executive Officer of the B.C. Chamber of Commerce, said:
"We are pleased to see CN making capital investments in B.C. that will expand our rail network, improve rail service to our businesses providing and supporting thousands of jobs across our provincial economy."
Since 2013 CN has invested $1.1 billion in the maintenance, upgrade and expansion of its network in British Columbia.