Canadian National Announces $315 Million Investment in Ontario Operations
Canadian National Railway Company has announced plans to invest approximately $315 million in its operations across Ontario. The funds are part of its $3.4 billion capital programme for 2018. It has previously announced similar investment plans for British Columbia, New Brunswick and Nova Scotia.
Michael Farkouh, Vice-President of CN's Eastern Region, said:
"We are investing for the long haul with these projects to boost capacity and network resiliency to meet growing demand across our economy.

"Our investments in track and intermodal yard capacity combined with new equipment will help us deliver superior service to our customers in Ontario and North America. Additionally, our substantial investments to renew our existing railway infrastructure underscores our commitment to operating safely."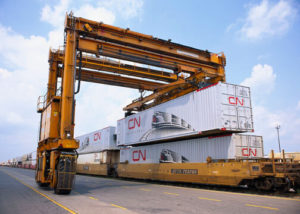 The projects include construction of a new train-passing siding in its transcontinental corridor between Toronto and Winnipeg, and intermodal rail yard expansions that will improve efficient movement of containers into and out of the Greater Toronto and Hamilton Area (GTHA).
The company will also replace or upgrade several other key features of track infrastructure in the province to ensure the maintenance of safety standards.
Major Expansion Projects:
Investments in a satellite intermodal facility near CN's Brampton Intermodal Terminal to provide temporary capacity
Intermodal equipment and infrastructure at CN's Brampton Intermodal Terminal to serve growing cold supply chain business
Construction of a new train-passing siding east of Sioux Lookout
Major Maintenance Projects:           
Replacement of approximately 90 miles of rail
Installation of more than 380,000 new railroad ties
Rebuilding approximately 60 road crossing surfaces
Maintenance work on bridges, culverts, signal systems and other track infrastructure
Doug Ford, Premier of Ontario, said: 
"I applaud CN's investment in important railway infrastructure across Ontario. These investments will help connect Canadians by improving transportation and will maintain and expand CN's workforce of nearly 4,000 Ontarians."
Navdeep Bains, Minister of Innovation, Science and Economic Development in the federal government, said:
"This is good news for Ontario and for Ontario jobs. It is particularly good news for the communities, businesses and jobs that depend on our natural resource and manufacturing sectors. I applaud CN for walking the walk and sending a clear signal to the world that it's a great time to invest in our province. Ontario is open for business."
CN operates railways across the province and its facilities in Ontario include the company's largest rail classification plant (Macmillan Yard) and its largest intermodal terminal (Brampton).