Opening of Bombardier Train Testing Facility in UK
Bombardier opened its new UK Testing and Commissioning facility at its design and manufacturing plant in Derby on Friday, 13 May 2016. The ceremony was led by Secretary of State for Transport, the Right Honourable Patrick McLoughlin, MP, with senior representatives of the rail industry also present.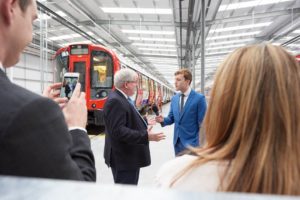 The train testing facility measures more than 10,000 square metres. It features four 250m long train roads with full-length overhead lines. With fully accessible vehicle servicing and inspection pits, and connected to the test track and existing production facilities, the site is a comprehensive one. It also houses a two-storey office annexe to accommodate up to 90 members of staff. The plant offers a fully flexible, multifunctional capability, accommodating initial engineering tests on a number of trains, and is suitable for final acceptance testing and validation.
Speaking at the launch event, Mr McLoughlin said:
"I am delighted to open this new testing and commissioning facility in Derby, which will ensure passengers benefit from cutting edge trains with improved capacity and comfort. The government is making a record investment in our railways and it is fantastic to see firms such as Bombardier, who are delivering a £1billion contract for Crossrail as well as London Overground, make the most of the opportunities this brings. This new facility will help secure jobs in Derby, at the heart of the UK rail industry, and help to drive the Midlands engine for growth."
Richard Hunter, Managing Director, Bombardier Transportation UK, said:
"This new £12 million facility is one of the biggest investments in the history of our Derby site and 'V' Shop (as the finished test facility will be known) will be a fundamental part of both our current projects and future train builds, enhancing our ability to deliver all the stages of a new train product from a single UK site. It increases our capacity to deliver high volume orders within short timescales, ensuring we meet the future requirements of the UK market."
Train Testing Facility Part of £20 Million Investment in Derby
The testing and commissioning facility is part of Bombardier's £20 million investment in the Derby Litchurch Lane plant. To begin with, it will support the testing and commissioning of the Crossrail fleet of 66 Class 345 EMUs which will operate on the Elizabeth Line. The design is based on Bombardier's new BOMBADIER AVENTRA series. These trains are made up of nine 23m vehicles with a total length of 200m. The facility will allow for the nine-car trainsets to be tested without separating them.
The facility was constructed for Bombardier by Balfour Beatty between 2014 and 2016, and will double its current testing and commissioning capability.