Bombardier Delivers First Vehicle for Delhi Metro Order
Bombardier Transportation is celebrating the delivery of the first metro car from an order for 162 additional cars placed last year by Delhi Metro. In a ceremony held at InnoTrans 2016 in Berlin, Germany, Benoît Cattin-Martel, President, Asia Pacific Region, Bombardier Transportation presented a commemorative metro car key to the officials led by HS Anand, Director of Rolling Stock from Delhi Metro Rail Corporation Ltd (DMRC).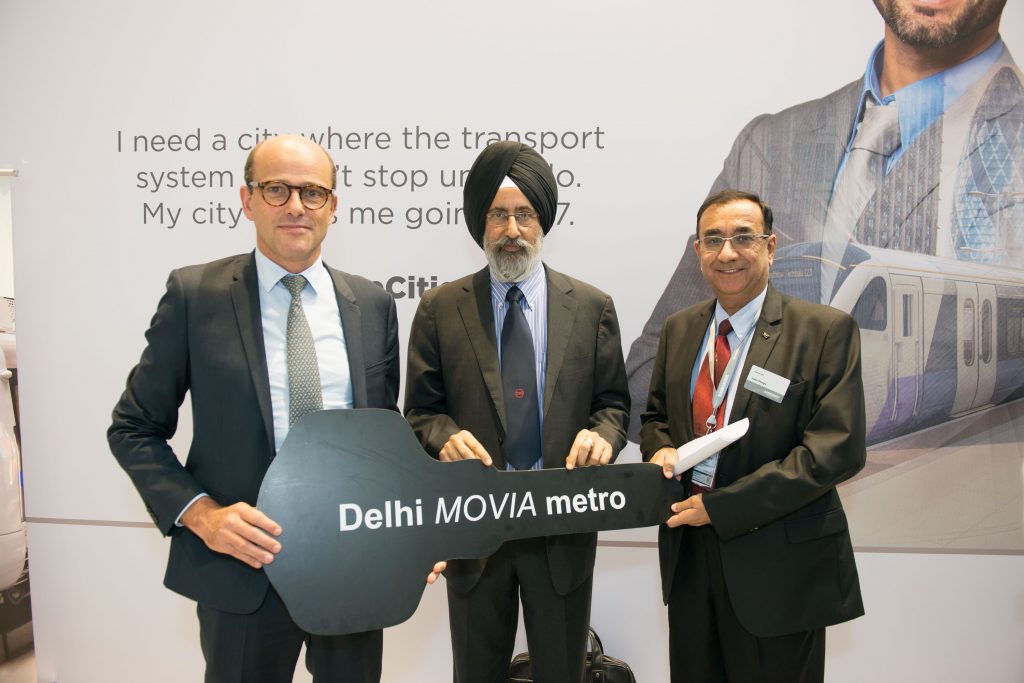 The new trains will increase the number of DMRC's existing fleet of BOMBARDIER MOVIA metros from 614 to 776 and make it one of the largest Bombardier metro fleets in the world.

HS Anand said:
"These new cars are being procured by Delhi Metro for services on its presently operational red, blue and yellow lines. These cars will be put into service in a phased manner after the mandatory tests and trials. The addition of these cars will go a long way in providing safe and comfortable travel to our valued commuters."
Benoît Cattin-Martel commented:
"The high degree of localisation executed in the project at Bombardier's Savli and Maneja sites fulfils the requirements of the Indian government's 'Make in India' campaign and Delhi Metro's indigenous procurement plan that encourages local manufacturing."

"Our energy efficient trains have helped the city of Delhi improve mobility and manage pollution levels as well as provided effective public transport during the 2010 Commonwealth Games. Our vehicles have also contributed to Delhi Metro receiving UN carbon credits, a world's first for a metro project."
Bombardier is also Delhi Metro's largest supplier of signalling systems and one of its largest suppliers of rolling stock with more than $1.2 billion worth of orders placed since 2007. Bombardier has delivered, or is in the process of delivering, signalling solutions for more than 120 track kilometres for Delhi Metro's Lines 5 and 6 with extensions and Line 7.
The modern, high-capacity MOVIA metro vehicles integrate some of the world's most advanced mobility technologies specifically adapted to suit Delhi's existing infrastructure. In its six-car configuration, these new vehicles will accommodate 1,740 passengers. Once configured into eight-car sets, the trains will carry as many as 2,400 passengers providing a much needed capacity increase on two of Delhi's main metro lines serving more than 50% of Delhi Metro's average current ridership of around three million passengers a day.
From Savli, Bombardier is delivering high-quality trains for India as well as for important export markets, as demonstrated by manufacturing the new commuter trains for Queensland and metro cars for Delhi. In addition to 'Make in India', Bombardier also supports the Indian government's vision on 'Skill India' with locally-grown talent now delivering projects for both India and export, as well as supporting the 'Clean India Movement' by regularly arranging clean-up drives in Vadodara.
Bombardier Transportation has approximately 2,000 employees in India. It operates a railway vehicle manufacturing site and bogie assembly hall in Savli near Vadodara, Gujarat. This is in addition to a propulsion systems manufacturing facility at Maneja, a Rail Control Solutions Centre for project delivery and product engineering and an Information Services India hub near Gurgaon, Delhi NCR and an Engineering Centre in Hyderabad.
Please click here for the original article.