ULTIM8: Low Profile, High Impact Protection Safety Goggle
Bollé Safety, a world leader in the design and manufacture of protective eyewear, has developed a low profile, high impact protection safety goggle – ULTIM8.
The ULTIM8 has been tested and approved to meet the highest levels of impact protection EN 166 1BT 345 KN and also provides the wearer with protection against chemicals, dust and gas. Available in clear Platinum® double sided anti-scratch and anti-fog polycarbonate lenses the ULTIM8 has a unique removable/adjustable strap and pivoting with an interchangeable waterproof TPR seal for extra comfort and protection. The ULTIM8 is fully adaptable and can be used as either a safety spectacle or low profile safety goggle. So whatever the conditions and whatever the environment the ULTIM8 is the ultimate product for you.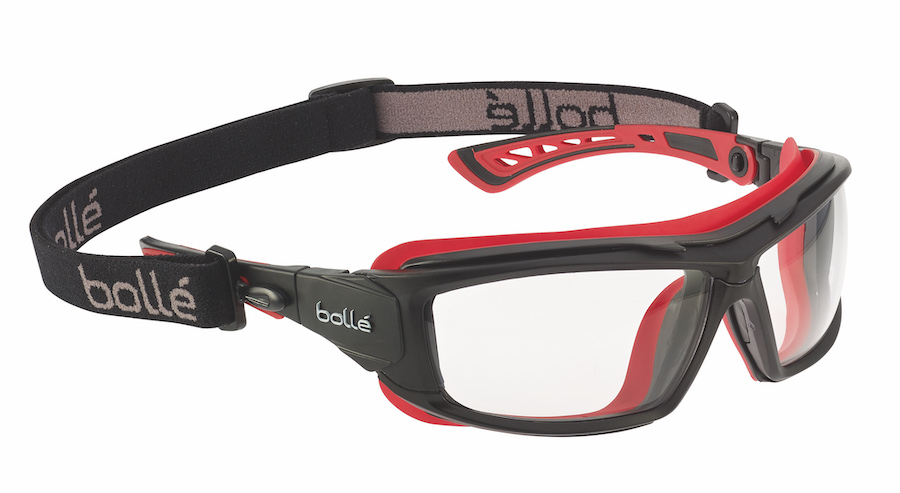 Bollé Safety revolutionizes eye protection with an innovation that exceeds the requirements of all international standards, especially EN166 K and N option. The new exclusive permanent double sided anti-fog and anti-scratch Platinum® coating is now available on Tryon, Baxter, Rush+, Silium+, Slam+, Contour, Cobra, IRI-s B808 plus Atom, Coverall, Super Blast, Tracker, Pilot and Backdraft goggles. It also guarantees greater safety, reliability and comfort. This permanent coating on both sides of the lens gives them a high resistance to scratching, to the most aggressive chemicals and delays the onset of fogging. In all circumstances and at all times the Platinum® lens innovation guarantees your eyes improved protection.
Bollé Safety are also the first company in the world to supply all their prescription lenses with Platinum® anti-scratch and anti-fog coating as standard and at no extra charge.
All Bollé products provide the wearer with protection, style, comfort and an exceptional field of view due to their lightweight design, advanced material technology and Bollé Safety's world renowned Platinum® double sided anti-scratch and anti-fog optical class 1 lens quality. They also offer excellent value for money.