A RegioPanter like the BEMU can travel up to 80 km at a maximum speed of 120 km/h, providing comfortable coverage of regional non-electrified lines.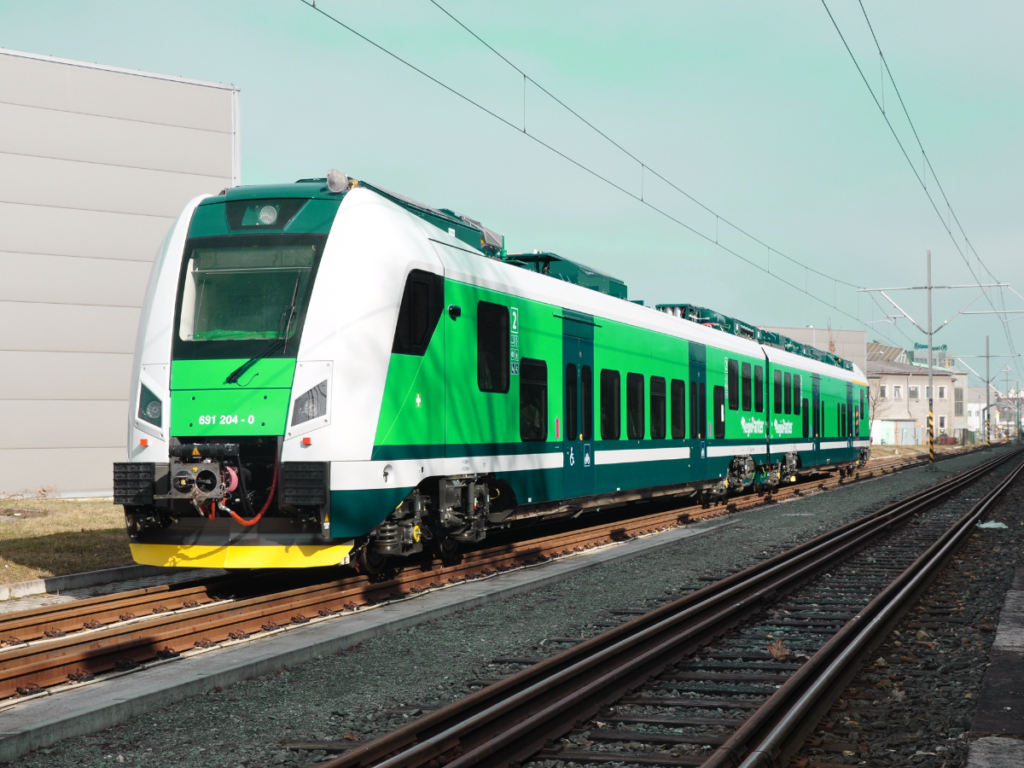 Operation on non-electrified lines with less environmental impact. That's how the benefits of battery electric multiple units (BEMUs) can be summed up. This solution has been talked about among train manufacturers and operators for years, but with the growing demand for environmentally friendly solutions, the topic is increasingly coming to the fore. As a result, the first battery-powered trains are starting to appear on the rails, with the aim of providing service on non-electrified lines while reducing emissions and improving travel comfort.
A Czech Manufacturer Has Its Own Solution
Battery trains will surely soon become part of the Czech railway. Their development will soon be completed by the Škoda Group, which has built battery trains on the platform of the popular and well-known RegioPanter. It has thus made use of its long experience with this type of vehicle, of which customers have already ordered almost 300 units.
In addition, the vehicle has not undergone any major changes for the battery variant. Skoda used the free space on the roof of the vehicle to accommodate three battery packs. Everything else remains the same. As a BEMU, the RegioPanter can thus travel up to 80 km at a maximum speed of 120 km/h, which will ensure comfortable coverage of regional non-electrified lines. The battery is then continuously recharged by driving under traction or by energy recovery during braking. Skoda Group has been working on the development of the BEMU for several years. During this time, it has been possible to create a vehicle that can fully replace diesel trains on the lines and save carriers considerable costs.
"The battery train expands our portfolio of emission-free, environmentally friendly solutions and it is a logical step for us to complement the proven Panter electric unit with traction battery-packs. We have extensive experience in the production of trolleybuses with traction batteries or electric buses. Moreover, not many people know that a total of 12 of our battery-powered trams have been in service in Turkey since 2015, and we have delivered another 14 to Eskişehir.
"The battery train is a significant step forward not only for sustainable mobility, but also for regional non-electrified lines, where diesel trains are currently running and producing thousands of tonnes of emissions annually."
Battery Solutions in Trams, Trolleybuses and Electric Buses
The Škoda Group has many years of experience in the production of vehicles with batteries. Since 2015, a total of 12 battery-powered trams have been serving passengers in the Turkish city of Konya, 14 trams for the city of Eskişehir have also been equipped with traction batteries, and traction batteries are currently being used to supply trams for the German cities of Mannheim, Ludwigshafen and Heidelberg.
Škoda has also been very successful in the market for twin-source trolleybuses, where the traction battery is part of the drive. What do you mean by that? Wherever a city has built infrastructure, the trolleybus is powered from the trolley. In places where there is no overhead line, the trolleybus switches to battery power so it can serve other necessary locations until it comes under the overhead line again. This solution is actually very similar to that of the battery train from Skoda.
The Škoda Group has delivered – or has orders for – nearly five hundred such vehicles to customers in France, Norway, Hungary and Romania, while dozens more are in operation in the Czech Republic, Slovakia and Bulgaria. Last year alone, the trolleybuses covered over 2.3 million kilometres on battery power, which is approximately one-sixth of their total mileage.
In Trutnov, Škoda electric buses have been in service for several years, with each of them covering an average of 78,000 kilometres. Other electric buses operate in České Budějovice, Třinec, Prague, Zlín, Žilina and Nový Zámky. Together, they will cover 1.7 million kilometres on battery power in 2022 alone.
Advantages of Battery Trains
Another great advantage of the deployment of battery trains is the reduction in the number of changes that passengers have to make when travelling on lines that are partly electrified and partly non-electrified. Battery trains can run the whole line without problems, which significantly increases passenger comfort, while at the same time the operator can reduce the total number of trains in service.
Battery-powered trains are the cleanest solution to replace traditional diesel vehicles. At the same time, it is a way to gradually improve air quality and achieve the climate targets set by society. An example is the European Green Deal, which aims to reduce transport emissions by 90% by 2050. The Škoda Group's product portfolio already focuses on modern zero-emission vehicles such as trams and trolleybuses, but it is also turning its attention to other alternatives such as the use of hydrogen. And it will continue to develop environmentally friendly vehicles for sustainable mobility in line with its strategy.
"With the new battery vehicles, the transport operator will get a proven electric unit supplemented by a battery box, designated BEMU. This battery unit is largely identical to the proven EMU unit, the visible difference will be the additional boxes on the roof of the train and, in particular, the ability to run fully emission-free on lines without overhead lines."
See a Škoda Battery Train in action here.
This article was originally published by Škoda Group.