BART Trains Get Bike Straps Encouraging Active Travel
Sometimes it is the simple ideas which prove the most popular. Bay Area Rapid Transit (BART) has found out, this is the case with its straps for cyclists to secure their bikes to the rail.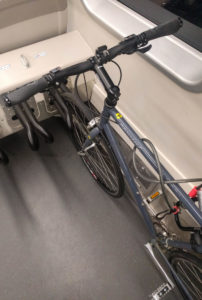 BART Bike Strap Design
The design chosen is a flame retardant, nylon strap similar to the overhead straps used by standing passengers. With an easy to unclip clack buckle and attached to the rail using a rivet for security.
Originally they were tested in around 60 bike spaces across the BART system, with two straps per space. They are now being added to all trains. They will make an appearance in the new Fleet of the Future carriages as well. The new fleet was originally fitted with built in bike racks. However, the design of U-shaped rubber docks was not ideal for many cyclists. For example, cyclists whose bikes have larger tyres said their bike did not easily fit.
2012 BART Bicycle Plan
Hopefully the straps will encourage more cyclists to use the system by making the experience of traveling by train with a bike easier. In 2012, BART launched their BART Bicycle Plan – Modeling Access to Transit which set the goal of doubling the number of passengers who get to and from stations from 4 per cent to 8 per cent by 2022. This includes passengers who park their bikes at stations but travel onward without them. However, the report found that a majority of weekday passengers who travelled to the station by bike brought their bikes on to the train, rather than parking them at the station. A key objective of this plan is to optimise bicycle accommodation on board its trains. Not only would this further contribute to less congestion on the roads, and reduce overall transport pollution, providing the necessary infrastructure for citizens to make healthy choices viable is also key to a healthy society.
Steve Beroldo, Manager of Access Programs at BART led the project and worked alongside a UC-Berkeley civil engineering student to test different types of straps and gain user feedback. He said:
"We wanted to offer a more formal method for people to hold their bikes, so they wouldn't resort to makeshift solutions like bungee cords, and which would be safer and steadier for cyclists and non-cyclists alike."
An online survey gathered a largely positive response with one rider commenting:
"I love them! They are very helpful and I don't have to worry about my bike sliding and hitting others sitting nearby. Please install them everywhere!"
Also read: