The high-performance ballast regulator broom elements sweeping the competition aside.
What Are Broom Elements? And What Do They Do?
Ballast regulator broom elements, also known as Ballasticks, are solid and semi-solid extruded rubber bristles that sweep the ballast clear or evenly across rail tracks. Used around the world, they allow railway operators to complete day-to-day activities in a smooth and efficient manner, while maintaining the longevity of the railway tracks.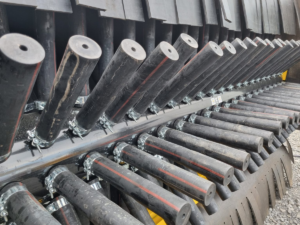 Derby Rubber manufactures two flagship, one-piece broom elements, in both hollow and solid form for railway operators across the world.
Watch a video detailing the Ballastick here.
Hollow Ballastick
Our Hollow Ballastick range is well-known for its outstanding performance and long-term durability. Designed in-house by our own rubber chemist, each hollow shaft features a thickened, yet still hollow, heavy-walled wear-tip. This avoids the need for the glued-in plug found in lower-quality broom elements, which often becomes dislodged and leads to inefficient sweeping, damaged elements, and increased change-outs after as little as 60 kilometres.
Instead, our Hollow Ballastick, with its hard-wearing rubber tip, continues to maintain its effectiveness and integrity in excess of 160 kilometres – delivering more than three times the effective lifespan of cheaper imitations.
Solid Ballastick
Our Solid Ballastick range is just as impressive! Fastened by the C3 clamp and sporting the trademarked flared tip, the Solid Ballastick regularly achieves 40% longer wear life than conventional broom elements.
The unique tip has been specially designed with extra mass to reduce 'flex-fatigue', create greater momentum when sweeping the ballast aside, and increase the overall wear life of the element. The addition of the C3 clamp allows operators to make quick changeovers, reducing maintenance and fitting time.
What Is the Difference between the Solid and Hollow Ballastick?
The main differences between Solid and Hollow (or semi-solid) Ballasticks are the profiles and the way they attach to the ballast regulator machine.
The Solid Ballastick is slightly flared at the wear tip. This extra mass at the tip, creates greater momentum and sweeping efficiency, and extends its operational life. The solid broom element is also attached using flared C3 clamp to allow for quicker changeover and minimise flex fatigue.
The semi-solid Ballastick is a one-piece broom element which, although hollow, is internally thicker at the wear tip end to both increase durability and maintain effective sweeping and optimal performance with modern tamping machines. These broom elements are fixed to the broom mechanisms via either EU or Type-B spigots.
Why Should I Choose Derby Rubber's Ballastick Range over Competitors?
Derby Rubber's Ballastick broom elements have been shown to outperform their competitors in both durability and efficiency. Both the Solid and Hollow broom elements are made from specially formulated extruded rubber to increase their lifespan and provide reliable, one-pass operation over ballast.
The solid Ballastick regularly delivers up to 40% additional wear life over cheaper products, while the hollow Ballastick will often last three to four times longer than its rivals. This means that over the course of a year, operators need to replace Ballastick elements less frequently, saving them time and money.
What Are the Benefits of Using Ballasticks in My Rail Operations?
Whether you choose Solid or Hollow Ballastick broom elements, we're confident you'll see the following benefits:
More efficient sweeping operations, requiring fewer passes over ballast
Longer lifespan compared to cheaper alternatives
More durable construction
Greater reliability from Ballastick's plug-free Hollow broom elements compared to economy versions containing a separate plug, which often falls out, further reducing lifespan and effectiveness
Easier and faster attachment to brooms using flared C3 clamp for solid elements or EU/Type-B spigots for Hollow elements
How Do I Know Derby Rubber's Ballastick Broom Elements Will Last?
Not only are Derby Rubber's broom elements tested to the highest standards, but they have proven themselves time and again where it really matters – in the field. Our Solid and Hollow Ballasticks are used throughout the year in some of the world's harshest environments, from the searing dry heat of the Australian Outback to the icy terrains of North America and in the wet, muddy conditions of the tropics.
We've assessed and verified the quality of Ballasticks in testing, but the results that really matter are the ones that come from our many long-term clients who continue to rely on Ballasticks for efficiency, durability, reliability and value.
What Are Our Customers Saying about Derby Rubber's Broom Elements?
But don't just take our word for it! Hear what our long-term partners have to say about our Ballastick range:
"Derby Rubber is the best solution for ballast regulators. The rubber is very strong and changing the elements requires little time from the operator. The Ballastick® has a duration of 3- 4 times that of competitors in the market, making our owners very happy."
"The Ballastick range of broom elements are designed to last longer and perform better than any other product on the market, and if it wasn't for Derby Rubber, we would not be offering broom elements in our portfolio."
How Can I Order Broom Elements from the Ballastick Range?
To find out which Ballastick broom element can best suit your needs, and to place an order, no matter where you are in the world, simply fill out our online form or contact Derby Rubber in Australia or The Netherlands.
This article was originally published by Derby Rubber.