Transmashholding Wins Baku Metro Contract for Six Five-Car Trains
Metrowagonmash, which is part of Transmashholding, and Baku Metro have signed a contract for thirty metro cars. They will be of the type 81-765.B/766.B. The metro cars currently in operation on the Baku Metro are of the type 81-760/761. Developed by Metrowagonmash and Alstom, they were introduced in 2014.
Read: Alstom New Metro Trainsets Fully Operational in Baku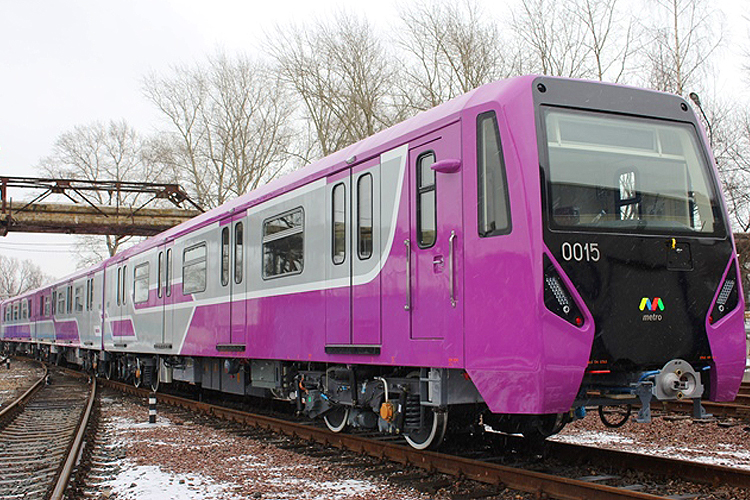 Baku Metro Contract
The terms of the contract state that Metrowagonmash will deliver the six metro trains in 2019. Each train will have two head motor cars with driver cabins as well as three central cars.
The signing parties were Boris Bogatyrev, General Manager, Metrowagonmash, and Zaur Huseynov, Chairman, Baku Metro. Metrowagonmash will deliver the first batch between April and June this year.
81-765.B/766.B Metro Cars
Unlike the earlier models operating on the Baku Metro, these cars have wider doors and a walk-through design. They also have a new system to inform passengers when the doors are opening and closing. Other updates include improved noise and heat insulation, high-quality air-conditioning, and power sockets. Furthermore, the metro cars have space for wheelchairs and bicycles.
The Baku Metro already has three five-car metro trains of the type 81-765.B/766.B. Metrowagonmash says both passengers and drivers gave positive feedback about them.
Metrowagonmash has been making metro cars for Azerbaijan's capital since 1967, when the Baku Metro first opened. Now, in 2019, the Baku Metro has more than 300 metro cars.