ASC Announces Upgrade to Popular OS Accelerometers
Advanced Sensors & Calibration (ASC) GmbH, one of the world's leading manufacturers of capacitive, piezoresistive and piezoelectric accelerometers, angular rate sensors and inertial measurement units has announced an upgrade to their Offshore (OS) series MEMS Capacitive Accelerometers.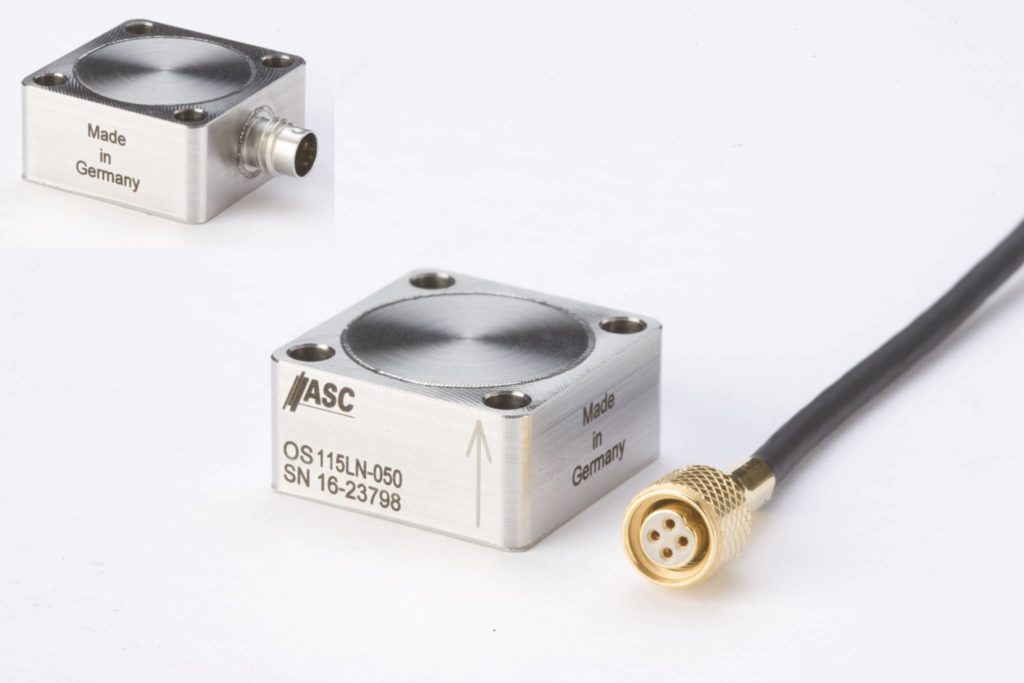 OS Accelerometers
The upgrade applies to ASC's uniaxial accelerometer OS115. The improved sensor will be available in two variations: ASC OS115LN and ASC OS125MF, featuring ASC's low-noise (LN) and medium-frequency (MF) accelerometers. The new OS accelerometers feature a welded hermetic construction with a side mount 4-pin connector and a detachable cable. The hermetically sealed ASC OS accelerometer is recommended for use in space environments, underwater or during very long exposures to excessive humidity – conditions typically found during test and measurement applications in automotive, rail, wind energy, monitoring, health monitoring, marine and aerospace & defence industries among others. 
Renate Bay, Managing Partner of ASC, said:
"The ASC OS accelerometer upgrade offers three distinct advantages to our customers in terms of size, weight and protection class. Compared to the existing OS series, the newly designed sensors are not only lighter, with a smaller footprint, but also feature a hermetic seal. With the OS upgrade, ASC now offers MEMS sensors with varied protection classes, from epoxy-sealed IP65 to welded IP68 – a wide variety of custom-made sensors that match the precise needs of our users. The OS uniaxial accelerometer is also available with lightweight and robust titanium housing as an option."
ASC's waterproof OS accelerometers are available in different ranges from ±2g to ±400g. The accelerometers can be powered by a 5 to 40 VDC excitation where the output is independent of the supply. The OS series is packaged in rugged stainless steel housing and features the industry-standard 4-pin connector with a detachable cable.
Hermetically sealed accelerometers such as the ASC OS series are commonly used for short-term underwater applications or applications with cyclical temperature variations and excessive humidity – these are typically outdoor and severe operating environments that often result in contamination of the sensor interior, leading to permanent failure of the built-in sensor electronics. 
 Features
• Uniaxial MEMS capacitive accelerometer
• Acceleration range: ±2g to ±400g
• Operating temperature: -40°C to +125°C
• Excitation: 5 to 40 VDC
• Shock limit: 6000g (survival)
• Weight: 31g
• Sealing: Hermetic
Typical Applications
• Automotive endurance testing
• Rail bogie monitoring, wheelset and pantograph monitoring
• Wind turbine blade monitoring and tower sway monitoring
• Bridge monitoring
• Flight testing
For detailed specifications, drawings and additional information about ASC OS accelerometers please click here.