Early Handover of Some Niederrhein Network Lines
In advance of the handover from Deutsche Bahn to Abellio North Rhine-Westphalia in December 2016, Abellio began operating lines RB 33 and RB 35 of the Niederrhein Network in Germany at the beginning of this month. The Niederrhein, or Lower Rhine region, is situated in the German federal state of North Rhine-Westphalia and borders the Netherlands. The handover of the lines has taken place early in order to ensure the smooth transition from Deutsche Bahn to Abellio.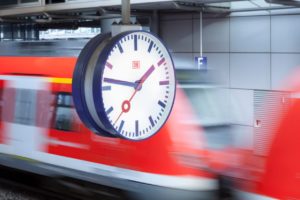 Until the formal handover of the Niederrhein Network on 11 December, Deutsche Bahn remains the owner of the contract, and is responsible for the lines and associated customer support.
Ronald RF Lünser, Managing Director of Abellio NRW, said:
"This way we gain experience with the vehicles and the track, as well as the local conditions at the stations and enable employees to have a seamless transition."
Earlier this year, Abellio announced that it would offer cross-border services into the Netherlands using Stadler FLIRT trains. Stadler Pankow's FLIRT EMUs have a maximum speed of 160km/h, with high drive performance. They are universally accessible with barrier-free access and low floors throughout. The passenger area is equipped with gap-bridging and sliding steps.
Abellio have also won the concession to operate Lot B of the Rhine-Ruhr S-Bahn (a hybrid urban-suburban train), also using Stadler FLIRT trains. On winning the contract, Ronald R.F. Lünser, said:
"In North Rhine-Westphalia, Abellio is known for its reliable performance and outstanding service. In the future, passengers of the Rhine-Ruhr S-Bahn will now also benefit from our service and quality. The new lines are an important complement to our existing network. This is a challenge that we will tackle with joy and commitment."