Smart Sensor Systems for a Strong Railway
How does an ICE behave in different weather conditions? When is the best time for doing work on railway lines? In the future, simulations with digital twins will allow us to figure all this out. Digital twins even make it possible to carry out experiments that could not be done in the real world. Smart sensor systems from ASC create the prerequisites for these innovative applications: they are highly accurate and can evaluate huge amounts of data.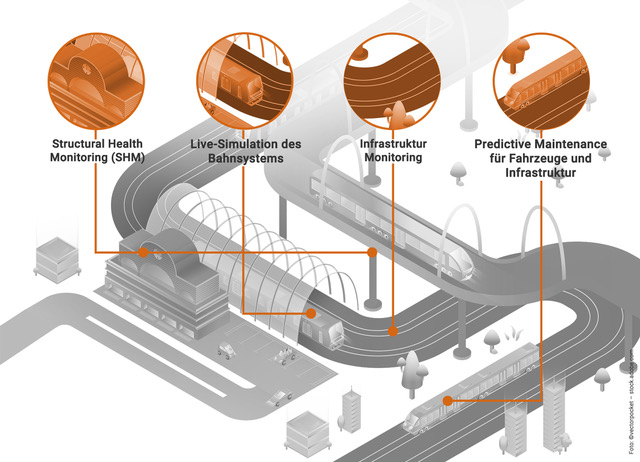 The sensor systems are specially developed for intelligent monitoring solutions such as equipment condition monitoring and predictive maintenance. The main feature of the smart sensor systems is their ability to analyze the collected data and extract predefined feature vectors. This allows the systems to make decisions and make predictions autonomously.
It is possible to create a physically precise live simulation of the railway system using digital twins, for example. In this way, it is not only possible to calculate the optimum timetable for passenger and freight transport, but digital twins can also identify the ideal alternative route for trains in the event of an incident or accident. The maintenance of trains as well as construction works can also be integrated smoothly into railway operations by means of realistic simulations.
Smart sensor systems from ASC are the basis for these and many other future-oriented applications. They are extremely powerful because they are perfectly adapted to any application.
For more information please visit https://www.asc-sensors.de/en/smart-sensor-systems/.
You can also get in touch with ASC directly using the contact form below.