Alstom-Bombardier Consortium to Supply 153 AZUR Metro Cars to Montreal
A Bombardier and Alstom consortium has signed an amended version to a previous contract signed in October 2010. This contract is for the consortium to provide a further 17 nine-car trainsets (comprising 153 AZUR metro cars in total) to the Société de transport de Montréal.
The total value of the new order is around 299 million euros (CND $448 million). Of the two consortium partners, Bombardier's share of the contract is the larger one, valued at 188 million euros (CDN $281 million), while Alstom's share is 112 million euros (CDN $167 million).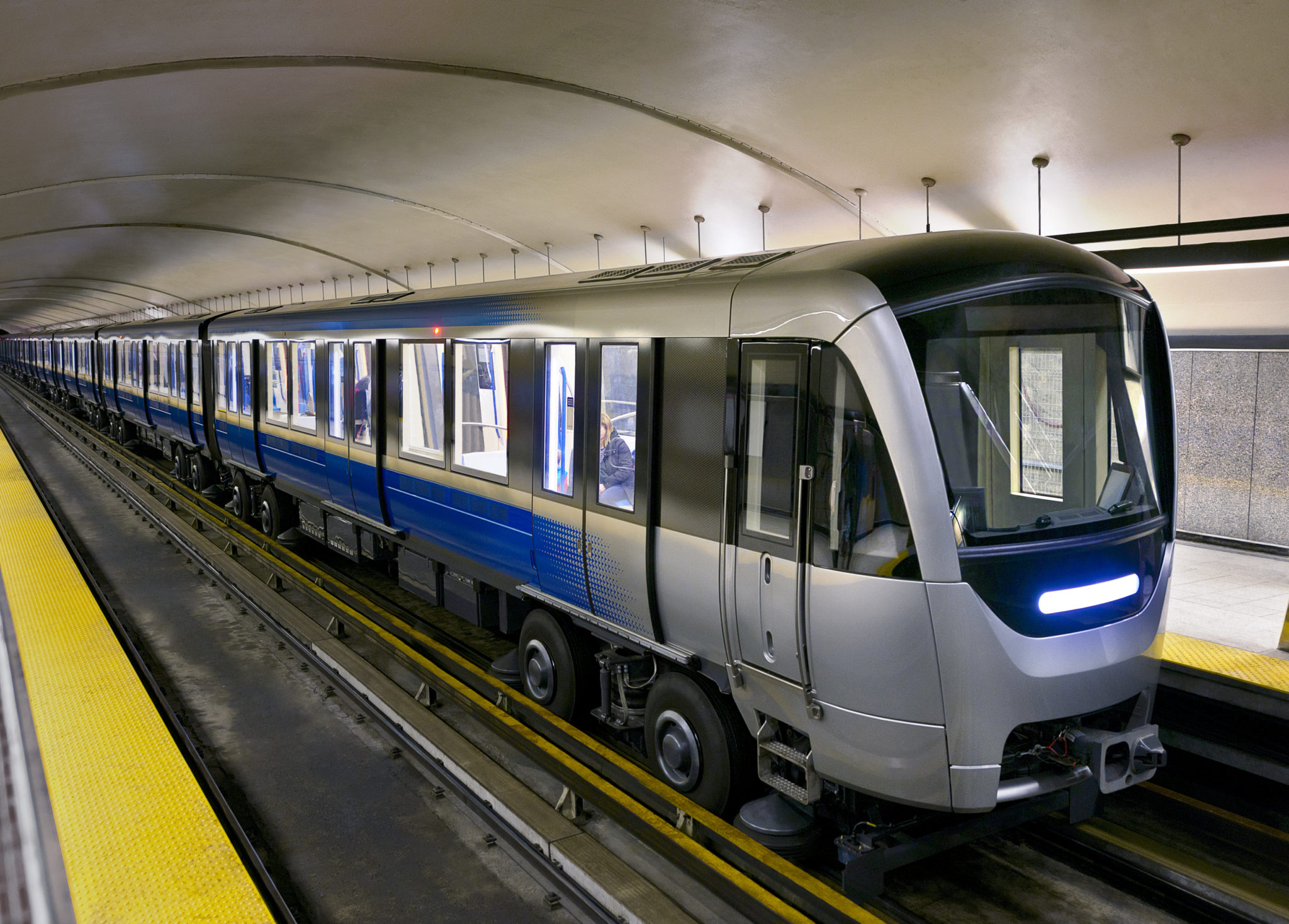 AZUR Metro Cars
The new trainsets for the metro system in Montreal will feature an increased capacity of eight percent, which translates into capacity for thousands of extra passengers over the course of a year.
The AZUR metro cars will also feature open gangways, improving passenger flow throughout the train. For this design the doors have also been widened by 27 percent, speeding up boarding and disembarking times. The trains will be equipped with a cutting-edge electronic passenger information system and with on-board cameras as well as a two-way intercom system so passengers are able to communicate iwth the driver too if necessary. All these features make the AZUR metro cars comfortable, reliable and safe.
Bombardier's Role in the Consortium
The vast majority of the manufacturing work will also take place in the Canadian province of Québec, where Bombardier has a facility in La Pocatière. This is also where the final assembly of these 153 metro cars will take place. The site in La Pocatière is currently finalising the last trainsets from the original order from the Société de transport de Montréal. Bombardier will allocate almost 170 employees to this project. The impact in the wider Canadian economy will also be positive as 60 percent of trainsets will be made up of Canadian content, which will benefit several hundred suppliers across the province.
Benoit Brossoit, President, Americas Region, Bombardier Transportation, said:
"We are delighted by this announcement, which will maintain hundreds of jobs at our plant in La Pocatière, as well as at our North American headquarters in St. Bruno. This helps to sustain our leadership in the Québec rail ecosystem and to continue our nearly 45-year relationship with STM. The AZUR metro cars, offering a premium mobility experience, highly popular ever since they entered service in 2016. They also exceed world-class performance and reliability standards.

"Globally, Bombardier Transportation moves more than half a billion people every day, and we are particularly proud to share the benefit of our global expertise with Montréal's population."
Alstom's Role in the Consortium
Alstom is responsible for supplying the bogies and the motors, along with the train control, communication, passenger information and video surveillance systems. These are the same elements Alstom was responsible for in the original contract. Alstom has a plant in Sorel-Tracy.
Angelo Guercioni, General Manager of Alstom Canada, said:
"As part of Alstom's global center of excellence for bogies manufacturing, our Sorel-Tracy employees are among the most qualified employees in the province and maintaining their workload is a priority for us. We are happy to add another project to their current backlog. In addition to providing the bogies, our partnership with STM also extends to the Montréal metro control center. We are delighted to continue working with them on Montréal's iconic metro system."
Read: Canada: Bombardier-Alstom Consortrium AZUR Metro Cars in Service