4th Annual Michigan Rail Conference
The 4th Annual Michigan Rail Conference will take place on 17 and 18 August at the Northern Michigan University campus. This year's theme is Connecting the Dots: Business, Communities and Technology. The conference will hear from speakers including representatives of Michigan Tech, the Michigan Department of Transportation and the US Department of Transportation (via the National University Rail Centre – NURail).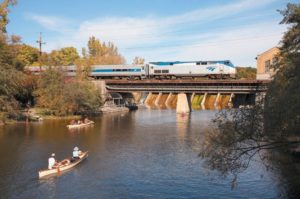 The conference will provide a platform for industry stakeholders to meet and discuss developments and challenges in rail transportation in Michigan. It will also look at the rail industry in relation to other transport modes, and the role of the rail industry in economic development.
Michigan Rail Conference 

Program

Plenary sessions will be held on the future of rail transport in Michigan, with representatives from Amtrak and freight rail representatives. There will also be plenary panel discussions on preserving, maintaining and improving Michigan's rail assets. Breakout sessions will be held, hearing from representatives of CN Railroad, Mineral Range Railroad and Escanaba & Lake Superior Railroad.

Other breakout sessions will be held, looking at passenger operations in austerity, freight operations, economic developments, the role of tech companies in the rail industry and short line operations. Keynote speakers from Michigan Tech and Great Lakes Transportation Inc will share their experience and expertise with delegates. 

A field trip will take place on the second day of the conference, offering delegates the opportunity to visit Humboldt Mill of the Mineral Range Railroad and Lundin Mining, Potlatch Ops and Mill, Escanaba Ore Dock and Rotary Dumper with CN Railroad, and Delta Manufacturing.

The Conference Organising Committee are offering full scholarships to students with an interest in rail transportation. The scholarships include conference registration and housing.

The conference will offer delegates an opportunity to network at lunches, a golf trip and coffee breaks, providing an ideal opportunity for guests to meet with existing colleagues and associates and make new contacts.