AMTRAK Investment Package to Advance Washington Union Station Concourse Modernisation
Amtrak will use a portion of its $2.45 billion investment package in next-generation high-speed Acela Express trainsets and Northeast Corridor (NEC) infrastructure improvements to fund construction for the modernisation of Washington Union Station passenger rail concourse and the expansion of Amtrak's D.C.-based fleet maintenance facility.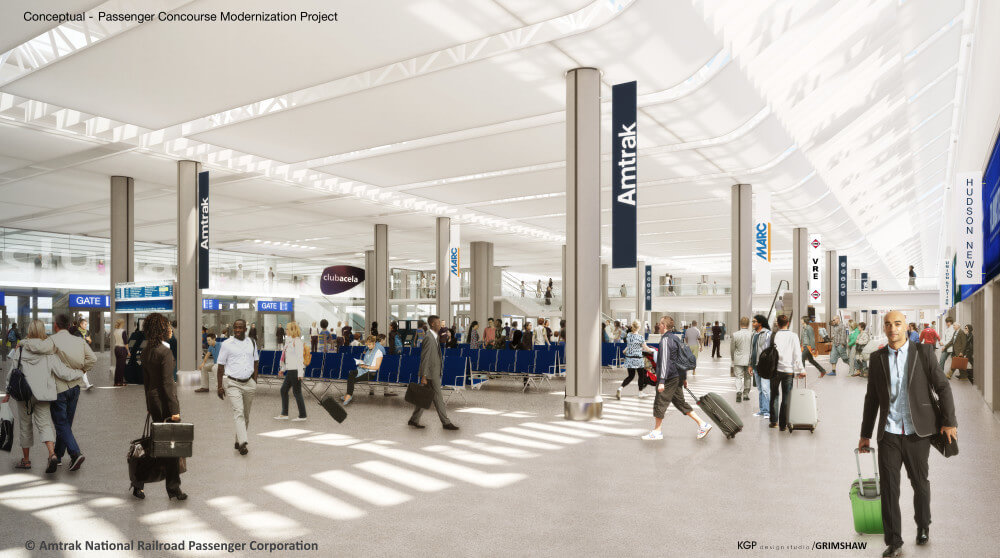 Stephen Gardner, Executive Vice President of Amtrak Infrastructure and Investment Development, said:
"This is an enormous milestone for Washington Union Station, securing the next steps in modernising this gateway to our Nation's Capital."

"With 37 million people passing through the station each year, these investments are critical to regional connectivity and economic growth and will result in a premier travel experience for Union Station customers."
The investment will fund full-phase construction of Amtrak's Concourse Modernisation Project –announced in March– a near-term comprehensive renovation of Washington Union Station's intercity and commuter concourse that will double the concourse's current capacity and upgrade key customer amenities including new restrooms, boarding gates, seating, and ClubAcela lounge. Design for the project, previously funded with contributions from Amtrak and the Union Station Redevelopment Corporation (USRC), is already well underway.
Early action construction will start in the fall of 2016 and include the relocation of heating and ventilation. Full-phased construction, funded by the new investment package, is anticipated to start in 2017 and will seek to minimise impacts to all station users.
Congresswoman Eleanor Holmes Norton (D-DC), explained: 
"The funds for railroad infrastructure improvements made available by our work on the House Transportation and Infrastructure Committee are being put to premium use here at Union Station."

"Amtrak's Concourse Modernisation Project begins the transformation of Union Station into the 21st century multi-modal train station we have been working to achieve."
The Concourse Modernisation project is the first set of improvements to come to life as part of Washington Union Station's 2nd Century plan, a comprehensive improvement initiative comprised of multiple projects in coordination with USRC, the Federal Railroad Administration (FRA), and private real estate developer Akridge.
D.C. Mayor, Muriel Bowser, added:
"We are elated that a District of Columbia landmark that is utilised by thousands of residents and visitors each and every day will receive a fresh start."

"This investment in Union Station by the Obama Administration and Amtrak is truly monumental."
In addition to concourse improvements, funding will be used to modify Amtrak's fleet maintenance facility in Washington, D.C. The existing two-track high-speed maintenance building in Amtrak's Ivy City Yard will be expanded to enclose a third track, which supports the creation of highly-technical jobs for the District of Columbia as well as improve the on board and station customer experience that will accommodate the high-speed rail service levels. Demand for Acela Express service is as popular as ever, with many trains selling out during peak travel periods. From 2.4 million passengers in Fiscal Year 2002 to 3.4 million passengers in Fiscal Year 2015, Acela Express has led a significant growth in revenue and market share in the Northeast.
Late last month, Amtrak announced it's contracting with Alstom to produce 28 next-generation high-speed trainsets that will replace the equipment used to provide Amtrak's premium Acela Express service. Amtrak is funding both the infrastructure improvements as well the new trainsets through the FRA's Railroad Rehabilitation & Improvement Financing program, which will be repaid through growth in NEC revenues.
In addition to station improvements at Washington Union Station, customers will see improvements at Moynihan Station in New York City, and New Carrollton Station and Baltimore Penn Station in Maryland, as well as track capacity and ride quality improvements to the NEC that will benefit both Acela Express riders and other Amtrak and commuter passengers.
Please click here for original article.