Alstom to Supply Additional Citadis Trams to Morocco
Alstom has signed a contract with the Rabat-Salé transport company (STRS) for the supply of 22 Citadis trams that will run on the entire network, including on the new sections of the two existing lines.
The contract is worth approximately €45 million.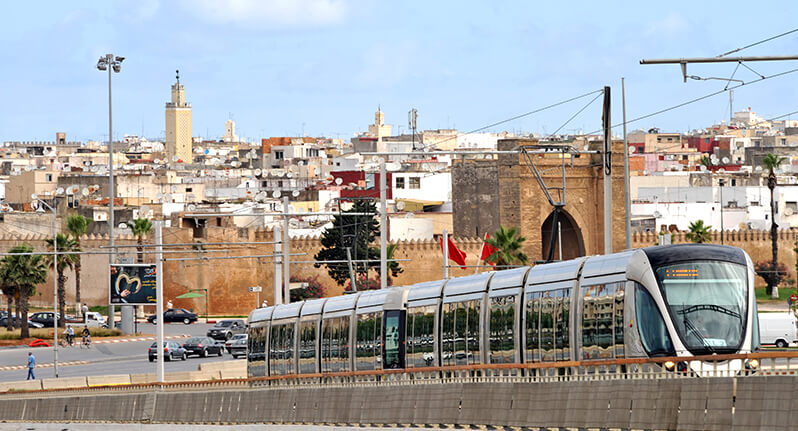 Tramway Rabat-Salé
Since their entry into service in May 2011, the number of users of Rabat-Salé's two tramway lines has steadily increased, with over 150 million passengers transported to date. To meet the growing need for mobility, STRS has decided to add 7 km of line to the existing 19 km and increase its existing fleet of 44 Citadis trams by ordering 22 additional trams from Alstom.
"We are delighted by this new order, which reflects the shared trust between Alstom and STRS. We are also proud to continue supporting the development of sustainable mobility in the urban area of Rabat-Salé through ecological urban transport systems," said Brahim Soua, Managing Director for Alstom in Morocco.
Citadis Trams for Rabat
The Citadis trams for Rabat-Salé, 32 metres long, will be coupled to enable them to transport up to 606 passengers. Low flooring throughout the trams as well as 12 side doors facilitate passenger circulation and accessibility for all, in particular mobility-impaired passengers. Their design, customised for perfect integration into the architecture of the city, will be the same as that of the vehicles already in circulation.
The Citadis trams will be designed and manufactured in La Rochelle, France. The other French sites involved in the project will be: Le Creusot for the bogies, Villeurbanne for the on-board electronic equipment and passenger information systems, Tarbes for the power modules and circuit-breaker boxes and Saint-Ouen for the design. And, in Italy, the Sesto site will supply the traction system.
After delivery – scheduled 26 months after the date of the contract's entry into force – the trams will be subjected to static and dynamic tests at the customer's site. Alstom's team in Morocco will ensure after-sales service.
Alstom in Morocco
Present in Morocco with 350 employees, Alstom is a true industrial partner, accompanying the country in the development of its rail infrastructure. In this way, Alstom has contributed to numerous key national projects, such as the delivery of Citadis trams to the cities of Rabat and Casablanca, and 12 Euroduplex trains for the high-speed rail line that will link Tangier to Casablanca. The group has also supplied 20 locomotives from its Prima range to ONCF and is responsible for the maintenance of 47 locomotives. At its unit in Fez, Alstom produces harnesses and electrical cabinets that power its European factories and are installed on trains exported worldwide.
Original article © Alstom.
FOR ALL THE LATEST INFORMATION, NEWS, IMAGES, VIDEOS AND ARTICLES ON ALL ASPECTS OF ROLLING STOCK, PLEASE CLICK HERE.