Swiss transport company Rhätische Bahn has received the go-ahead to order an additional 20 Capricorn multiple units from Stadler.
The management board of Rhätische Bahn (RhB) has passed the company's new Strategy 2030. It is based on the owner strategy of the canton of Graubünden, in which the government, as the main owner, has set the goals and expectations of RhB. The alpine railway has now been given the green light for two strategic focal points for implementing the owner's strategy: RhB can order 20 additional Capricorn multiple units and it can professionalise its real estate business.
Capricorn Electric Multiple Units
The Swiss government expects RhB, as a service provider, to guarantee mobility for all regions of Graubünden with a modern, needs-based offer. In recent years, RhB has made great efforts to modernise and standardise its fleet. The appearance of RhB has already changed with the Allegra multiple units, the Alvra articulated trains with the associated control cars and the universal control cars.
A further important step will take place with the largest rolling stock procurement in the history of RhB, with the 36 new Capricorn multiple units. Nevertheless, even after this procurement, the average age of the RhB fleet will remain relatively high, at over 20 years. In order to adapt and further standardise the fleet to today's customer needs, RhB has decided to order a further 20 Capricorn multiple units with a total value of around 173 million CHF from Stadler. The federal government and the canton have given the green light for this.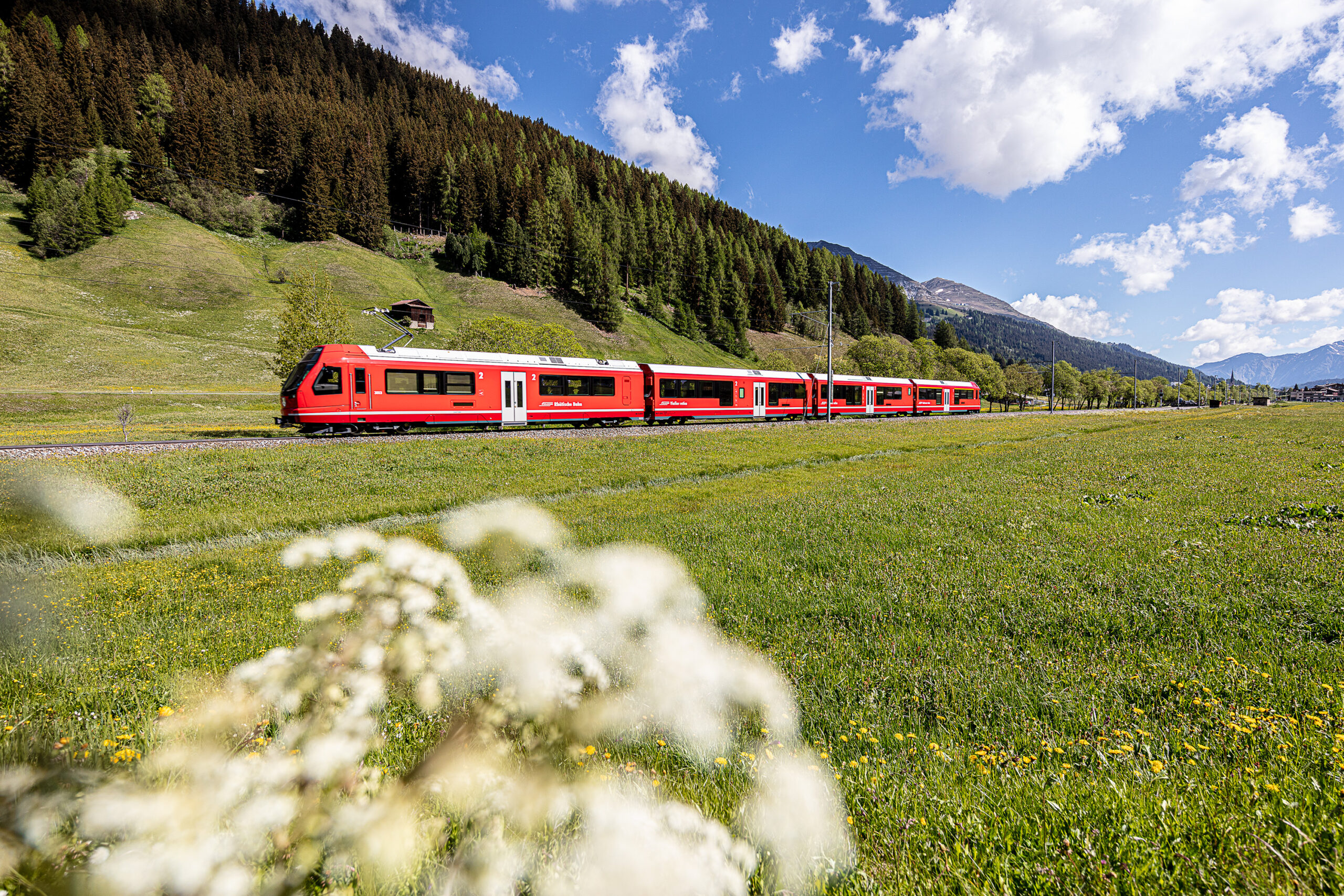 Real Estate Business
RhB is spinning off selected real estate that is not required for rail operations into a separate and independent legal person. It is thus separating the real estate (secondary) business and the subsidised main business. The real estate department of RhB remains responsible for the real estate of the infrastructure and rail production divisions such as train stations, service buildings, workshops or real estate for central services.
RhB Immobilien AG is founded as a wholly owned subsidiary of RhB AG. This has been done in close co-ordination with the owners – the canton and the federal government. The government maintains in the owner strategy that RhB will participate in the increase in the value of the land and real estate through the targeted use and development of the areas and the non-operational properties. It should realise a reasonable profit with justifiable risks and thus contribute to the improvement of the overall company result.
RhB Immobilien AG will manage around 30 properties and the same number of building rights contracts with an asset value of 45 million CHF. It will not have its own staff, but will obtain all services with corresponding contracts from RhB's real estate department and selectively from external specialists. Where appropriate, partnerships with private individuals are entered into.
Also read: