The IRICAV Due Consortium has signed an agreement with Rete Ferroviaria Italiana (Gruppo Ferrovie dello Stato Italiane) to start work on the second and final section of the first lot of Italy's Verona-Padua high-speed, high-capacity railway five months ahead of schedule.
The agreement means the consortium, which consists of the Webuild Group (83%) and Hitachi Rail (17%), will be working along the first lot of the railway between Verona and Bivio di Vicenza, valued at 1.6bn euros ( 1.95bn USD).
This first lot will run for 44.2km across 13 municipalities, quadrupling the existing railway. Financed by the Recovery Fund, the project will create jobs and other opportunities for the local supply chain, giving an economic boost to the region.
Webuild also signed an agreement to design the crossing of Vicenza, part of the second lot valued at 720m euros (879m USD). Passing through the municipalities of Altavilla Vicentina, Creazzo, Sovizzo, Torri di Quartesolo and Vicenza, this part of the planned railway will have a new stop at Fiera, while work will be done on the main station and historic line.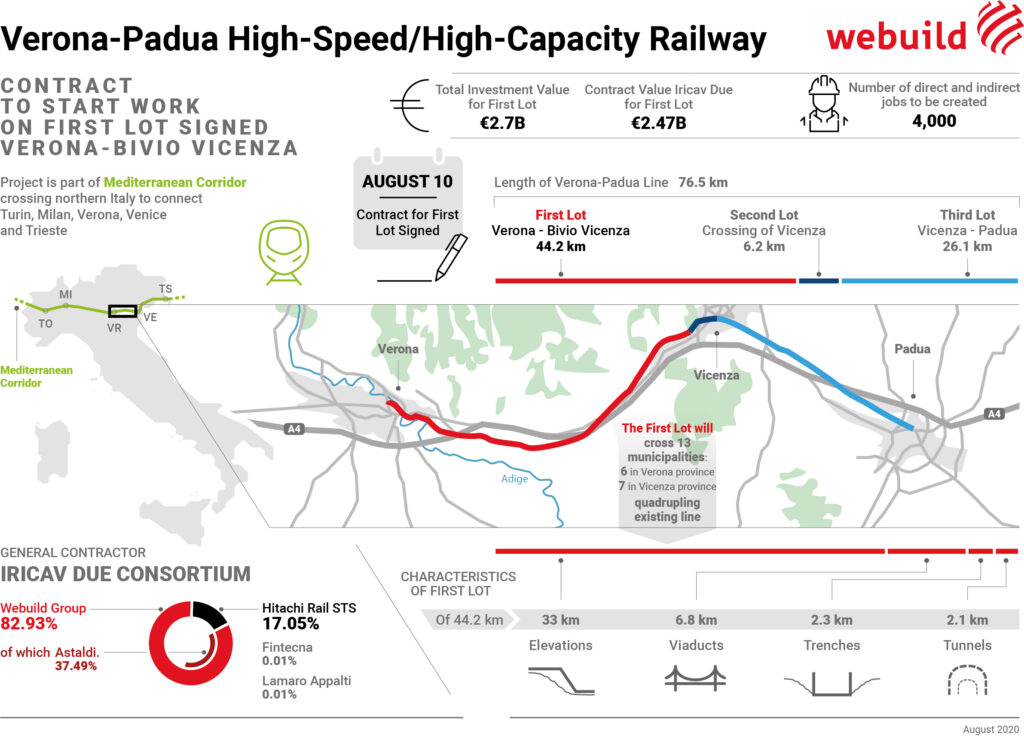 The Verona-Padua project's construction, which is divided into three lots, is valued at a combined total of approximately 4.8bn euros (5.86bn USD). At 76.5 kilometres in length, the railway will serve as an important link across Italy's northeast.
It will promote more sustainable mobility, reducing the impact on the environment and other problems related to road traffic. As part of the high-speed, high-capacity railway planned between Milan and Venice, it will become a component of the Mediterranean Corridor linking Spain and Ukraine.
One of the strategic trans-European transport corridors (the so-called TEN-T core network), it will support traffic between Europe and Asia. In Europe, it will handle traffic between the southern and eastern regions. With the addition of the line between Milan and Venice to the national network, 75% of the Italian population will have access to high-speed rail service.
Webuild is involved in a number of other major projects in Italy. These include the Bicocca-Catenanuova section of the Palermo-Catania railway in Sicily, the Terzo Valico dei Giovi and Genoa Junction that will strengthen rail links between the port and main the lines in northern Italy and northern Europe, the Brenner Base Tunnel between Verona and Munich, the M4 metro line in Milan, and two sections of the Naples-Bari high-speed railway.