Virgin Trains Launches Innovative Tool for Avoiding Rail Disruptions
Virgin Trains has launched an industry first tool aimed at helping customers avoid rail disruption on their journey and get to their destination.
TrainMapper, powered by Google Maps and National Rail Enquiries, will allow passengers to check in real-time travel information, delay predictions and find alternative routes to avoid getting stuck in disruption.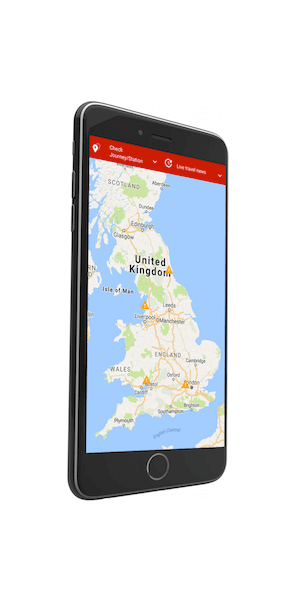 Live Real-Time Delay Estimates in Customers' Hands
Where previously customers needed to check individual train operator websites, social media or even go to the station to get up to date travel information and alternative routes, TrainMapper is a one-stop-shop available in the palm of their hands. The tool displays disruption on all operators and will not only help customers spot where any problems might delay their journey, but also predict how long the delay might be and show what routes they can take instead. The aim is to put more information in the hands of customers, meaning they can make decisions about alternative routes if their original journey is disrupted.
TrainMapper
The tool has been developed by Virgin Trains, Southeastern and the Rail Delivery Group (RDG) and displays disruption information for passengers across the UK's rail network. It will be available exclusively to Virgin Trains customers on its east coast website and app for three months. During this time, users will be invited to submit feedback on the launch version which will be used to inform later updates to the tool. After three months, it will be made available to other train operators, for them to roll out to customers.
Virgin Trains has majority-funded the development of the tool from its £25m Innovation Fund which aims to revolutionise the customer experience on the east coast and pave the way for other train operators to do the same.
The tool will display maps and information that will allow customers to see:
A colour-coded guide to how severe any disruption is and an indication of how it might affect journeys
Alternative routes they can take around any disruption that is expected to last longer than 30 minutes
Arrival and departure information for each station
Views of stations and information about facilities
Warrick Dent, Safety and Operations at Virgin Trains on the east coast said:
"Virgin Trains has a strong track record of innovation, and TrainMapper is the latest example of how we're giving our customers more control. We work hard to avoid disruption affecting our customers wherever possible and we want to put more information into the hands of our customers to allow them to make the most informed decision possible, whether that's to delay their journey or take an alternative route. This tool will be fed by real time information so the latest live updates and travel information is all shown in one place. We know how frustrating it can be when services are delayed, which is why we're not only investing in our stations and trains, but also in new technology that we hope will help customers make decisions about how they travel."
Jacqueline Starr, Managing Director of Customer Experience at the Rail Delivery Group – which brings together train operators and Network Rail to enable a better railway – said:
"TrainMapper is a great example of how rail companies are working together to help train travellers make even better informed choices about their journeys. And billions of pounds are being invested to deliver a more reliable railway, making journeys better now and for the long-term."
Original article © Virgin Trains.
FOR ALL THE LATEST INFORMATION, NEWS, IMAGES, VIDEOS AND ARTICLES ON ALL ASPECTS OF PASSENGER INFORMATION, PLEASE CLICK HERE.